Misawa goes to air, hauls in USFJ-AFL title
---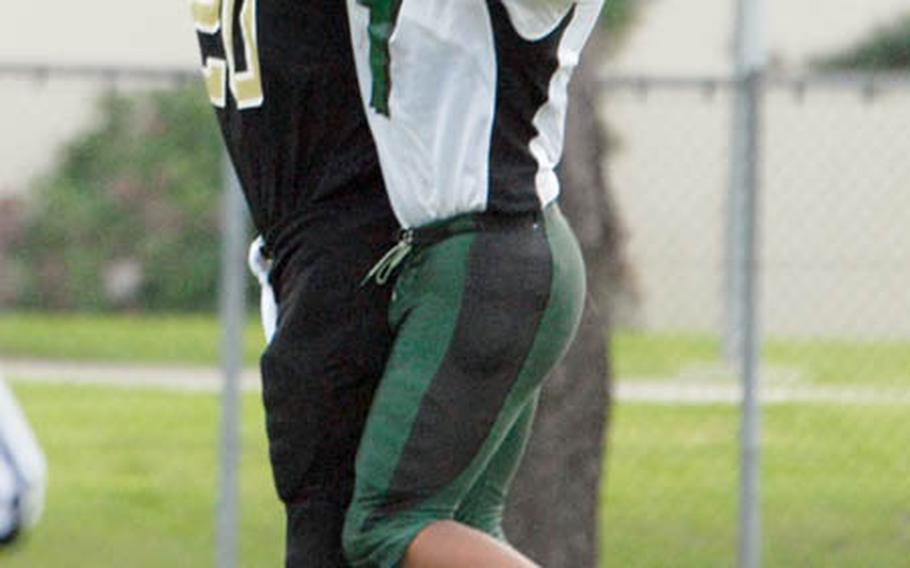 MISAWA AIR BASE, Japan — Long thought of as a bastion of smashmouth, ground-pounding football, the Misawa Jets stepped out of character Saturday, going to the air to win the U.S. Forces Japan-American Football League title.
Darone Frierson passed 6 yards to Darvin Johnson to break a 0-0 third-quarter tie, then Frierson set up Ralph Elliott's 1-yard dive with four more completions as the Jets dethroned two-time defending champion Yokosuka 12-6 in the Torii Bowl at Misawa's Eagles Field.
"We tried to do more vertically, open up our playbook, try to be unpredictable," coach Jeremy Sanders said. "During practice, we worked on getting our receivers out on routes, demanding that they catch the ball; that would be part of our success."
Going over videotape of Misawa's three previous games, two of them victories over Yokosuka, revealed what Sanders called "areas in coverage that we could exploit. That's what turned things around."
Defense ruled the contest in the first half, with neither team able to launch an assault on the end zone until Johnson's TD catch 4:01 into the second half. Elliott's short burst with 3:13 left in the period proved to be the game-winner.
Yokosuka answered promptly with its only points of the contest, on Carl Harris' 92-yard kickoff return, as the Seahawks couldn't generate anything on offense.
The Jets forced four turnovers and held Yokosuka's run game to no yards on 29 carries, then left it up to the offense, which stepped back into character and ran out the last 7:02, gaining 53 yards on 10 plays.
"We had to go back to our roots," Sanders said.
"They (Misawa) played tough, they played hard, they played a damned good football game," Seahawks defensive coordinator James Price said.
Frierson went 13-for-24 for 114 yards, and Jemario Patterson ran eight times for 44 yards, intercepted a pass and recovered a fumble for the Jets. Harris had 151 yards on four returns and Hakeem Glover had two of the Seahawks' five sacks. The teams combined for 32 penalties for 260 yards.
The game had been scheduled for Aug. 30, but was postponed due to transportation problems affecting the Seahawks.
It was the Jets' first USFJ football title of any type since sharing the 1985 crown with Yokota. Misawa won the USFJ-AFL title three years ago as the Marauders. Home teams have won every Torii Bowl; it was the first time in five visits to the Torii Bowl that the Seahawks lost.
"The guys put in the time since February and it paid off for them," Sanders said.
---
---
---
---