USFJ-AFL football
Misawa, Foster overcome mistakes to win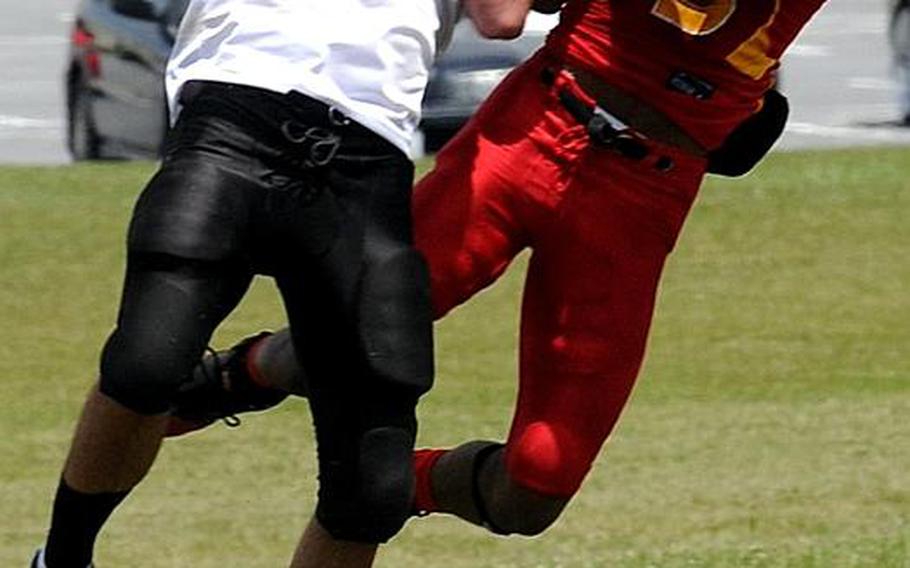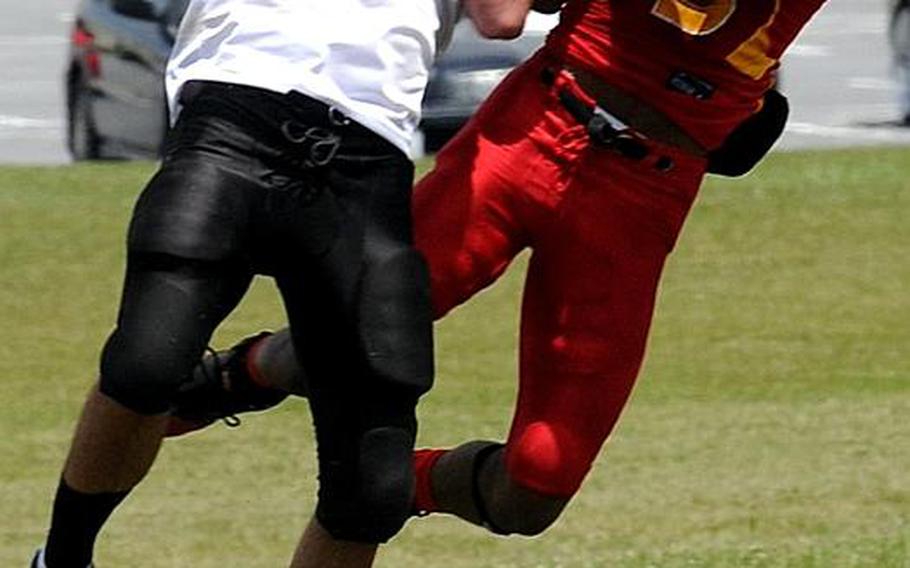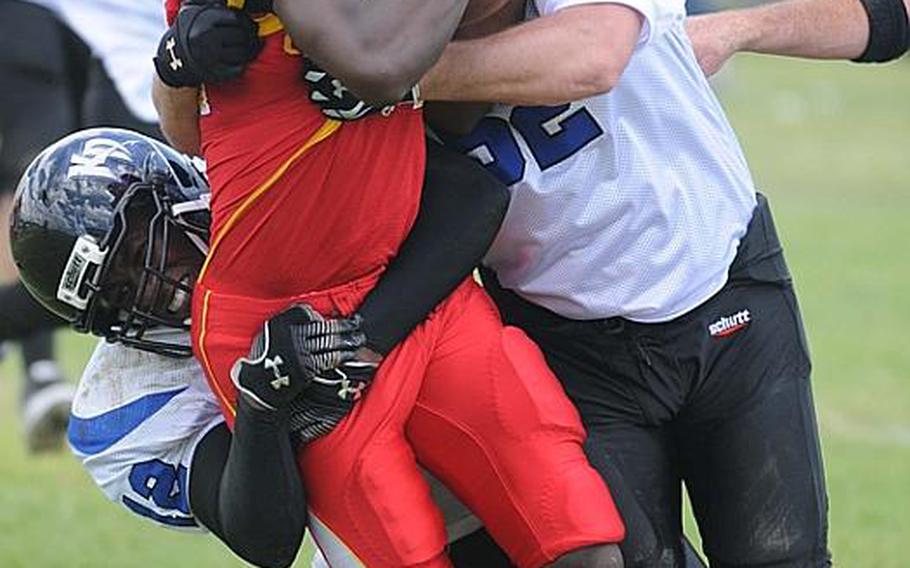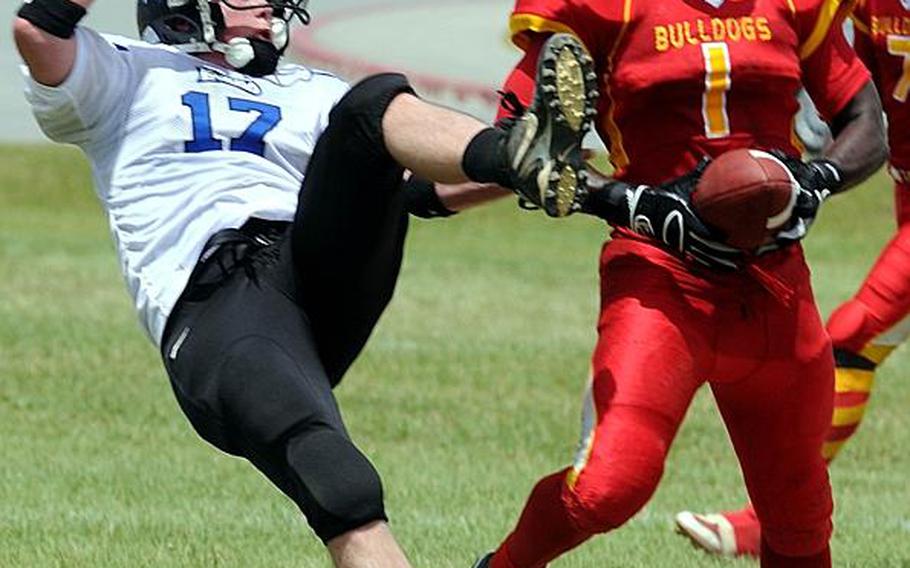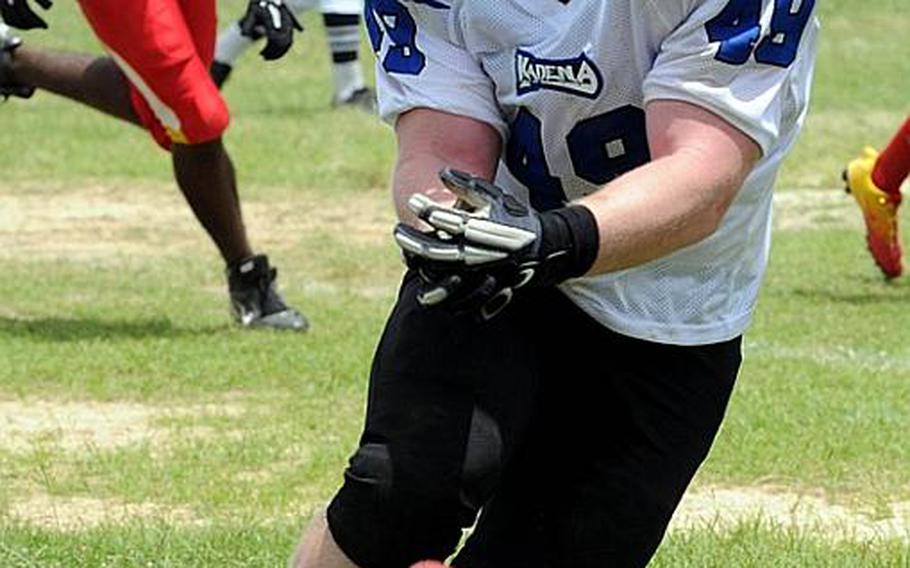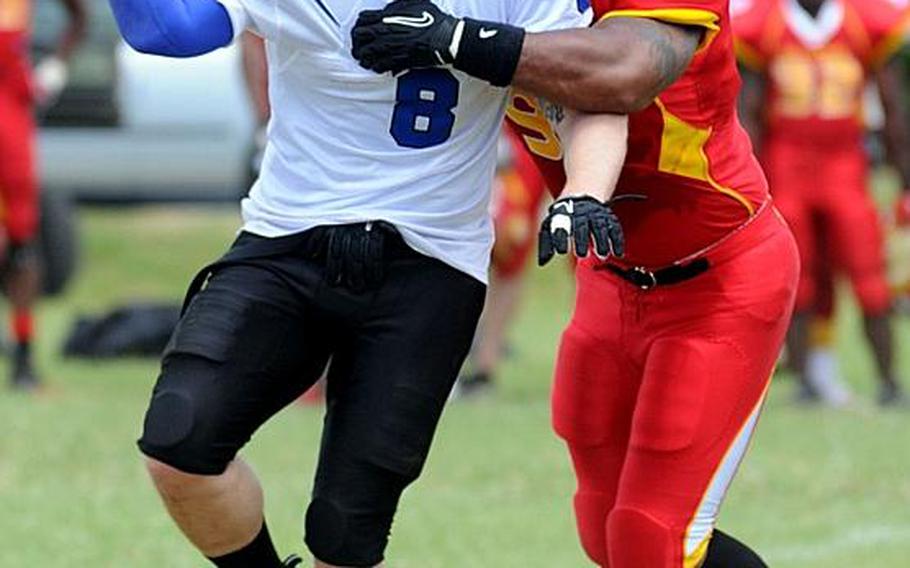 Three weeks into season, unbeaten Misawa and Foster are asserting control over their respective U.S. Forces Japan-American Football League division races.
Rich Gennie caught a touchdown pass, returned a punt for a score and intercepted two passes Saturday as the Jets (2-0) secured a 34-12 North Division home win over Yokosuka at Misawa Air Base's Hillside Field. Misawa leads defending league champion Yokota (1-1) by a game.
At Camp Foster's Field 6, Madison Axel ran for three touchdowns as the Bulldogs (2-0), unveiling a newfound rushing game, ground out a 30-14 triumph over Kadena in the South Division to take a 1½-game lead over Kadena (0-1) and Joint Task Force (0-1).
Saturday's games were turnover-filled, with the Jets recording seven takeaways and the Bulldogs four. The Seahawks and Dragons each lost despite recording a combined nine takeaways. Kadena's Mike Smith and Foster's Jason Durden were ejected in the third quarter of their game.
Gennie caught a 50-yard touchdown pass, one of two thrown by Douglas Brown, and also had a 72-yard punt-return TD.
"He played his life out there today," Jets coach Ben Mathe said.
Donterrio Erby had a 40-yard scoring catch, Jermaine Stepney returned an interception 65 yards for a score and Jason Williams ran 6 yards for a TD for Misawa.
The Seahawks responded with a pair of Arkee Jones touchdown passes, of 45 yards to Dante Mack and 27 to Angel Diaz. Yokosuka forced four fourth-quarter Jets turnovers but couldn't capitalize.
"Hats off to Yokosuka for playing as hard as they did for as long as they did," said Mathe, whose Jets scored 21 unanswered points to pull away. "We have a long way to go. We have to keep our head on a swivel and just play our game."
The Seahawks have turned the ball over 14 times in two games. "We have a good team; it's just the little stuff we need to fix," coach James Price said.
Axel finished with 69 yards on nine carries and Onterrio Woods rushed for 61 yards and a score on eight carries for a Bulldogs team that rushed for a team-record 222 yards on 33 carries.
"People think we're a passing team," Bulldogs coach Gerald Sharber said. "We have to show them we can do more than pass. We have more receivers, but we do have backs. Only thing we're looking for now is a breakout back; if we find one, this team may be unstoppable."
James Sanford went 7-for-11 for 136 yards, Roger Veal caught four passes for 61 yards and Luke Hicks had two interceptions for Foster.
Kadena, in its season debut, unveiled a single-wing attack and outgained Foster 291-222 on the ground and ran 59 total plays to Foster's 44. But the Dragons' four giveaways, including a crucial interception by Foster's Freddie Davis in the closing minutes, proved to be their undoing.
"It was our first contact, and trying to overcome that and all those turnovers was too much," said Will Cupp, who's been at the Dragons' helm since 2004; he's transferring to Wyoming.
Former Zama American High School quarterback Kelvin Lewis ran 68 yards for a touchdown and starting quarterback Jason Young took a 6-yard keeper in for the Dragons' first score. Terrence Nash had 86 yards on eight carries and Lewis 84 on six for Kadena.