Mildenhall men claim USAFE basketball title
by
Rusty Bryan
March 25, 2006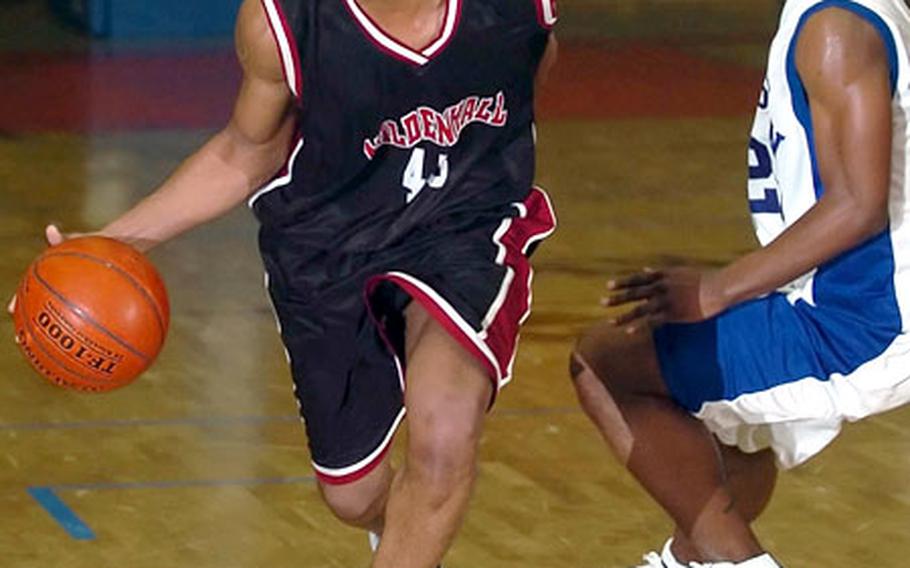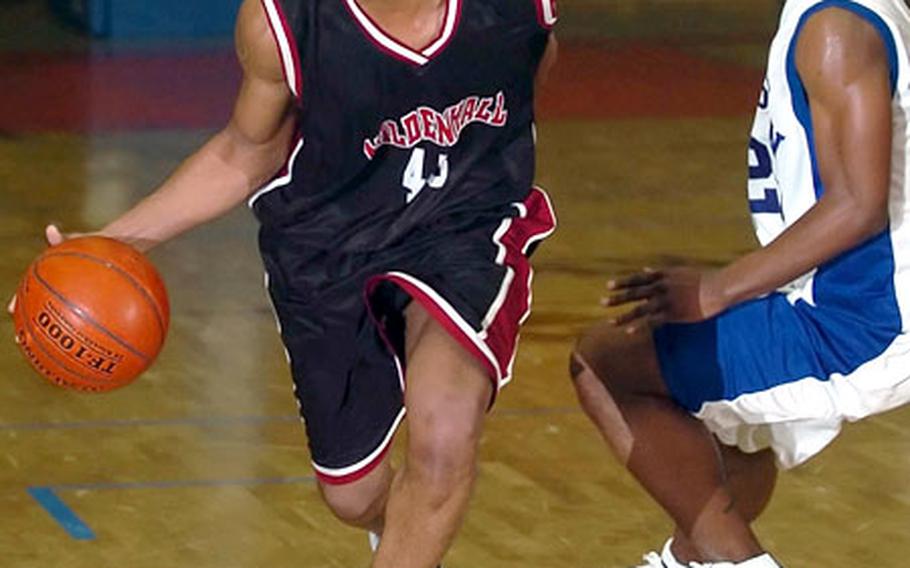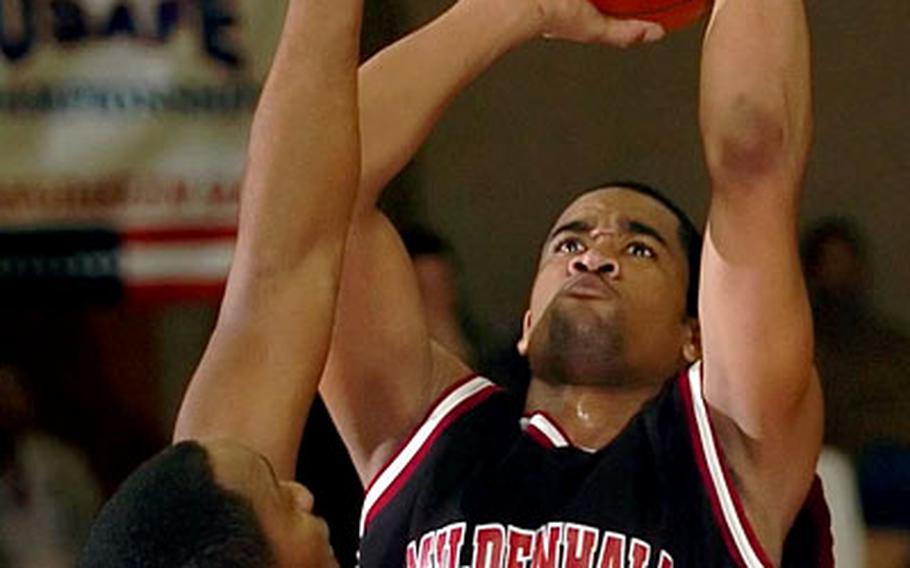 SPANGDAHLEM AIR BASE, Germany — The Mildenhall Marauders took care of business from the free-throw line and on defense Friday, dethroning the Ramstein Rams 70-64 in the USAFE championship game.
Ramstein trailed 37-28 at halftime, but the Rams came back and tied the game 51-51 when Mike Moody hit one of this three three-pointers with 8:50 remaining.
Mildenhall responded by scoring 14 of its final 16 points from the free-throw line to put the game away.
All-tournament player Reggie Minton went 5-for-5 from the line during that span, and Jason Ramos, who came off the bench to spark the Marauders with seven points over the final 5:44, was 5-for-6 from the line during the spree.
According to Mildenhall coach Mike Hammond, though, the game was decided by his team's play on the defensive end.
"The key to the game was our defensive intensity," he said. "I begin every game telling our team the keys to success. The first is defense — stopping penetration and boxing out. You've got to get the stop."
The Marauders did, especially with the game on the line. After a three-pointer by Ramstein's Robert Batiste with 6:08 to play that put Ramstein ahead 56-54, Mildenhall held Ramstein to three field goals the rest of the way.
Mildenhall took the lead for good with 2:18 to play on a basket by Ramos that put the Marauders up 64-63.
Mildenhall fell behind by 11 points early before Byron Washington took over the paint for 10 first-half points, and Jonathan Todd sank three of four shots from behind the arc en route to 11 points in the first half.
"I put Todd in when they went to the zone," Hammond said. "They quickly went back to a man-to-man."
In the second half, Washington, sitting with four fouls, and Todd were non-factors, as the game came to Flores and Corey Fletcher, who grabbed eight second-half rebounds. Dave Griffin also came off the bench to score three straight baskets and block a shot in the second half.
"These guys aren't my stars," Hammond said of Flores and Griffin. "They're not starters. But I tell everyone to be ready to play."
The Marauders held Ramstein's Corey Scott scoreless after his 10-point first half.
Both teams advance to the Army-Air Force Final Four tournament March 30-April 2 in Kaiserslautern's Vogelweh gym.
SummaryMildenhall 70, Ramstein 64
(USAFE championship Friday at Spangdahlem AB, Germany)
Halftime-Mildenhall Marauders 37, Ramstein Rams 28.
Scoring-Mildenhall: Reggie Minton 14, Byron Washington 12, Jonathan Todd 11, Corey Fletcher 8, Jason Ramos 7, Dave Griffin 6, Dylan Goldwire 6, Felton Scott 6; Ramstein: Robert Batiste 17, Mike Moody 12, Charles Scott 10, Corey Dixon 8, Larry Senegal 6, Pete Lenoir 6, Anthony Smith 4, Derrick Clark 1.