Mexico's Garcia fights off cramps, wins Marine Corps Marathon
by
Jeff Schogol
October 31, 2005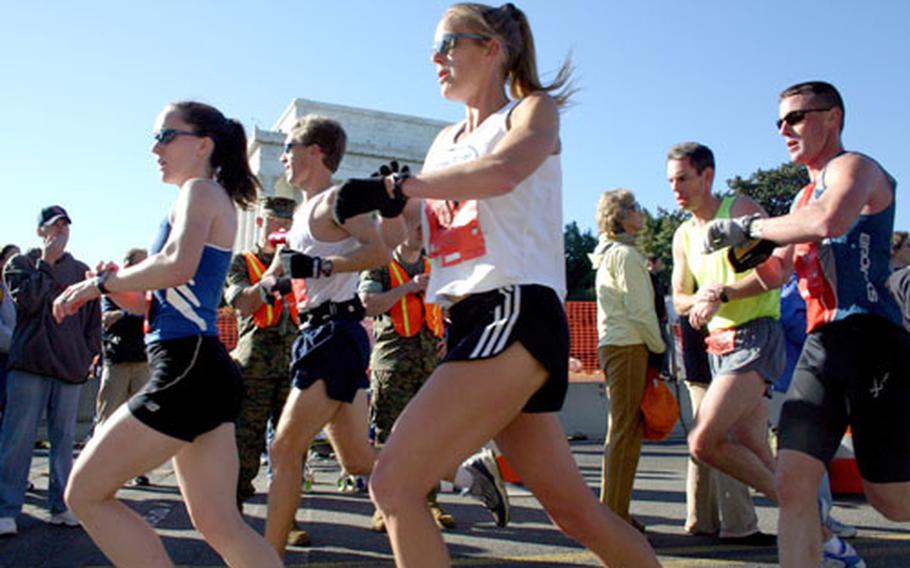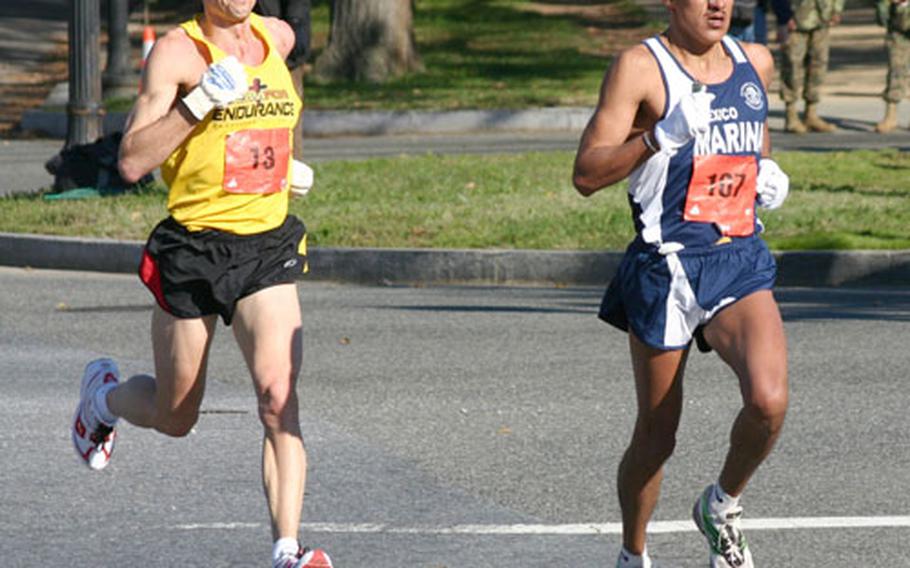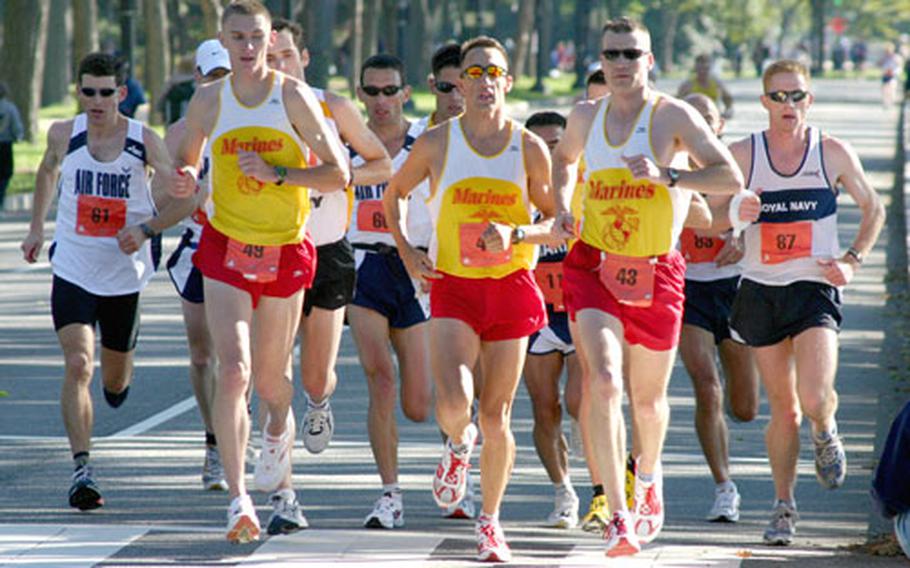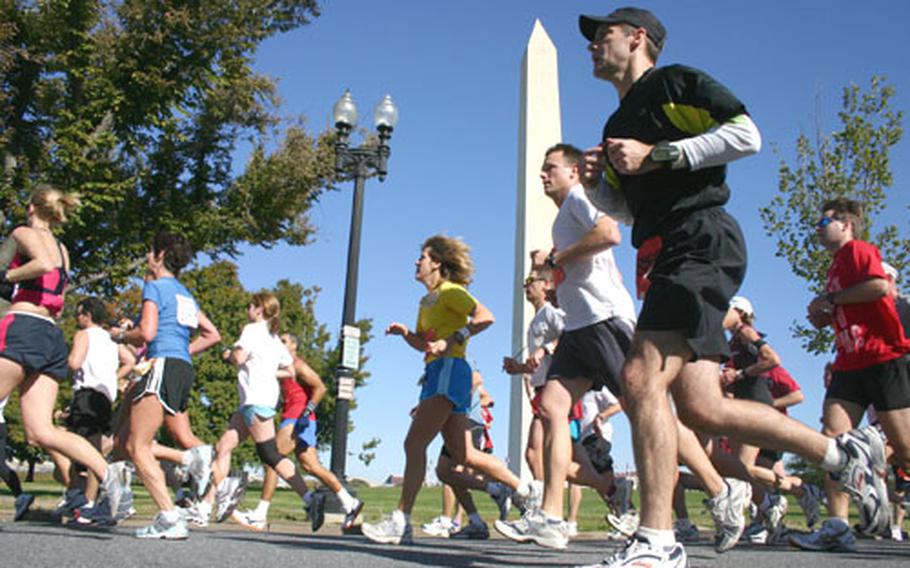 Click here for a 2005 Marine Corps Marathon photo gallery.
ARLINGTON, Va. — Mexican sailor Ruben Garcia won Sunday's 30th Marine Corps Marathon with a time of 2:22:14.
Speaking to reporters through a translator, Garcia said his legs started giving out near the end of the 26.2-mile race, and by mile 24 he had a cramp in one of his hamstrings.
Asked how he worked through the pain, Garcia replied, "heart."
Garcia, 34, said he trained in the Desert of the Lions in Mexico to run in the cold, but he was still unprepared for the chilly weather Sunday morning, which made it harder to breathe.
This is the seventh race Garcia has won, he said.
The Mexico City man said he has been running with the Mexican military team for 14 years and is ranked fifth in Mexico.
Jeremy Brown, of San Diego, was the first Marine to finish the race with an unofficial time of 2:35:05, and Susannah Kvasnicka, 33, was women's winner with a time of 2:47:07.
Kvasnicka, of Great Falls, Va., said she was not satisfied with her performance last month in a Minnesota marathon, where she got dehydrated and sick, so she wanted to run the Marine Corps Marathon to see what she could do.
However, Kvasnicka said it was not until about a week ago that she made the decision to run in the marathon. Until then, she said she was focused on recovering from the last marathon.
While she was thrilled about winning the race, "I don't feel great at the moment," she said.
Todd Philpott was the first competitor in a wheelchair. He finished with a time of 1:45:15.
Philpott, 47, said he has been training with 10 disabled Marines competing with the Achilles Track Club.
The Sydney, Australia, man said it is "nothing short of an honor" to train with Marines who have lost limbs in Iraq.
"Their courage under fire, for me, is above and beyond the call of duty," he said
About 27,000 people took part in Sunday's marathon, of which, about two-thirds competed in their first Marine Corps Marathon, according to the marathon's media guide.
One of those firs-timers to the Marine Corps Marathon was former Marine Rick Posada, who said he always wanted to compete in the race.
Posada, of Houston, said his seven years in the Marines made running a part of who he is.
He also said the challenge of running marathons.
"It's like climbing a mountain: You do it because it's there, it's hard and the sense of achievement afterward," he said.
On-hand for Sunday's race was Gunnery Sgt. R. Lee Ermey, a former drill instructor and actor best known for his role in "Full Metal Jacket."
Ermey said running long distances is 90 percent psychological. When he was involved with recruit training, instructors would take recruits on five-mile runs but tell them they were only running three miles, he said.
"You can do what do what your mind knows what you can do," he said.
He said he used to run five miles a day himself, but with his current work schedule, he finds it hard to get in his PT.
Marine Corps MarathonSunday, at Arlington, Va.
Men
1. Ruben Garcia, Mexico, 2 hours, 22 minutes 14 seconds.
2. Carl Rundell, Birmingham, Mich., 2:22:23.
3. Eric Post, Centreville, Va., 2:23:51.
4. John Mentzer, Monterey, Calif., 2:24:24.
5. Hipolito Sandovol, Washington, 2:27:26.
6. Benjamin Palafox, Washington, 2:27:49.
7. Jon Clemens, San Diego, 2:30:25.
8. Dauvio Roberts, Britain, 2:30:39.
9. Keith Matiskella, APO AP, 2:30:42.
10. Sergio Perez, Washington, 2:30:46.
Women
1. Susannah Kvasnicka, Great Falls, Va., 2:47:07.
2. Liz Wilson, Eugene, Ore., 2:49:55.
3. Emily Brozozowski, Savannah, Ga., 2:54:55.
4. Marlene Farrell, Leavenworth, Wash., 2:55:50.
5. Cathy Pugsley, Potomac Falls, Va., 2:55:45.
6. Wendy Scott, Britain, 2:59:09.
7. Shelly Brand, Virginia Beach, Va., 3:00:36.
8. Melissa Cole, Norfolk, Va., 3:03:56.
9. Jennifer Richard, Notre Dame, Ind., 3:05:39.
10. Jill Metzger, Valdosta, Ga., 3:06:39.