Boys basketball AOY
Metcalf proves he can win at multiple levels
---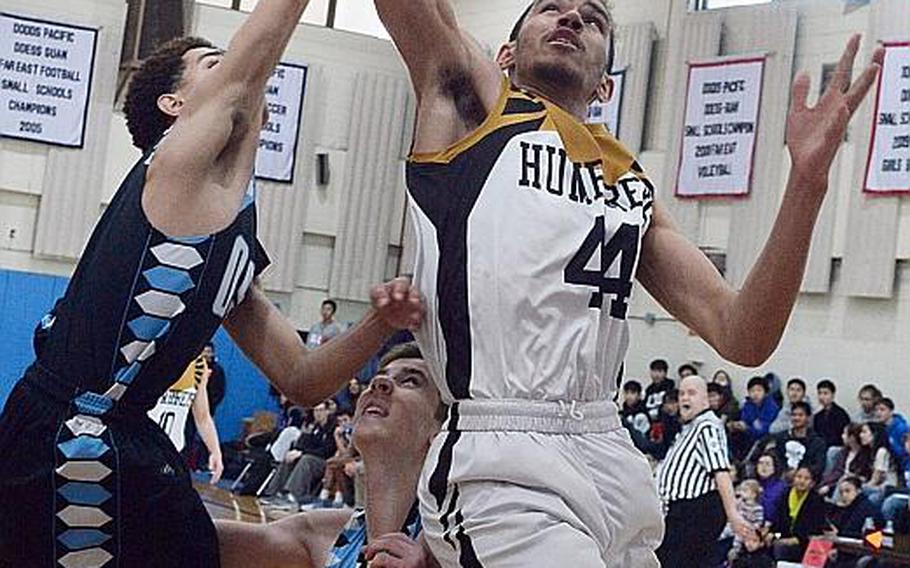 OSAN AIR BASE, South Korea – It's a singular breed who can win a Far East tournament and Most Valuable Players honors in Division I one year, then transfer and do the same at a Division II school the next.
That somebody is Quintin Metcalf, the tallest player in either division the last two seasons. He helped Seoul American to the D-I title as a sophomore a year ago, transferred over the summer to Humphreys and did the same, only at the Division-II level, earning MVP honors in both.
But as talented as the 6-foot-8 center may be, Metcalf says winning a championship is not about one person, but all those on the roster contributing.
"I'm kind of getting all the attention for it, MVP, this guy's doing it all, but it was really the people on my team who helped me get there," Metcalf said.
Guys such as senior guard Brice Bulotovich, who led the Pacific with 9.6 assists per game, and junior Jalen Hill's 4.7 per game. "Without that, we don't win," Metcalf said. "It's a whole team effort. Most of the points I get are from the work they do."
As a result, he averaged 18.7 points per game on 62.7-percent shooting, 16 rebounds, 3.1 steals, 2.1 blocked shots and less than a turnover per game for a Blackhawks team that went 20-1 this season.
Humphreys captured the Korea Blue Division regular-season and tournament titles for the first time in school history and placed third in the combined Far East tournament following the first D-II title since Humphreys opened in 2013-14.
For that, Metcalf has been named Stars and Stripes Pacific's boys basketball Athlete of the Year for the second straight year.
All that was supposed to happen at Seoul American, where Metcalf was due to graduate in 2019, but his family moved to Humphreys, where he had to start all over.
"At the beginning, I was kind of sad, all the friends, the basketball," Metcalf said. "But when I got (to Humphreys), I made some new friends and I got used to the basketball system and how they rolled."
Seoul American coach Steve Boyd preferred that Metcalf and his older brother, DeAndre (Class of 2017) stay in the paint and dominate inside.
"Coach Boyd is used to routine; he doesn't like it when routine is broken," Metcalf said. "He had it planned in his head what he wanted to have happen."
Humphreys coach Ron Merriwether gave Quintin more rein to roam the offensive zone, even take an occasional three-point shot; he hit 6-of-19 this season, including two in the first quarter of the Blackhawks' 68-39 Korea Blue tournament final win over Seoul Foreign.
"Coach Merriwether is a go-with-the-flow coach," Metcalf said. "Whatever happens in a game, he can adjust to it. When I got here, he was saying I could shoot and dribble. I didn't do it as much last year as I did this year, but I think I surprised (Boyd) when I hit a three."
With his combination of skills and newfound outside game, Merriwether says the sky is the limit for Metcalf, who for now is due to graduate from Humphreys in 2019.
"He may be the best yet to come out of here," Merriwether said. "He will get bigger, faster and maybe even taller. His GPA is great. He has great support from his family. Not to mention the influence he has on his teammates."
Humphreys would have liked to have finished undefeated, Metcalf said; the Blackhawks' only loss was 61-58 to American School In Japan in the combined Far East semifinals. "Our goal was to go undefeated … but every team is going to (face) that upset (loss)," Metcalf said.
Still, finishing third "still felt good," he said. "There were other teams saying that … there was no competition (in Korea), but in the end, we were the only D-II team in the top four."
Twitter: @ornauer_stripes
2017-18 Pacific high school All-Far East basketball team
Quintin Metcalf, Humphreys; Koki Wiley, American School In Japan; Davion Roberts, Nile C. Kinnick; Montez Young Jr., Kadena; Renyck Robertson, Yokota.
---
---
---
---