Boys track AOY
Metcalf branched out, showed variety of skills
by
Dave Ornauer
May 31, 2018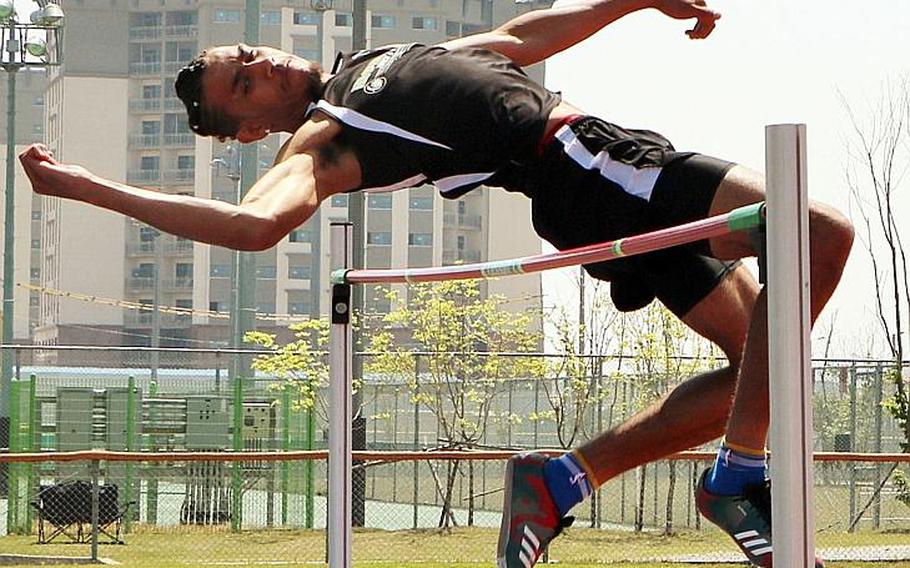 One of the dilemmas a track and field coach faces is where to maximize a versatile athlete and convert his abilities into valuable points that could mean a Far East team banner.
Ron Merriwether faced such a choice regarding Quintin Metcalf. The 6-foot-8 junior, better known for his basketball prowess, fell into Humphreys' boys track team's lap last summer thanks to a transfer from Seoul American.
Already an accomplished high jumper who went unbeaten this season, Metcalf was tried in a vast number of events: the 100, 400, 800, 110 and 300 hurdles, the 400, 1,600 and 3,200 relays, even the discus. And he finished no lower than third in any of those events.
The purpose was twofold, Merriwether said: Have the flexibility to put Metcalf in events that would maximize the Blackhawks' points in a regular-season or Far East meet; and showcase his talents, giving him a chance at a track and field future in college.
"He was good at everything he did," Merriwether said. "It's a good problem to have. We could put him where we needed to get the (team) victory, which we did. Just having the flexibility with that young man. Hopefully, he can see the sky's the limit."
He helped the Blackhawks win the Korea district and Far East meet titles. Metcalf also walked away with Far East Division II Athlete of the Meet honors.
For all that, Metcalf has been named Stars and Stripes Pacific boys track and field Athlete of the Year.
All that came fresh off Metcalf's Most Valuable Player performance in the Far East Division II basketball tournament, which the Blackhawks won for the first time, and All-League and All-Tournament selections in the Korea Blue Division, which Humphreys also won.
Once on the track, Metcalf found he'd be stepping out of his hurdles and relay comfort zones, and running longer events - the 400 and 800 - than he was used to.
"At first, I didn't want to do it; those races are long," said Metcalf, who nonetheless became one of four Pacific athletes to run below 2 minutes in the 800 (1:58.95), winning the Far East Division II title. He did the same in the 400, taking the D-II title in 51.23.
That was in addition to leaping a Pacific-best 1.96 meters in the high jump, his signature event. He came up shy of beating his own Far East meet record, but he won the D-II title along the way.
"Once you're on the track, you're not thinking how long the race is; you're wanting to finish first and get points for the team," Metcalf said. "I'll complain about it, but in the end, I'm still going to do it. That's just who I am. I do what the team needs."
"I know he wanted to run more relays, but at the same time, it came down to where the team could benefit," Merriwether said.
Metcalf is due to return to Humphreys for his senior seasons of basketball and track, and he and his coach feel more is possible.
Having come so close to 2 meters in the high jump, Metcalf said he feels he's capable of "breaking that by an inch or two. Or after running a sub-2 (minutes in the 800), I might consider switching to the 800. Or maybe do well in both. We'll see," he said.
Twitter: @ornauer_stripes