Menwith Hill prevails in shootout with Alconbury
by
David Hodge
September 27, 2009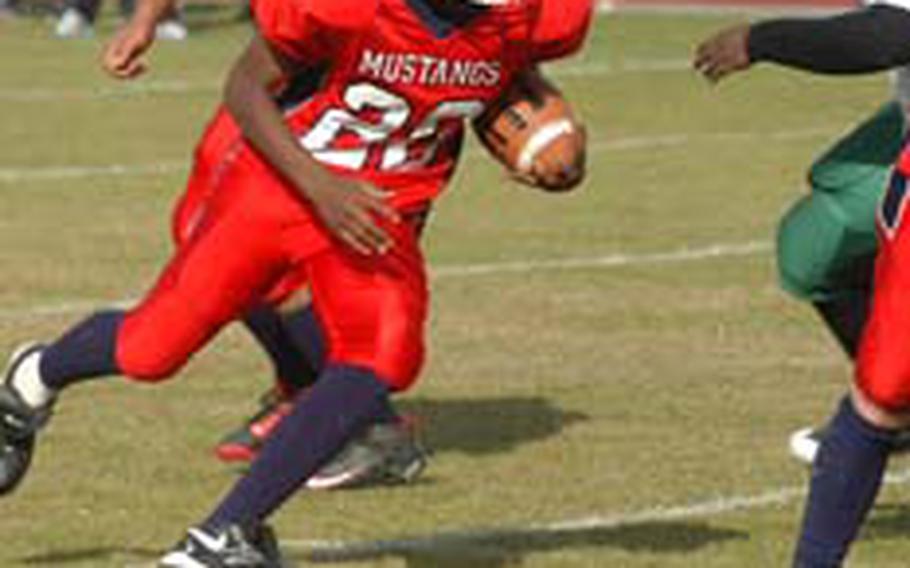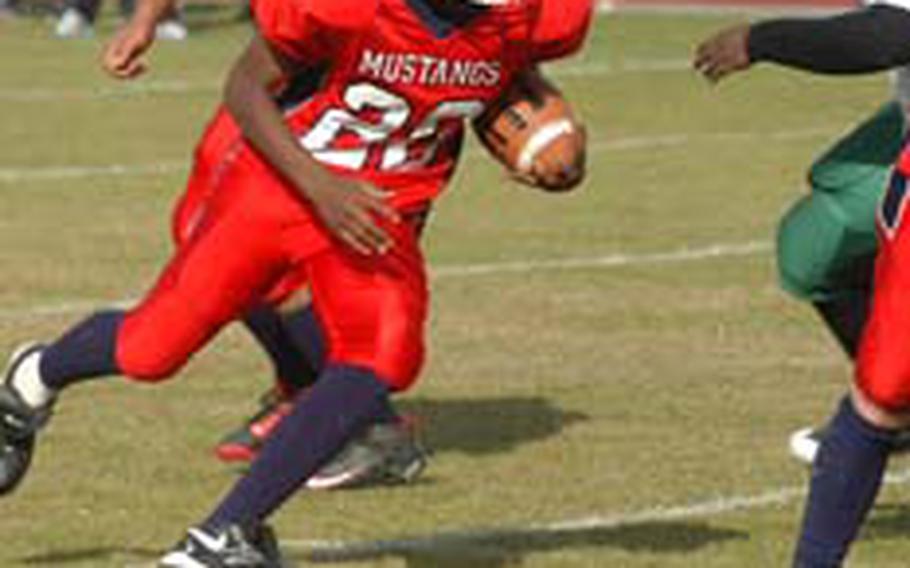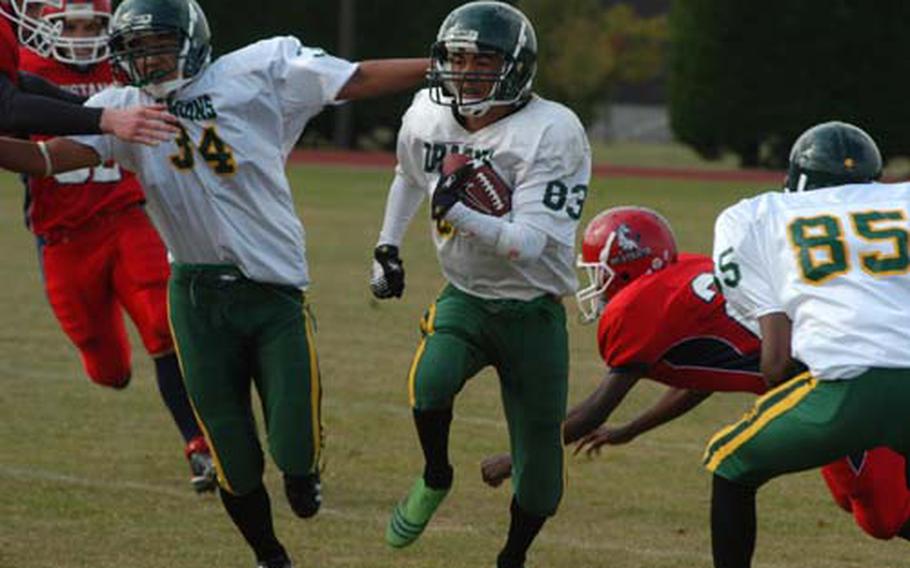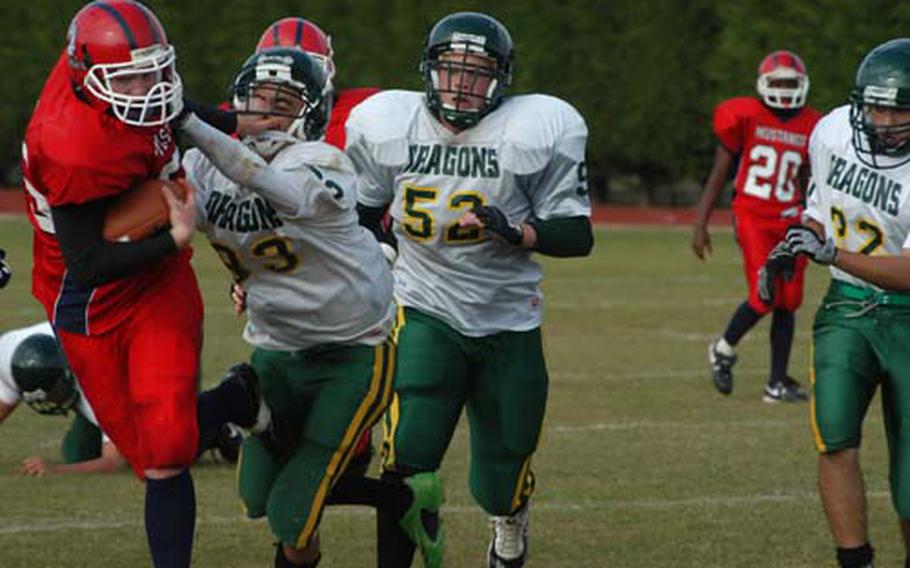 RAF ALCONBURY, England — "That's one goal we wanted to accomplish this year: beating Rota at their home and beating Alconbury at theirs," Menwith Hill football coach Pete Resnick said just after the Mustangs' 49-39 victory Saturday at Alconbury.
The wide-open game between the two England-based Division III teams playing nine-man football sent the players' statistics soaring. Menwith Hill's Chris Jackson led the parade with 18 carries for 243 yards and three rushing touchdowns, along with two pass completions, one for a touchdown.
For Alconbury (0-2), Devin Pryor had 178 yards rushing and one TD, while Kerry Kuheana ran for 79 yards and three scores. He also had 17 yards receiving, including a catch for a two-point conversion.
Running back Jackson's TD pass came on the Mustangs' second possession, when he threw a 43-yard pass to a wide-open Ian Anderson for a 14-0 lead.
Alconbury answered on its next possession with two long runs by Kuheana, the last a 52-yard jaunt to the end zone. Pryor tied the score with an 83-yard punt return and then put Alconbury up 21-14 with a 2-yard run.
The Dragons' lead didn't last long: Kick-off return man Scottie Setzer picked the ball up off a bounce and sliced through the defense for a 90-yard score. The two-point conversion was successful, giving the Mustangs a one-point lead.
With less than a minute left in the first half, Dragons quarterback Jeff Black completed a downfield pass to wideout Dominique Littleton, which set up a 22-yard field goal by Jeff Black for a 24-22 halftime lead.
The second half belonged to the Mustangs. They stopped the first two Alconbury drives and scored TDs on their first two possessions. When Jackson intercepted an Alconbury pass and finished off a drive with a sweep down the sideline, the Mustangs were up 42-24.
Jackson tacked on one more score, a 60-yard run, before Alconbury got two late touchdowns, both on short runs by Kuheana, to make the final score close.
Menwith Hill running back Jeremey Smith had eight carries for 103 yards and 11 tackles on defense. Kuheana led the Alconbury defense with with 15 tackles and a forced fumble, while Pryor had 13 tackles and Sabastien Schniebs finished with 11.
In Saturday's other Division III game:
Sigonella 34, Brussels 0: At Brussels, the road-warrior Jaguars went to 2-0 for the season — both away games — behind two touchdown passes and a touchdown run by Bret Gilbert, who also passed for 176 yards.
Tyler Reed, with two sacks among his nine tackles, and Tai McGee, who also chalked up a sack and nine stops along with a fumble recovery, led the defensive charge that held Brussels scoreless in its season opener.
Tahir Mahmudov led Brussels with 59 yards rushing.
---
---
---
---