Memories of two big losses spark Kinnick's Yamada in quest for wrestling gold
by
Dave Ornauer
January 9, 2003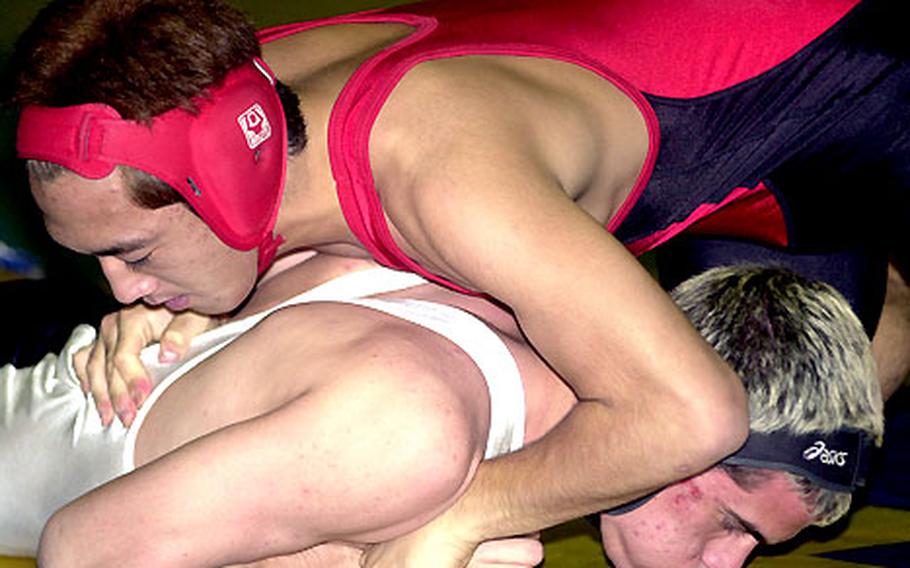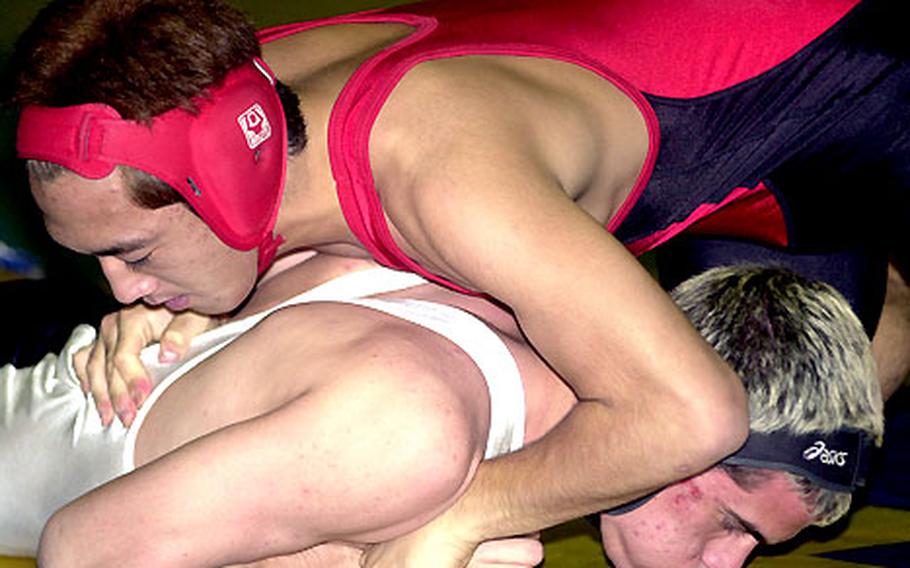 YOKOSUKA NAVAL BASE, Japan — "OK, center of the mat, everybody," Nile C. Kinnick wrestling coach Scott Smith ordered.
"Fireside chat time," he said, smiling at a visitor to Monday's practice, the team's first since the two-week holiday break.
The 40 wrestlers gathered at the center of the mat, while Smith spent the next few minutes laying out the team's goals and challenges for the coming six weeks.
"Everything we do from here on out is geared toward one thing: Far East," Smith said of the season-ending Far East meet Feb. 12-14 on Okinawa. "Every practice, every dual meet, every tournament, we're doing with Far East in mind."
A few feet away, senior 129-pounder Go Yamada didn't need words for motivation. Lying on his back, he closed his eyes, perhaps feeling more than ever the ceaseless cauldron, one of frustration, resolution and determination, that burns brightly in his belly.
The source of the fire within: Two aggravating mid-February defeats that cost him a chance to win individual weight-class gold medals in the past two Far East tournaments.
The memory serves as incentive, governing his every conditioning run, practice bout, regular-season match and appearance in league and invitational tournaments during his final season.
"I have to change them into positives, as a motivator," Yamada said. "Getting first place at Far East means a lot to me. Being a senior, this is my last chance. I just have to give it all I have."
Thus far in the 2002-03 campaign, he's 5-0 in dual meets, has won weight-class titles in two invitationals and took outstanding wrestler honors in a Department of Defense Education Activity tournament last month at Sasebo Naval Base.
In his two-plus seasons with the Red Devils, he's lost only four times, all in tournaments. He has two Far East silver medals — 115 pounds two years ago and 122 pounds last season.
It's the Far East losses that are foremost in his mind.
Kubasaki's Bobby Duncan won his second straight Far East gold medal on Feb. 17, 2001, by beating Yamada 6-1 in the 115-pound title bout. And he did it in Kinnick's home arena, Yokosuka's Thew Gym.
Last March 1, at Okinawa's Camp Foster, Paul Devendorf, of Brent International School of the Philippines, superior decisioned him 16-6 in the 122-pound final.
Yamada insists that physically, he was the equal of both his conquerors.
It's the mental aspect, say Yamada and coach Smith, that led to Yamada's downfall in both Far East defeats.
The adage "they wanted it more than I did" rings in Yamada's mind whenever he mulls those two losses.
"I have to make myself psychologically, have to want it more than the other guy. I have to believe in myself," Yamada said.
"You can never have a doubt of what you can do," Smith said of wrestling a championship-caliber bout.
"The competitive level, the high intensity of the championship round for both wrestlers, the psychology of such a match, can be established with the first takedown. It can break a guy's back. You never know what can happen ... It can turn into a blur."
Both times Yamada stepped off the mat in those defeats, Smith recalled that his wrestler told him the same thing: "He said he didn't believe in himself," Smith said. "If he had walked on the mat saying, 'Let's lock and load,' it'd have been a different story."
Yamada, the son of retired Army Master Sgt. Keizo Yamada, a Vietnam veteran, moved to Japan with his family from San Francisco during his fourth-grade year. First living in Kawasaki, then moving to Yokohama last year, he's been commuting to Yokosuka schools since coming to Japan.
A soccer player since he was young, Yamada approached Smith just a few years ago for a wrestling tryout, joining the team at midseason 2000-01. Smith said he liked what he saw in Yamada right away.
"He's a great athlete with great instincts," Smith said, adding that Yamada always is willing to help other wrestlers develop their talent.
"He'll get a call from a teammate who says, 'Hey, I'm overweight.' And he'll say, 'OK, let's go run,' and he'll take a train all the way from Yokohama to Ikego or Yokosuka just to run with the kid," Smith said. "He's as dependable as a kid can get."
The down feeling that came with Yamada's two tough Far East losses can motivate him to greater efforts, Smith said.
"He wears his emotions right there," Smith said, pointing to his sleeve. "He has great emotions that he uses as a positive tool."
Yamada no longer appears intimidated by a supposedly stronger wrestler's reputation, his coach said. "If you say a guy is tough, he takes that as a personal challenge,"Smith said.
All that remains, Yamada and Smith said, is to take that last big step. Coach and wrestler feel Yamada now has the proper mental focus to make that leap.
"One bout at a time," he said. "Every match you wrestle, even at practice, leads to a Far East championship. It's one step, every step at a time. Even your losses count as a step to motivating yourself."
Whether he can take that last step "depends on how I work at it," Yamada said. "I'm working very hard and there are a lot of incentives. I'm a senior, it's my last year, and I've just missed gold medals twice. I just want it."
"I know that psychologically, he'll be ready," Smith said. "If there's somebody out there who's better than he is, we'll stand and applaud him. But psychology won't be an issue. He's a senior. Time to step up. He'll look at the big guns and say, 'Let's go.'"