Med girls soccer: Aviano repeats as Med champ
by
Kent Harris
May 16, 2004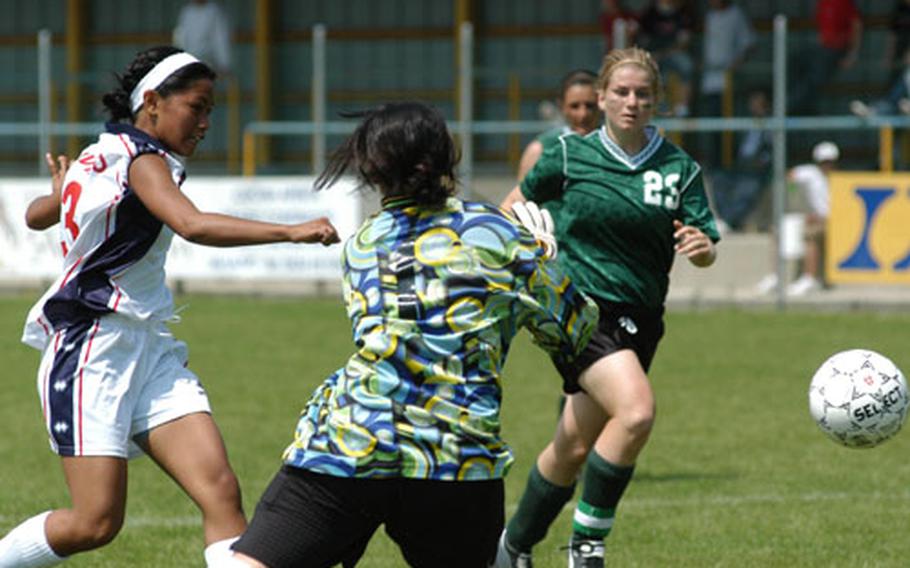 AVIANO, Italy — To no one's surprise, the championship of the DODDS-Europe Mediterranean girls' soccer tournament came down to Aviano and Naples.
No matter what the sport, those two schools are seemingly always battling for girls titles in Italy. Saturday — reportedly the last time that the Mediterranean tournament will be held because of a realignment next season — it was Aviano's turn.
The Saints got a pair of goals from Alexa Wan and controlled the tempo in a 2-0 victory.
Aviano, which hasn't lost this season, carried the most pressure heading into the game. But that feeling lasted for only about two minutes. That's how long it took Wan to score and put Aviano up 1-0.
"My first thought was that took the pressure off," Aviano coach Pam Hillestad said. "Then we could play our game."
That game apparently consisted of shooting a lot more times at the goal than the Wildcats. Naples was outshot 12-4 in the first half and it got worse in the second half, with Aviano holding a 14-2 advantage.
Naples still had a few chances to tie it and Aviano's lead wasn't comfortable until Wan's shot about midway through the second half bounced off Naples goalkeeper Cara Wells' hands and into the goal.
The game didn't seem so important a few minutes later when Wells collided with Aviano's Kassie Mangosing. Wells lay on the field until an ambulance arrived to take her to the hospital in Pordenone. Officials said the trip was precautionary.
There were only a few minutes left when the game resumed, and the Saints soon had their second straight Mediterranean title.
Naples coach Alfonso Tafur is hoping that history repeats itself as both teams get set to compete in the Division III finals next weekend in Germany.
"We lost the tournament against them last year, too, but we went and beat them in the Europeans," he said.
---
---
---