DI boys soccer
McLouth propels Royals past Lancers
by
Rusty Bryan
May 21, 2011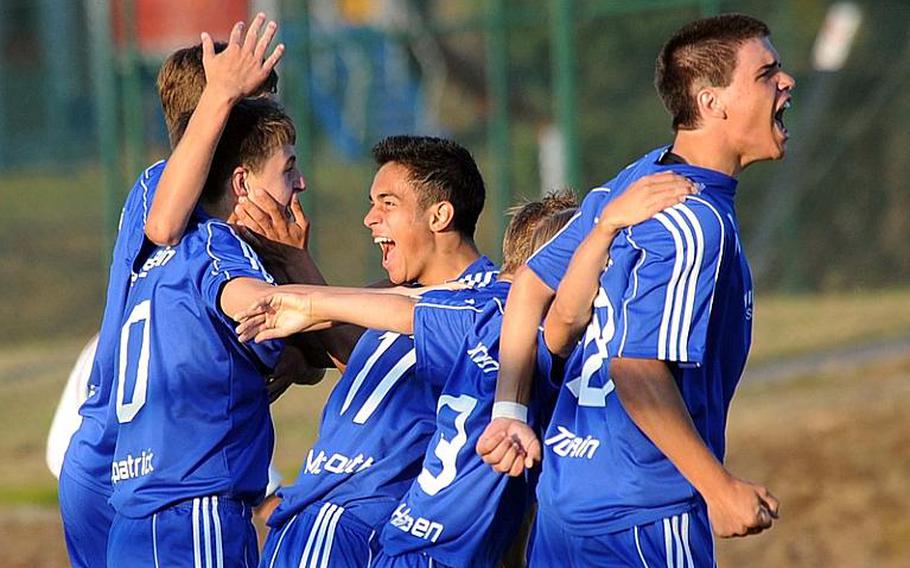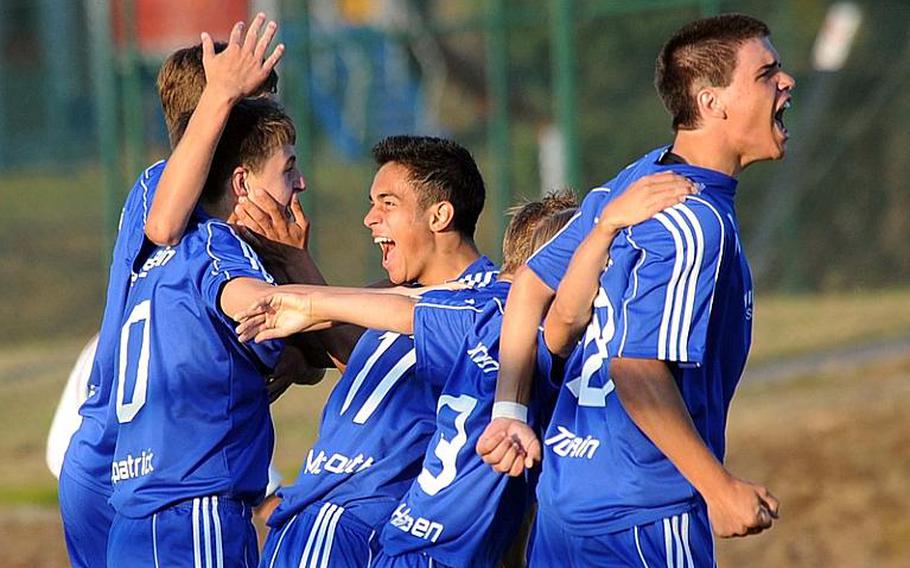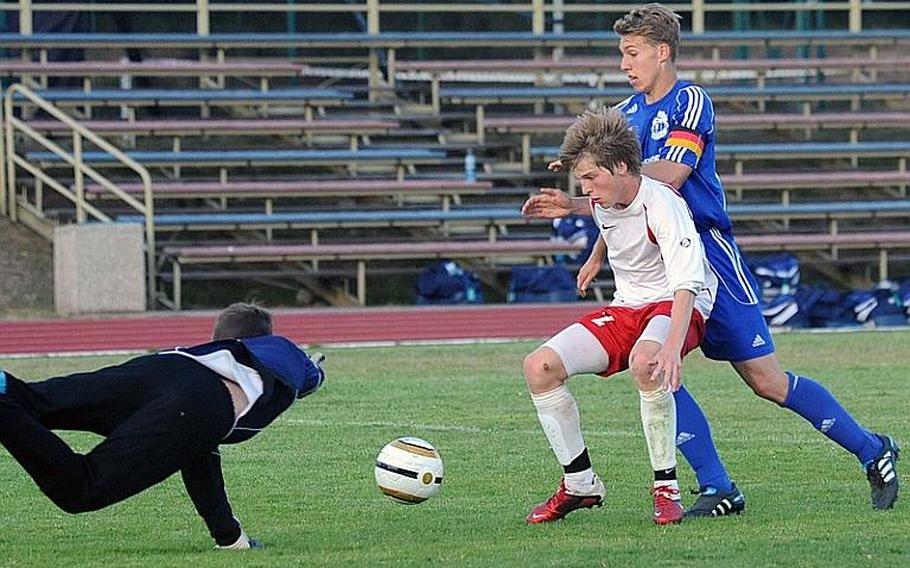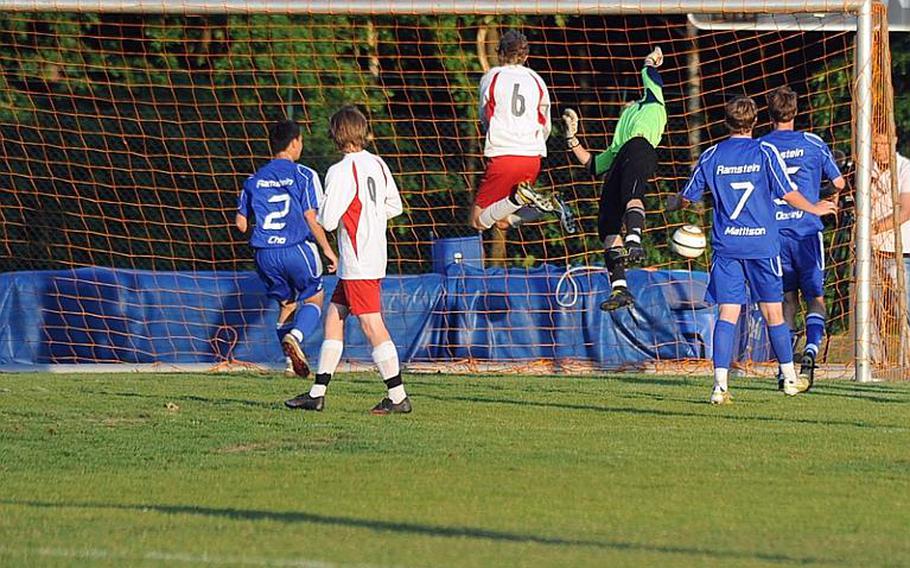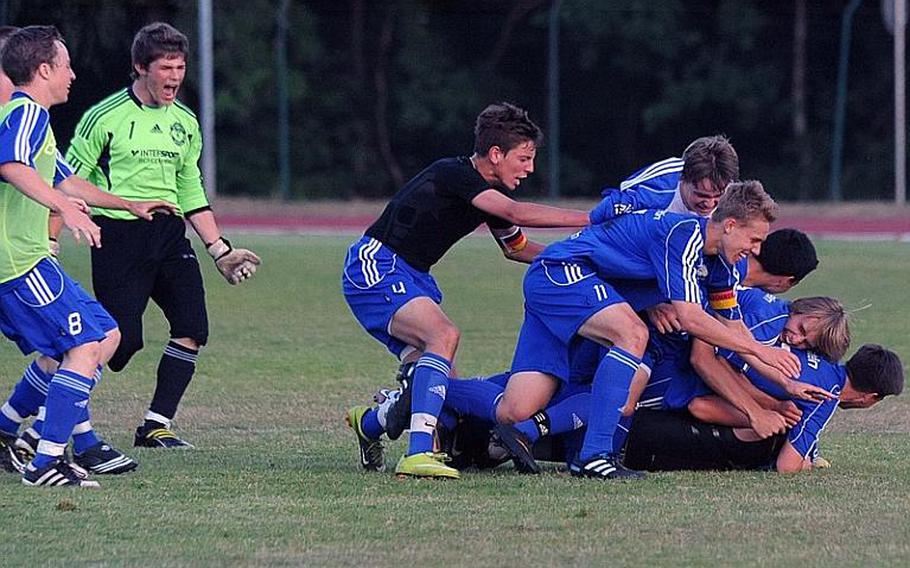 RAMSTEIN AIR BASE, Germany – All-Europe striker and tournament MVP Jon McLouth scored one goal and assisted on the other Saturday night as the Ramstein Royals defeated the Lakenheath Lancers 2-1 in the boys' European Division I championship soccer game.
"It was unbelievable," said McLouth, who with the game just five minutes old ran onto a through-ball at the top of the box and headed it past frantically onrushing Lakenheath keeper Joshua Dinsmore for the quick lead. "You couldn't ask for more as a senior."
Especially since McLouth, who scored six goals in this tournament, was just a spectator in Ramstein's dramatic shootout victory over International School of Brussels in Friday night's semifinal game.
McLouth was forced to sit that one out after picking up his second yellow card of the tournament in a pool-play game on Friday morning.
"My team carried me when I couldn't play," McClouth said, "so I wanted to help them today."
But McLouth wasn't finished after giving his team a 1-0 halftime lead. After intermission, the senior again played a role in an opening-five-minutes score. McLouth retrieved a loose ball outside the penalty box and crossed it to freshman Andrew Fitzpatrick, who got enough of his head on the ball to bounce it into the net.
It was an inartistic goal which would prove to be a masterpiece when Ramstein's short-sighted decision on the pregame coin flip put a fierce setting sun into the eyes of Royals' keeper Kyle Borda during the second half.
"They won the toss and said 'We'll take the ball,'" Lakenheath coach Greg Mako said. "We took the end of the field so that the sun would be at our backs in the second half. At halftime, I told them, 'We have the sun. This is our period."
The decision worked precisely as planned when All-Europe striker senior Jordi Davis launched an epic transcontinental free kick from more than 60 yards away with 30 minutes left in the game. It carried into the Ramstein net on the fly just under the crossbar at the left post to make it 2-1.
"I just couldn't reach it," said Borda, who saved two PKs in the shootout against ISB on Friday.
Borda didn't say so, but one of the reasons he couldn't reach Davis's ICBM likely was that he got a late jump on the ball, which arced into his net from out of the sun.
"The sun definitely helped," Mako said.
Davis' score might have been a bit on the flukish side, but it was no fluke.
"Jordi made a shot like that a couple of years ago here," Mako said.
Moreover, Davis used his powerful right leg to send several long-range free kicks sailing into Ramstein's box, four of them which had Borda scrambling to punch the ball clear. Two of the kicks were especially dangerous – another 60-yarder which Borda got to as it bounced once at his goal mouth, and another, this one from 40 yards or so, that he barely deflected.
"They really fought hard," Borda said of Lakenheath ceaseless assaults on his net.
The title game was the second 2-1 victory Ramstein inflicted on Lakenheath this season and allowed the Royals to retain the Cross of St. George flag the two schools exchange when one beats the other. This possession of the English national banner, however, came with other trappings.
"At the beginning of the season, we set our goals," McLouth said. "First, we wanted to win the regional championship and then the European championship. We did that and ended up unbeaten, too (9-0-3)."
The Royals also sent coach Dan Nukala, who has guided them for 18 seasons, out on top.
Nukala is retiring from DODDS-Europe to take his teaching skills to Ghana.
"One of our goals tonight," McLouth said, "was to win it for him."
The loss was just the third of the season for Lakenheath (8-3-1), which surrendered as many as two goals just twice since a 6-2 loss to ISB on opening day. Both times, it was Ramstein which scored twice.