Pacific softball player of year
McElhinney bounced back to lead team to title
---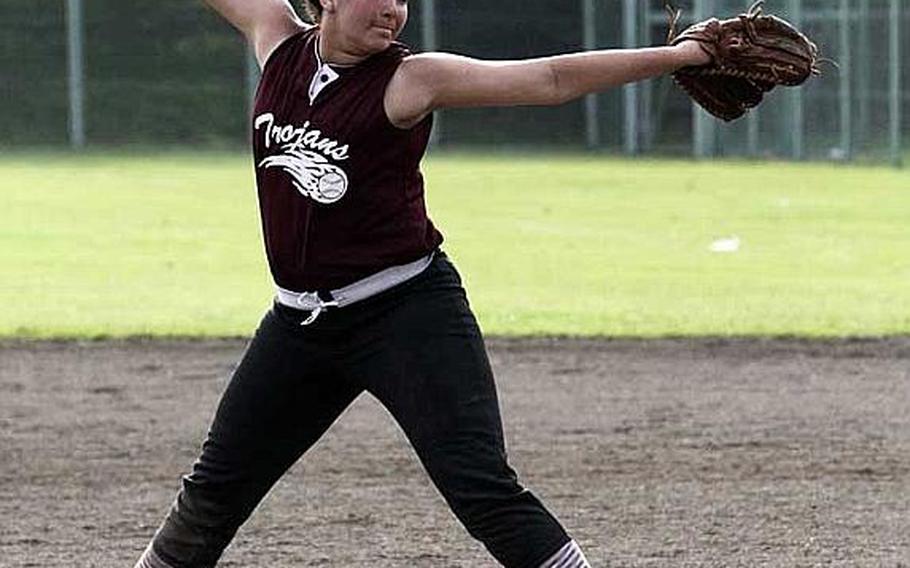 Things appeared bleak for Zama American softball two days into last week's Far East High School Division II Softball Tournament, having gone 1-3 and finishing fourth in the tournament's pool-play stage.
It was time for freshman right-hander Brooklinn McElhinney to enter the picture – and she helped turn around the Trojans fortunes and lead them to an improbable first Far East softball title in school history.
McElhinney won four straight decisions, overcoming a shaky start in the championship game to hold Osan American to two runs in the last five innings as the Trojans rallied past the Cougars 27-11 for the championship May 24.
For her efforts, McElhinney was named tournament Most Valuable Player, and has been selected Stars and Stripes Pacific high school girls softball Player of the Year.
All that came after McElhinney was sidelined for six weeks after hyperextending her right elbow doing pull-ups in physical education class, followed by an extended illness.
"She had been so ready to pitch and she took off at Far East," Zama coach Parish Jones said.
With McElhinney back on the mound, the Trojans also switched Silvia Dykstra from first base to behind the plate, swapping spots with Alexis Haddock back to their accustomed spots on the field.
"With her (McElhinney) back and the others in their natural positions, they were back in their comfort zone," Jones said. "Silvia behind the plate, Brook pitching and finding that steady rhythm, it gave the team a big lift going into bracket play."
Zama began bracket play on May 23 by downing Robert D. Edgren 11-7, then surprised E.J. King, which had been unbeaten in pool play, by a 6-4 count.
The next day, the Trojans took down the Cougars twice, also beating Osan 18-7 in the winner's bracket final of the double-elimination tournament.
It was the Trojans' first girls Far East title of any kind since Zama won the Division I Soccer Tournament in 2009, a year prior to the Trojans moving to Division II. Zama has also won five Far East Division I volleyball tournament titles.
Stars and Stripes Pacific high school girls softball All-Star team
Division IKadena — Lauren Youngs, Kiara Hodges, Kelly Kaneshiro, Nia Rodriguez.Kubasaki — Jackie Santoyo, Shuri Seamans, Kaitlyn Farley.Seoul American — Julia Ring.Guam High — Daniella Hoyos.Nile C. Kinnick — Elizabeth Farley.Yokota — Cora Argallon.
Division IIZama American — Brooklinn McElhinney, Silvia Dykstra, Alexis Haddock.Osan American — Sydney Barker, Taylor Byrom, BobbyJean Hilliard.Robert D. Edgren — Ashley Van Horn, Nicole Davis.E.J. King — Nikka Stephens, Carmela Lucey.Daegu — Christina Henry.
---
---
---
---