Football Athlete of Year
McDaniels did just about everything for Baumholder
by
Gregory Broome
November 21, 2012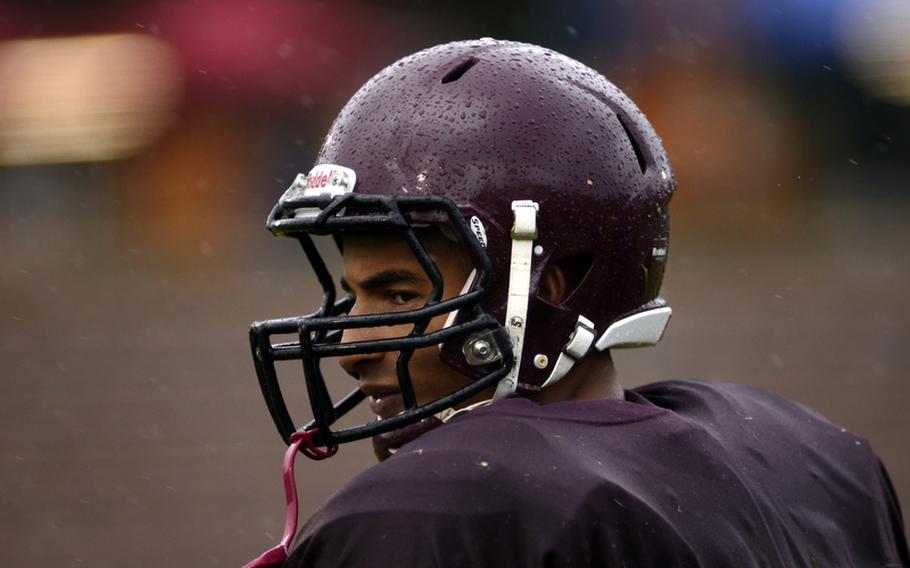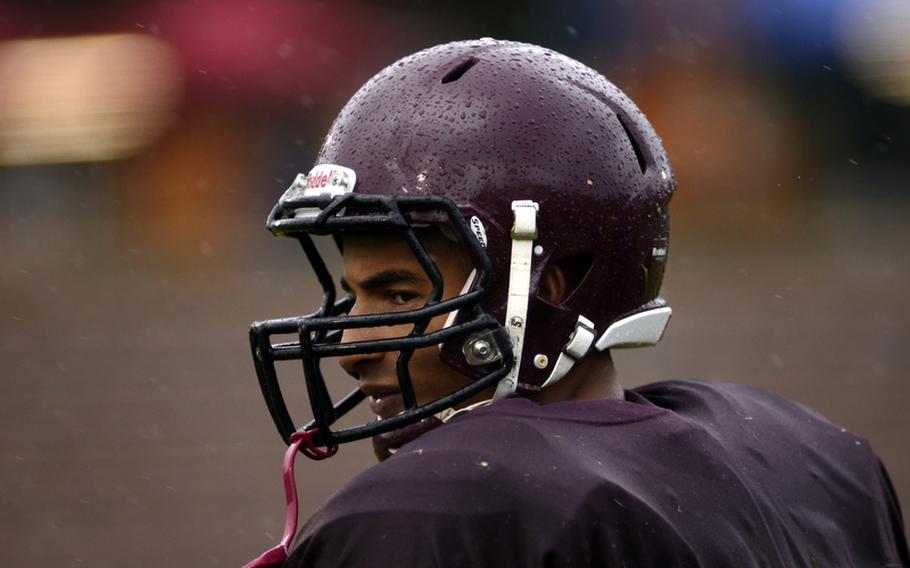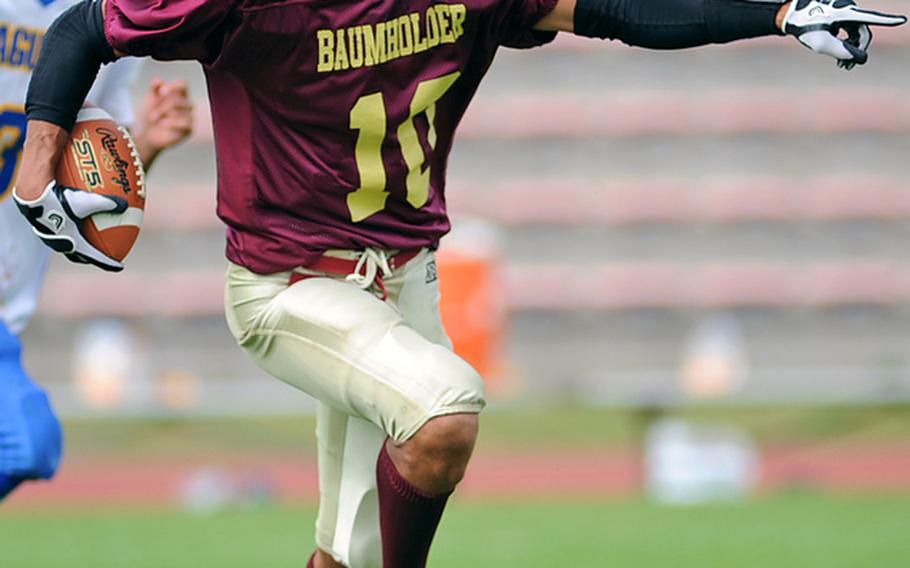 Name a football formation, and Ben McDaniels was at its center.
Kicking off? He's there with his arm up, sending a touchback deep into the opposite end zone. Receiving the kick? He's on his own goal line, already scanning for gaps in the coverage. Punts fly from his foot or nestle into his waiting arms.
On offense McDaniels is the quarterback, effective via ground or air.
On defense he's the free safety, directing pre-snap shifts and adjustments from a supervisory vantage point.
McDaniels was found at the heart of every Baumholder triumph in 2012, and there were many. The Bucs followed their leader to an undefeated season and into the playoffs. Then he led them in a Division III championship celebration on their beloved Minick Field.
As a result, Ben McDaniels is the 2012 Stars and Stripes football Athlete of the Year.
"He's the general of the team," Bucs coach B.J. Walker said. "How he went, the team went."
That has been true since 2009, when the freshman McDaniels showed up for Baumholder football camp equally gifted and green. He slid in as quarterback for the proud but rebuilding program. The Bucs didn't win a single game. Though his career was in its infancy, McDaniels wasn't convinced things would ever improve.
But McDaniels grew up, and Bucs football along with him. He moved to receiver and found success over the next two years as Baumholder began to notch its share of victories. McDaniels was an All-Europe wideout in 2011 as the Bucs reached the postseason, charting a path for a strong senior campaign.
Troop reductions dropped Baumholder from Division II to Division III and cost the team a chunk of its returning talent. Holes littered the Bucs depth chart. McDaniels, happily entrenched at receiver, was now needed somewhere else.
Everywhere else, in fact.
Reluctantly at first, McDaniels returned to quarterback, lining up not only against fierce defensive linemen but the memories of his past failures at the position. As he prepared for the season, he rediscovered the joy of orchestrating success for his teammates.
"I realized that I had to be unselfish," McDaniels said. "Wherever the team needs me, that's where I need to go."
His coach never doubted it.
"I knew he was going to be fine all along," Walker said. "He takes on any challenge and rises to the occasion."
Taking advantage of the space available in the Division III nine-man game, McDaniels flourished.
He completed 30 of 58 pass attempts for 594 yards and five touchdowns and carried 72 times for 738 yards and 10 touchdowns. He returned a combined 21 kickoffs and punts for 639 yards and two touchdowns. He made 12 of 17 point-after kicks and nailed a 22-yard field goal in the playoffs. On defense, he notched 38 total tackles and returned one of his four interceptions for a touchdown.
The Bucs won every game by double digits.
Division III rival Sigonella fell twice to Baumholder, never fully solving the problems McDaniels posed from the quarterback position. Jaguars head coach Matt McKown came away impressed not only with McDaniels' athletic gifts but his maturity and poise as a quarterback.
"He hurt us mainly with his speed to the outside, and he made really good decisions when he was throwing the ball," McKown said.