Mathieu paces Kubasaki girls past Japanese team
by
Dave Ornauer
December 16, 2004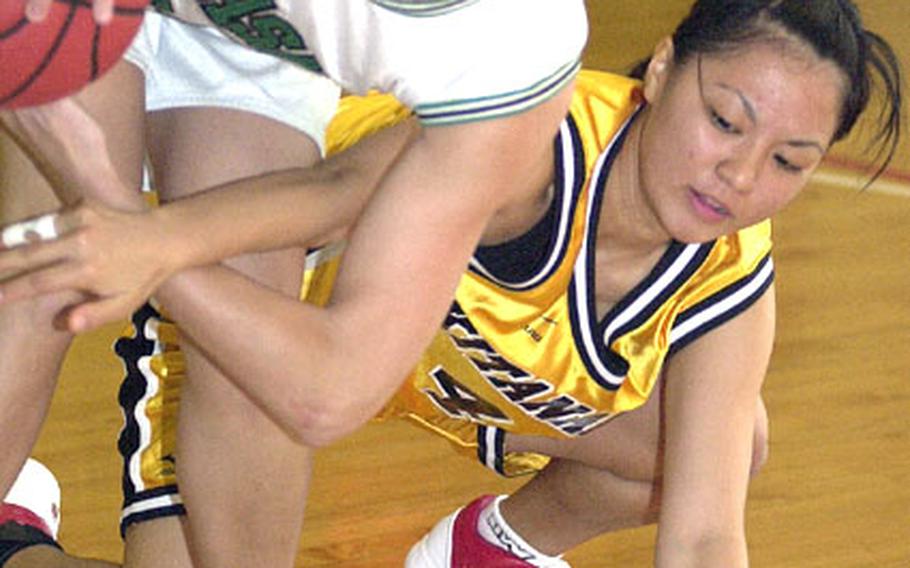 CAMP FOSTER, Okinawa — Ka'leen Mathieu of Kubasaki seems bound and determined to become her own high-scoring girls basketball act, modeled after the success of Kadena boys star Z'aire Jackson.
"They're both athletes," Kubasaki coach Robert Driggs said after Mathieu, a senior center, scored a Pacific season-high 34 points and grabbed 19 rebounds in Tuesday's 86-63 romp over Kitanakagusuku, a Japanese team, in Okinawa-American League girls basketball.
Kubasaki improved to 4-6 in its final game before the holiday break and snapped a mini-tailspin; the Dragons had lost two straight, 70-65 to Kitanaka on Dec. 4 and 61-41 to Okinawa Activities Council archrival Kadena last Friday.
But those losses also featured an offensive explosion by Mathieu. She's piled up 80 points and 49 rebounds, 25 offensive, in the last three games, almost mirroring Jackson's totals of 87 points and 54 rebounds in his past two outings.
Mathieu wasted little time asserting herself Tuesday, scoring 12 points in the first quarter and 18 in the second.
"Ka'leen's been working hard, dominating the paint a little," Driggs said.
Kristi McNair contributed seven assists, all passes down low to Mathieu, while guard Erin Foote helped spread the floor with 23 points, including four three-pointers.
"We can't become one-dimensional," Driggs said. "Ka'leen's a good inside and outside player. Kristi picks her up a lot, feeds her inside and we get it in there."
Seeing Foote rack up the points was good, too, he said.
The Dragons never trailed and substituted liberally in the second half after going ahead by 31. Kitanaka, behind the perimeter shooting of Ryoko Tokashiki (22 points, six three-pointers), got within 14 a couple of times but no closer.
---
---
---
---