Mason defeats Allen, wins girls singles crown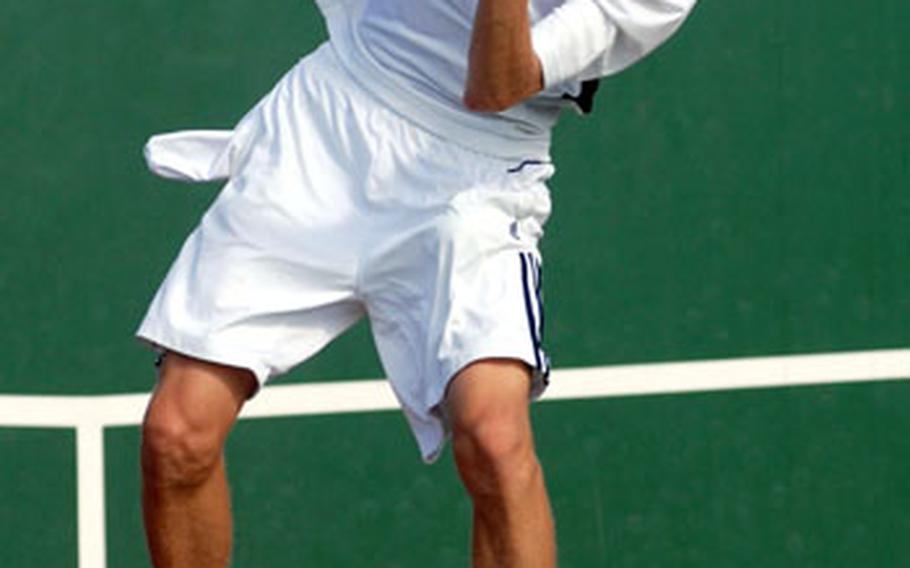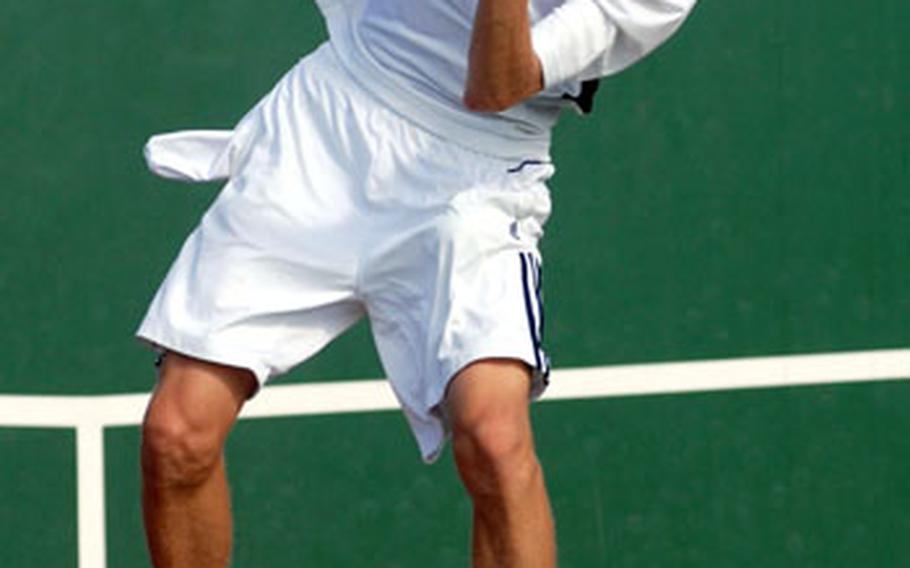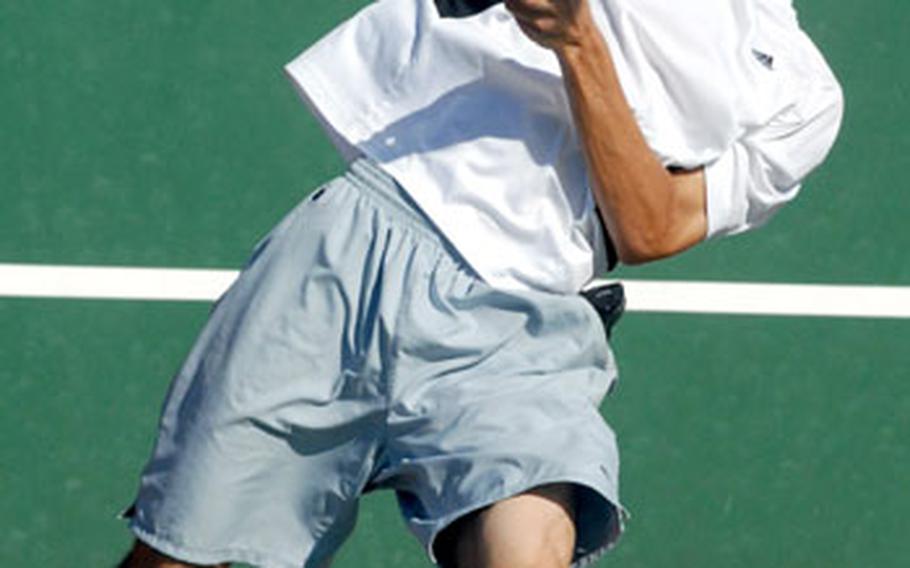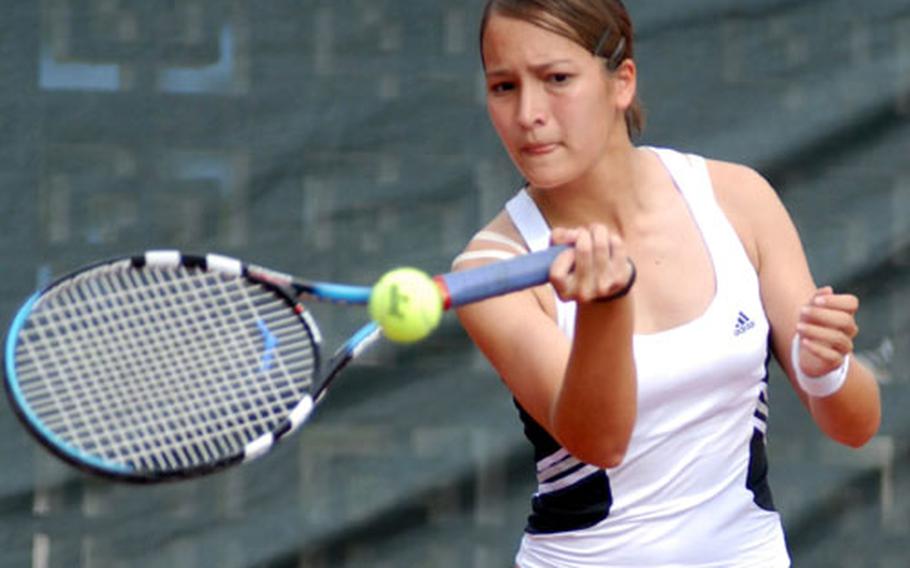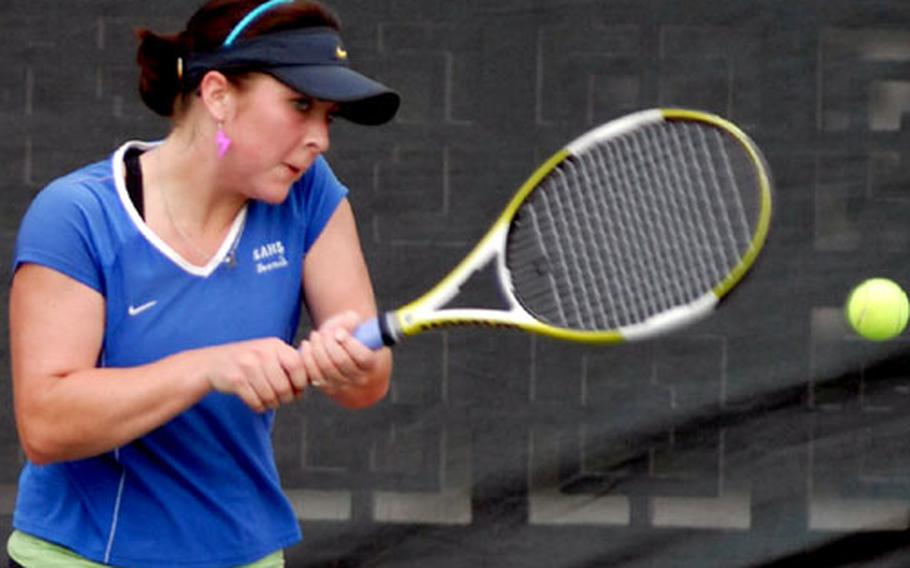 Attack her backhand. Pin her to the baseline.
Such was Elissa Mason's game plan, which worked to perfection Thursday as the Kadena junior dethroned reigning Far East High School Tennis Tournament girls singles champion Kennedy Allen of Seoul American.
"I wasn't expecting to play that good," said Mason, who used six service breaks and a patient baseline game to beat Allen 6-4, 6-2 at Kadena Air Base's Risner Tennis Complex. "I just played my own game, keep her to the baseline and let her make the mistakes."
"For Elissa to pull that off was just unbelievable," coach Robert Bliss said. "Kennedy is such a good player."
"I was kind of tired. I couldn't hit it, and Elissa was very consistent," Allen said. "It just wasn't my hitting day."
The other defending singles champion, Kyle Sprow of Kadena, left little to chance, dispatching fellow junior teammate Eliott Mason 6-2, 6-2.
Allen didn't go home empty-handed. She and teammate Melissa Bruhnke captured the girls doubles title, beating Amber Gadsden and Christina Payne of Guam High 6-2, 6-1.
Laura Konecne and Dustin Caranci of Osan American won the mixed doubles title 6-4, 6-3 over Michael Ross and Teressa Kim of Seoul American.
And the last two schools to win the overall team championship, Kadena (2004) and Seoul American (2005-07), wound up sharing the team title — the first time in tournament history for DODDS-Pacific teams to do so.
Elissa Mason's victory was sweet revenge for her 7-5, 6-1 loss to Allen in last year's semifinals. Thursday's rematch began as if it would mirror their 2007 encounter, as Allen used two service winners to go up 40-0 in the first game.
Mason then started attacking Allen's backhand, and rallied for her first service break.
"That pumped me up, that I could get her back," Mason said. "After she started making mistakes with the backhand, it seemed to be working, so I stayed with that."
Allen appeared tentative in falling behind 3-0, but rallied to tie the set 4-4. But Mason again broke Allen's serve and then held serve to end the set.
In Game 3 of the second set, Mason caught Allen rushing the net and hit a passing shot to Allen's right for her fourth break.
"Again, that just pumped me up," Mason said, adding that the home fan base played a factor. "Everybody supported me a lot. That helped."
Allen broke back to level it 2-2, but Mason broke Allen the next two times she served. Allen fought off a championship point in the eighth game, but sailed a return wide on the second one. Mason shouted with joy, then burst into tears.
Sprow, another serve-and-volley player, had better success against Eliott Mason, who like his twin sister sticks to the baseline.
Sprow fought off a handful of break points in the first set's eighth game, finally ending it with an ace. A resounding forehand smash put away Mason and the title in the eighth game of the second set.
Sprow went up against somebody who "knows my strategy, tendencies, strengths and weaknesses," he said of Mason.
"We've played so many times, we know each other's ins and outs so well. He played well, extremely consistent, made me go for more than I wanted. Big shots on big points. His baseline game gave me trouble."
Kadena's two singles titles helped Bliss get a share of his first Far East tennis team title.
"We felt like we were coming from behind all week. Seoul is so consistent and steady up and down the line," he said.
Thought to be rebuilding, the Falcons instead grabbed at least a share of the team title for the fourth straight year. "We were very happy with the result," coach Robert Victoria said. "They've come a long, long way … when we weren't considered to be contenders."
Kinnick spikers fall in Class AA quarterfinalFresh off a two-set victory over John F. Kennedy, coach Al Garrido's Nile C. Kinnick Red Devils entered Thursday's Far East Girls Class AA volleyball tournament quarterfinal "pumped up and ready," he said.
"But we didn't produce," he said of Kinnick's 25-17, 25-15 loss to the Geckos, who burst out of the gate to lead 18-1 in the first set. They held off a Kinnick comeback try, then rallied from a 12-10 second-set deficit to reach the tournament semifinals.
"We were the last hope for DODDS," said Garrido, whose Devils can still earn fifth place. "They [Geckos] played better than we did. But anything these girls do here is all gravy. We've had a great season, and it isn't over yet. We should keep our heads up high."
Warriors hit the Class A volleyball tournament warpathPerhaps the biggest surprise of the Far East Girls Class A volleyball tournament is host Daegu American, and its rising star sophomore middle blocker Kristina Bergman.
Daegu American sported a pedestrian 3-3 record and the No. 4 seed entering the double-elimination round. But the Warriors, thought to be rebuilding, stunned International School of the Sacred Heart in four sets, beating the Symbas for the first time since winning the tournament in 2005.
Daegu faced defending champion Osan American in Friday's winner's bracket final. The Cougars suffered a major scare against last year's runner-up Morrison Christian Academy, but survived 25-23, 22-25, 25-19, 30-32, 15-13.