DII boys soccer
Marymount wins battle of Rome
by
Dan Blottenberger
May 21, 2011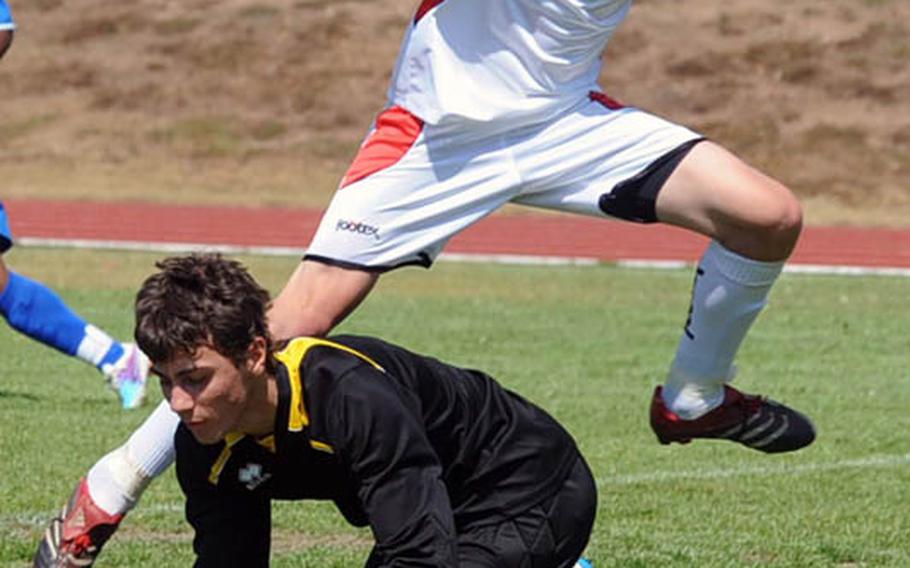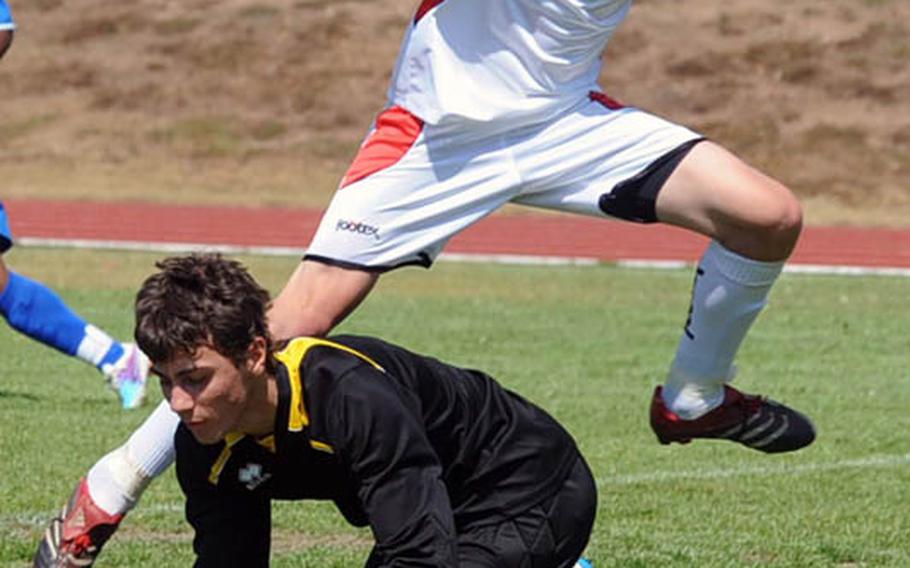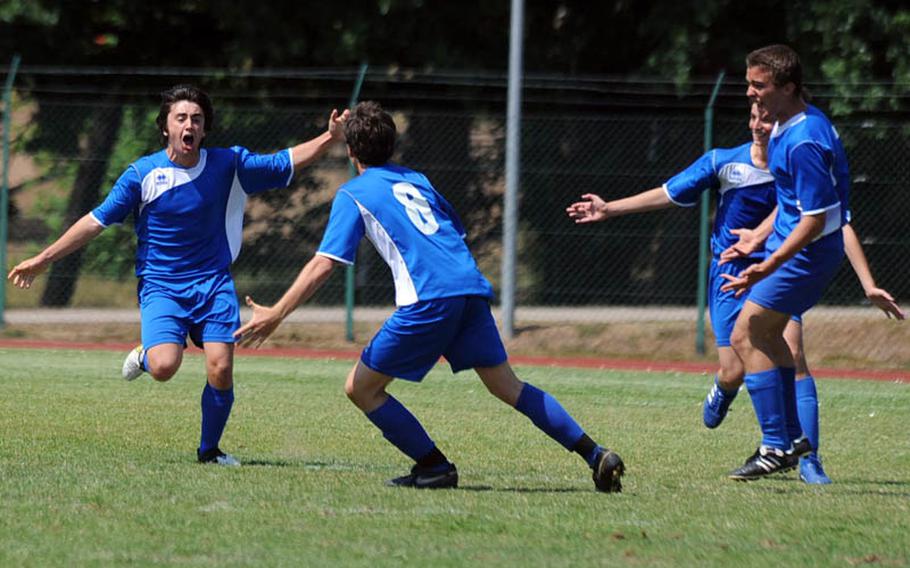 RAMSTEIN AIR BASE, Germany – A rivalry that thrives in Italy reached the finals of the European Division II soccer championship in Ramstein on Saturday as Marymount International School of Rome and American Overseas School of Rome met in the venue for the second time in as many years.
This year, it was Marymount's turn to win.
Vittorio Fiore, who missed most of the tournament because of an allergy problem, sealed a 2-0 victory with a gem of a shot late in the second half.
A clearing attempt by the AOSR defense came bouncing to Fiore about 40 yards from the goal. His kick went soaring toward the AOSR goalie, Jacopo Lorenzi, who misread the shot. Lorenzi back pedaled toward the goal as the shot began to drop on target and eventually slipped over his outstretched hands into the back of the net.
"I don't know, I did not think it was going to go in," Fiore said. "At the end it fell quickly and the goalie could not get to it."
Maymount coach Alex Zadini didn't hesitate to praise Fiore, a junior. "Fiore is the hero of the match — he made the difference when it mattered most," he said.
When two teams are so equal in skill and passion, it usually takes mistakes to decide a game, Zadini said. Both teams dominated their competition in the D-II tournament on their way to the final match, including a pair of decisive semifinal wins.
They also played during the regular season, a game won 2-1 by AOSR that Zadini said was also decided by mistakes.
The first half saw no mistakes, but lots of intensity and physical play from both teams. At one point, AOSR had a series of five straight corner kicks but came away with nothing.
The best scoring chance came when freshman attacker Raffaele Bevilacqua of Marymount took a good run down the sideline only to shoot the ball directly into the keeper's hands from the tough side angle.
About seven minutes into the second half, the AOSR defense left Marymount midfielder Sozon Hazoglu alone near the goal, and he was able to tap a cross into the bottom left corner of the net past a diving Lorenzi.
As the final whistle blew Marymount players huddled together and shouted team cheers in Italian making sure they were loud enough for the Rome neighbors to hear them. It was their turn to celebrate.
blottenbergerd@estripes.osd.mil
---
---
---