D-II volleyball championship
Marymount takes crown by stopping BFA
by
Jennifer H. Svan
November 3, 2018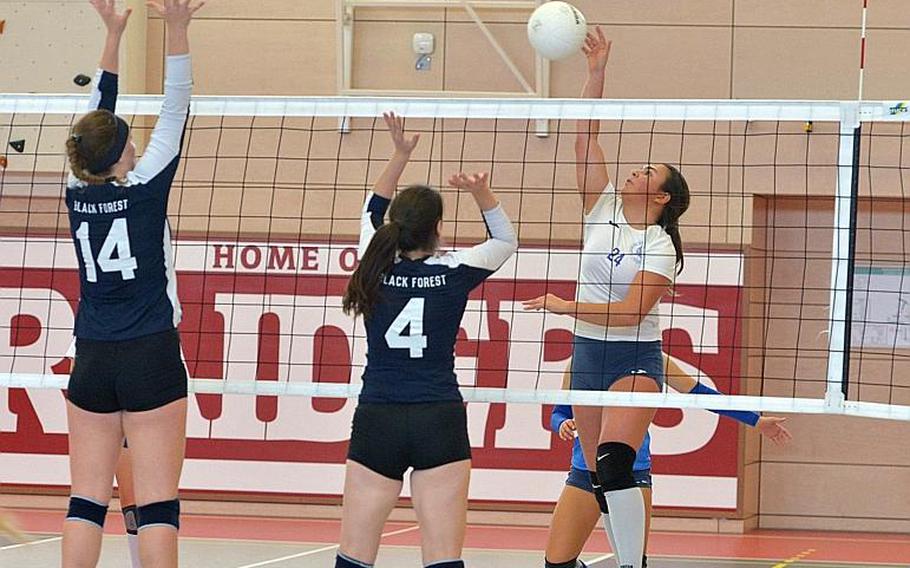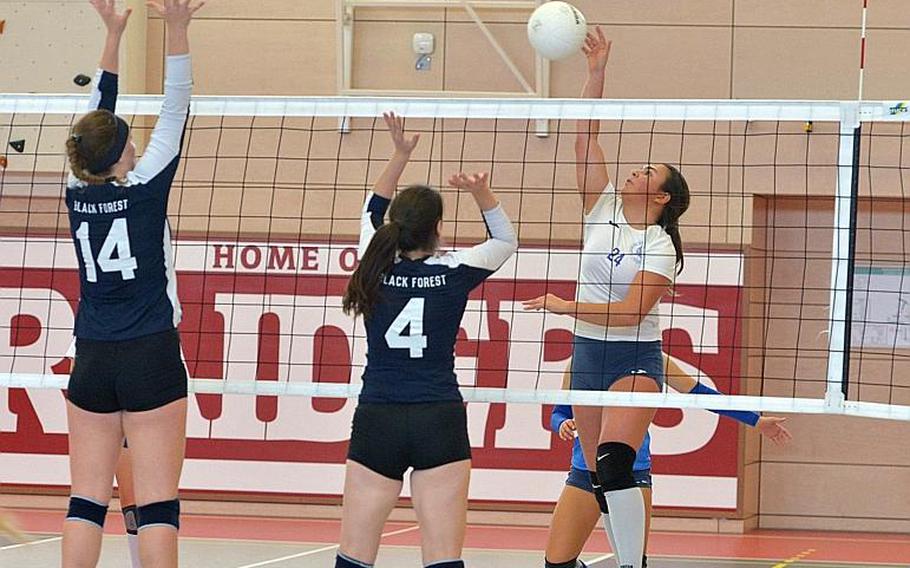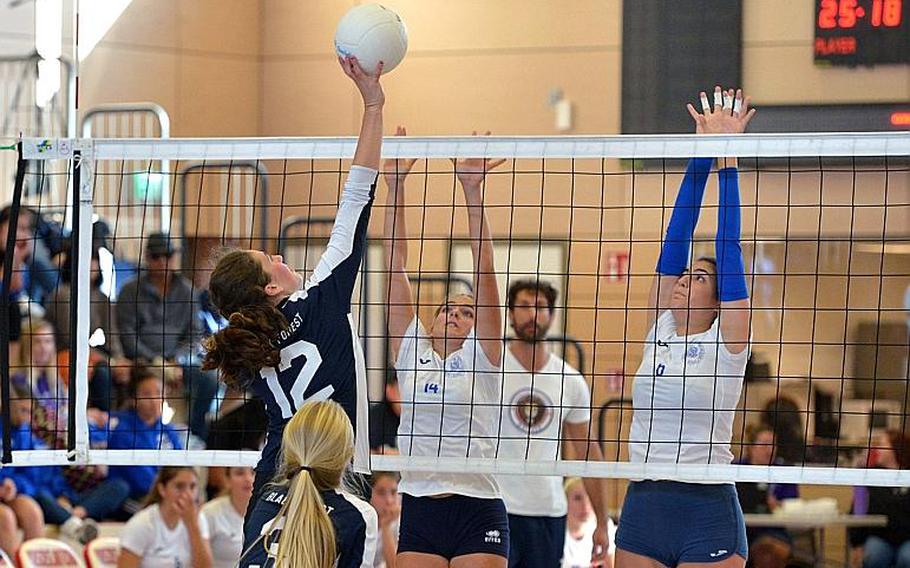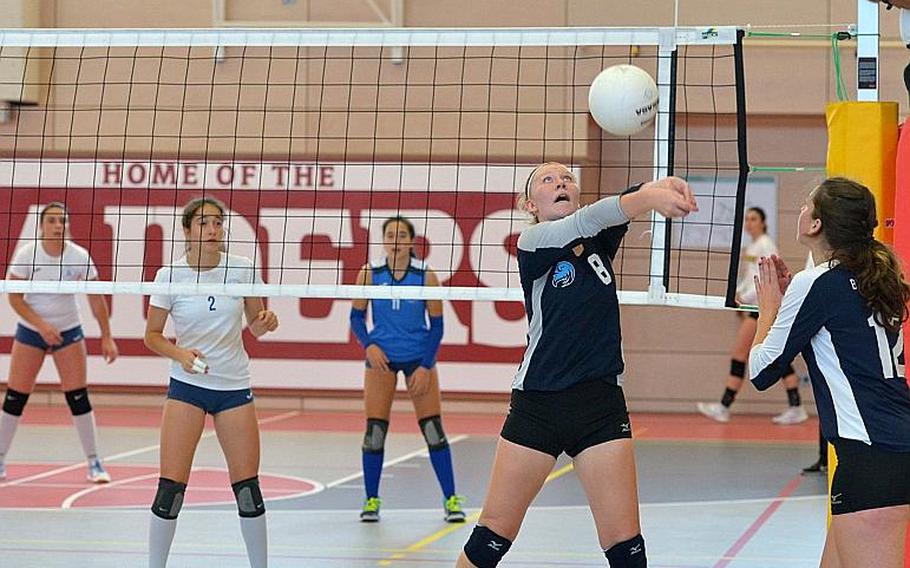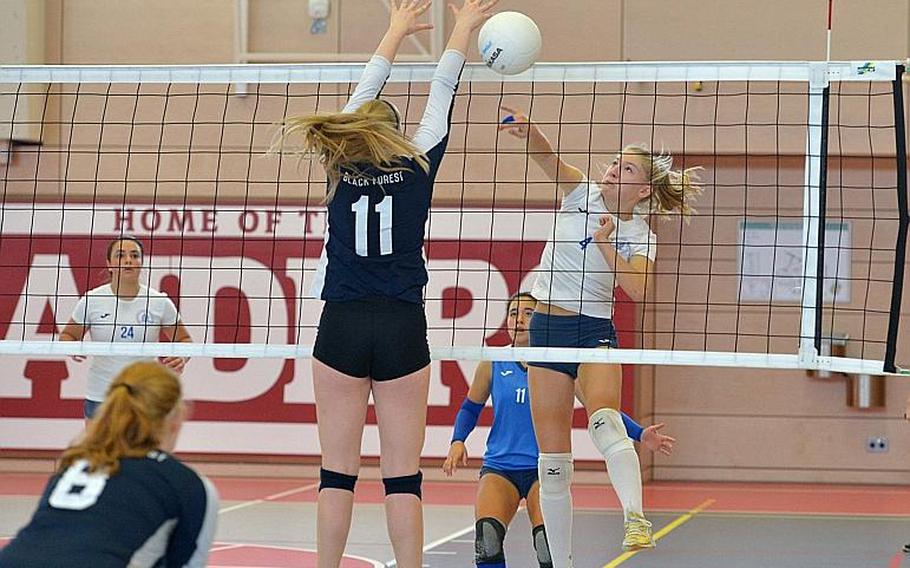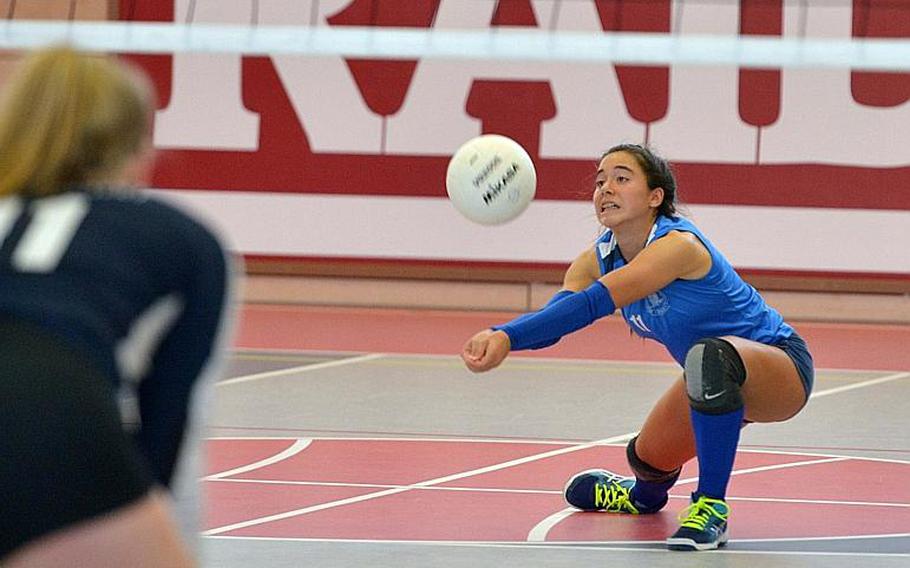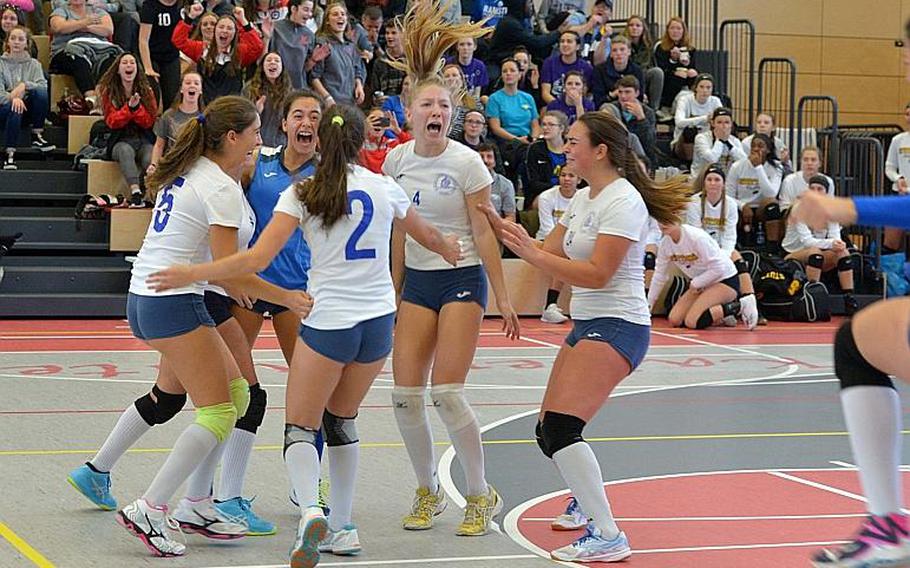 KAISERSLAUTERN, Germany – The Marymount Royals capped a dominant season with an emotional victory in the DODEA-Europe Division II volleyball finals, ousting the Black Forest Academy Falcons in four sets to win the championship Saturday.
The match of the top seeds in the tourney was, as expected, a tense, fast-paced affair between teams equally comfortable with attacking at the net and defending the far corners of the court.
The Falcons took the first set, 24-26, but then it was all Marymount, 25-18, 25-21, 25-13.
"We worked so hard," said Luna Gulino, a senior opposite hitter for the Royals, who entered the season-ending tournament 10-0. "We were a little off yesterday but today, we were playing our best. We sweat for every ball. There was no ball that we would let hit the ground."
A year after finishing fourth behind third-place BFA, Marymount earned a spot in the finals after a marathon five-set conquest of Aviano on Friday.
Coming back to win again on Saturday after such an epic battle left Marymount coach Ennio Varvaro feeling "very emotional," he said.
Varvaro said he didn't expect to win the title "because we start the tournament in a very bad mood. We were traveling for a long time. We were very tired."
The win was especially satisfying since Varvaro considers BFA to be the best team the Royals have played all year. BFA had the tournament's most valuable player in senior Jessica Campbell, a versatile 6-foot middle hitter.
"I tried to block No. 14, because she is very good," Varvaro said of Campbell. "Our tactic worked. I'm so proud of my girls."
Despite the tactic, Campbell managed 13 kills and six blocks.
Campbell said the Royals gave the Falcons their toughest match of the tournament.
"We fought hard," she said. "There's no regrets that I have for our team and for that game. I so wish that we could have come out on top, but we've had a great season."
Senior Brooke Israel had seven kills and 27 assists for BFA. Sophomore Madal Roberts, the team's libero, had 12 digs, two aces and one kill.
Marymount "played super hard," BFA coach Kim McKell said. "It was an awesome finals match. Obviously, it's disappointing … but I'm not disappointed with my team.
"We had moments … where they were able to show off what they have worked on and worked for all season long."
Varvaro highlighted the play of team captain Sofia Daniele and setter Margherita Guerra.
Daniele isn't always the top scorer but "she was the soul of the team," Varvaro said.
Daniele helped Marymount close out the fourth set and the match, with the Royals scoring five straight points while she served to grab their biggest lead of the game, 24-12. After Marymount hit the ball out, BFA got the ball back, but a net ball ended the match.
Twitter: @stripesktown