Tennis preview
Marymount standout to go for three-peat; girls throne vacant
by
Gregory Broome
September 6, 2018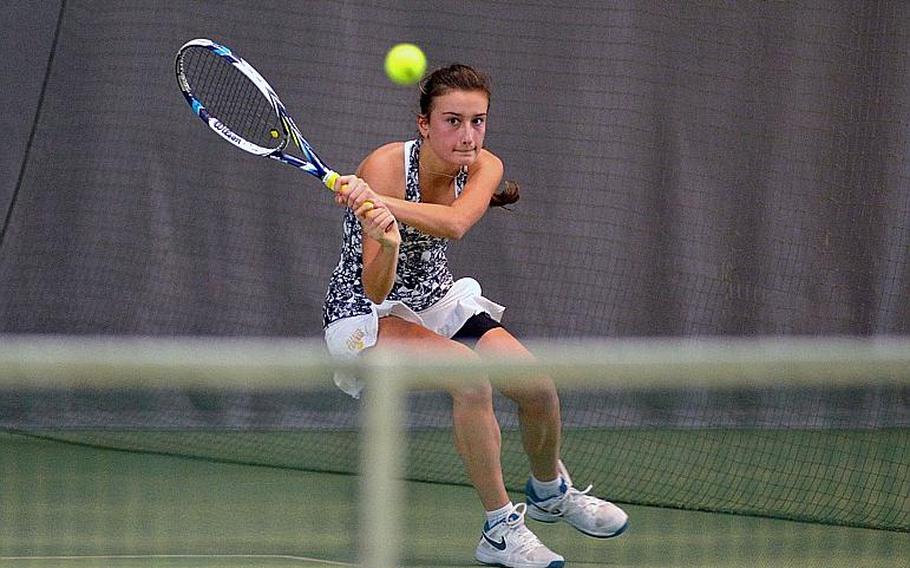 Two clear singles championship favorites are among the many DODEA-Europe tennis players opening the 2018 regular season this weekend; one a seasoned champion looking to extend a title reign, the other poised to begin one.
Marymount standout Mathias Mingazzini is back to pursue a third consecutive boys singles championship, a goal he's exceedingly likely to achieve given his recent dominance of the DODEA-Europe tennis ranks. He captured his first title as a sophomore in 2016, beating Florence's Francesco Londono 6-1, 6-4. Last year, Mingazzini handled SHAPE's Noah Banken 6-2, 6-1 to repeat.
Among the candidates to contend with Mingazzini this year are Kaiserslautern senior and returning semifinalist Mark Butler, who Raiders coach Elizabeth Quinn called "a top competitor" and an "outstanding leader," and Stuttgart's Amar Tahirovic, a promising freshman.
While the boys' crown appears firmly in Mingazzini's grasp, the girls' singles title is vacant. Last year's champion, Catherine Gulihur of Vicenza, has moved on, signing this summer to continue her career at Oklahoma State University.
That leaves the upstart Gulihur beat last year as the heir apparent. Now a sophomore, Wiesbaden's Charlotte Kordonowy is the new player to beat after losing 6-2, 6-0, to the Division I-bound Gulihur last fall.
Wiesbaden's aspirations go beyond Kordonowy's title bid. Another young phenom, freshman Hope Goodwin, brings substantial experience to the program and figures to make an immediate impact for the Warriors. She'll step into a No. 1 doubles slot alongside returning standout Shelby Albers as Wiesbaden looks to upgrade last year's runner-up finishes in singles and doubles to a girls championship sweep.
"The girls were strong last year and they will be at least as strong this year," Warriors coach Tom Rooney said.
Beyond the short list of championship contenders lies a deep roster of DODEA-Europe athletes steadily improving at a sport that can reward participants well past the conclusion of their competitive high school careers.
"Kids are loving the game here," said Joel McDonald, coach of the Division III Hohenfels Tigers. "The learning curve is steep, but they are learning a great lifetime sport."
The DODEA-Europe regular season opens Saturday and concludes Oct. 25-27 with the annual European tennis championship tournaments at Wiesbaden.
Twitter: @broomestripes