Marksmen, teams focused on taking title
---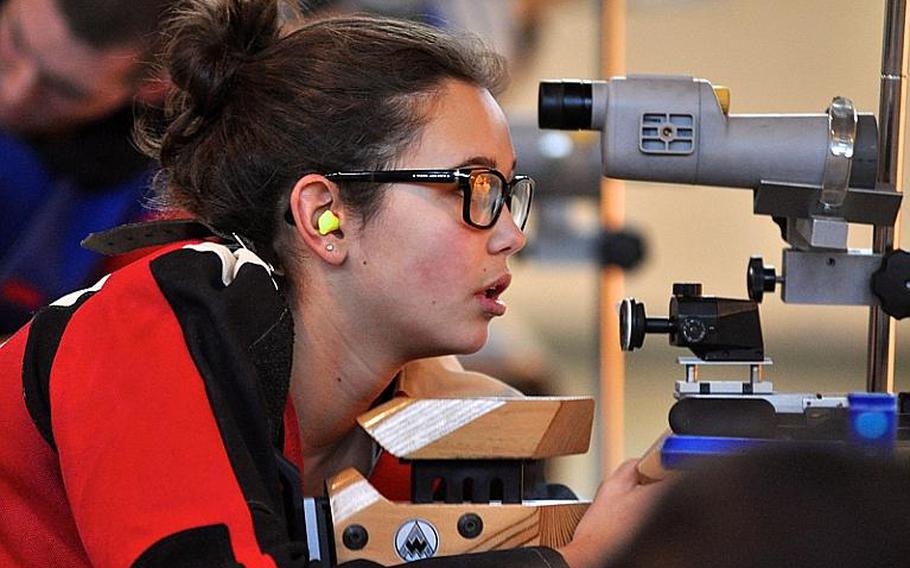 Marksmen representing Europe's sharpest-shooting six high schools will descend on Vilseck at 9 a.m. Saturday to see which of them is the most accurate with the school system's pricey precision air rifles.
On paper, the 2011 European championships look again to be a three-way team battle between defending champion Hohenfels, the Tigers' Eastern Conference rival Vilseck, and the perennially powerful Patch Panthers, winners of all five of their regular-season Western Conference meets this season. The other three teams to qualify for the finals – Ansbach, Baumholder and Heidelberg – don't appear to have the firepower to cope with the prowess of the top three. Regular-season competitors Alconbury, Bamberg and Vicenza didn't qualify for the finals.
Raul Pinon, who succeeded retired shooting legend Jack Wayne at Patch, has his Panthers averaging a school-system-best 1,360.8 out of 1,500 possible points going into the finals.
Host Vilseck is next, with a 1,352.2, followed by Hohenfels at 1,341.4. Only one of the other the schools, Ansbach (1,307.0), averaged better 1,300, and only one other school, Baumholder, managed a score above 1,300 this season. The Bucs fired 1,322, their best score in the past five years, on Jan. 14.
Patch will be going head-to-head with Hohenfels and Vilseck for the first time this season, and Vilseck coach Mitch Pollock thinks that might work against the Panthers, whose average margin of victory this season has been a relaxing 85.4 points, astronomical by marksmanship standards.
"Patch may be a little overwhelmed," emailed Pollock, whose own team, by contrast, is coming off a one-point loss at home last Saturday to Hohenfels. "(It's) a long drive, an overnight, and a new range set up."
The new range, set up specifically for this meet in Vilseck's multipurpose room, deep-sixes any home-range advantage for the Falcons. And because of the added room for spectators, heightens the already intense pressure the shooters will feel this week, Pollock added.
There's absolutely no margin for error. Each individual shoots at 10 targets in each of three positions – prone, standing and kneeling – to amass a final score on the 10-meter range. The bulls-eyes on the targets are one-eighth of an inch in diameter, the radius of a pencil eraser.
Contenders to succeed 2011 Heidelberg grad Katelyn Bronnell as DODDS-Europe individual champion are legion this season.
Among the obvious ones are the Patch triumvirate of Maggie Ehmann, Jennifer Johnson and Madeline Hershberger, all of whom are averaging well over 270 out of the individual's possible 300 points. Hershberger, who took up the sport this season, fired a 283 Jan. 14, and indicated by telephone Tuesday she's unfazed at the prospect of competing in her first European tournament.
"Even though it's my first time," she said, "it's just a normal meet for me, except there'll be more teams."
Hohenfels' top contenders for individual gold include twin sisters Kathleen and Lena Waldron, also averaging in the upper 270s, and Keyera Howard, who's shooting in the 280-range recently.
Carrying the colors for the home team, according to Pollock, are Georgianna Castro, Malia Carson, Meraleigh Randle, Alexis Finster and Shelby Gronhoff, of whom Pollock said, "just might jump up and surprise us all."
Past history, as recently demonstrated by Bronnell's 2011 victory, opens the door to surprise success at the finale. It all depends on who can handle the pressure best that day and which of them benefits the most from Pollock's advice.
"Get a good night's sleep, eat a good breakfast the morning of, and do not worry what happens," he responded when asked what he tells his shooters before the meet. "Just enjoy the experience."
---
---
---
---