Marksmanship season set to get under way
by
Rusty Bryan
December 6, 2008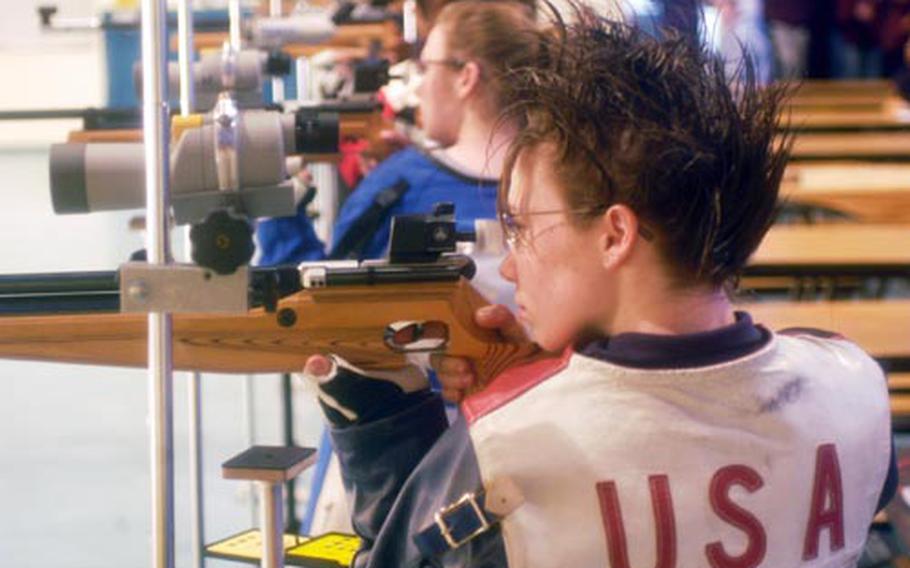 The 2008-09 DODDS-Europe marksmanship season opens Saturday morning, and the two-time defending champion Hohenfels Tigers again are loaded for bear.
"Hohenfels has five of the 2008 European championship team returning, including Sarah Adams, the top shooter in the championship match," Tigers coach Bruce Andrews wrote Thursday in an e-mail.
Andrews added that Sarah's twin sister, Emily, who fired the high standing score in the European championships, and Jessica Walloch, who posted a perfect 100 in the prone position in that match, also return.
Nine schools, split into two conferences, are participating this season. Baumholder, Heidelberg, Mannheim and Patch make up the West Conference. Ansbach, Bamberg, Hohenfels, Vicenza and Vilseck are in the East Conference.
With all that returning strength, Hohenfels is the obvious choice to win the East title. Andrews said Patch, runner-up in last season's European meet, is the power in the West.
"Patch has three of their starters from last season again this year," Andrews wrote, "including Leah Lynch and Lynnise Johnson, two of the Army JROTC National Championship Team."
The success of Johnson, who had a big meet in the nationals last season, according to coach Jack Wayne; Lynch, the Adams sisters and Walloch points to the dominance of female marksmen, at least in DODDS-Europe competition.
Wayne said by phone Thursday there are reasons for that. "I've thought about it a lot," he said, "and I think that girls are a little more concentrated and calmer than boys. The kneeling position is more comfortable for them, and when we shoot standing, we pull one hip forward and rest an elbow on it. That's easier for girls to do than boys."
Mannheim and Hohenfels will host Saturday's matches, and Andrews thinks he'll find plenty of competition in the meet he's hosting. "Ansbach has five returning shooters," he wrote, adding that Vilseck also will field an experienced team.
DODDS-Europe teams use precision air rifles. Each competitor fires 10 shots in each of the three positions — prone, standing, kneeling — with 100 points on the line in each position for a possible score of 300. Team scoring is the combined total of each team's five best scores.
Unlike other DODDS-Europe sports, there's no crossing of conference boundaries until the championship meet, Jan. 31 at Vilseck. Whether the lack of head-to-head competition is a problem is up to the individual, Andrews said. "It's different, if you're on a different range with different people on your left and right," he said. "But if you've got things under control, it's just you and the target."
Wayne is convinced location matters.
"We've hosted (Europeans) the past two years," he said, "and the last two years we've outshot (Hohenfels) all season but lost in the finals. We do better away from home."