Marines wrestling coach scouring Corps for new recruits
by
Dave Ornauer
September 21, 2005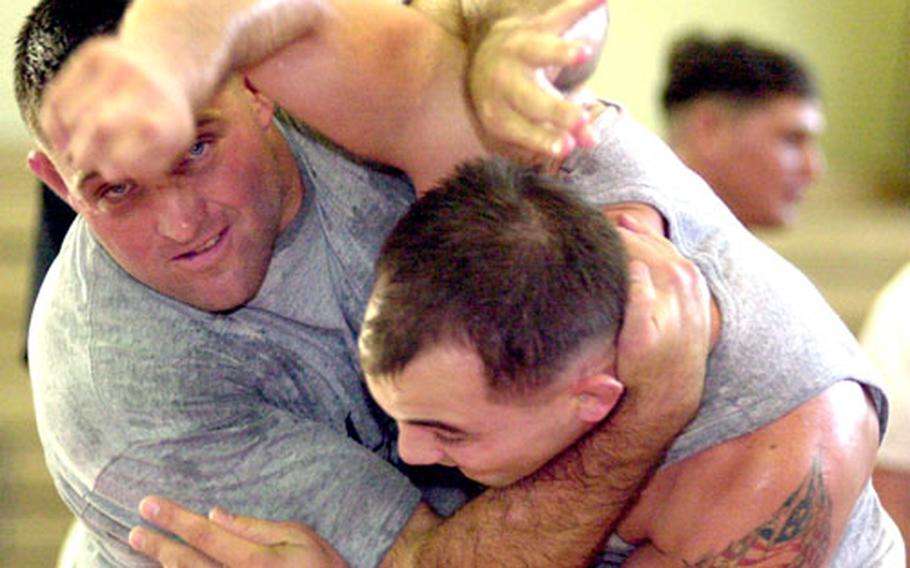 CAMP FOSTER, Okinawa — Dan Hicks is seeking a few good men.
Sick of finishing second to Army in All-Armed Forces wrestling tournament competition and his team depleted by a loss of veterans and deployments in support of the war on terror, the All-Marine coach has embarked on a Corps-wide tour of bases in search of diamonds in the rough.
"Second is never good enough," said Hicks, 33, of Anita, Okla., a nine-time All-Armed Forces gold medalist whose Marines have played bridesmaid to Army in eight of his nine years with the team. He took over the All-Marine team last October.
That Army has a pool of nearly a half-million soldiers and its own World Class Athlete Program, while the Marine Corps numbers just 175,000, putting the Marines at a big disadvantage.
"That's why I'm doing this," said Hicks, speaking before a clinic Monday at the Foster Field House, the last stop on a four-day tour of Okinawa's camps Schwab, Hansen and Kinser. Hicks and current All-Marine champion Jacob Clark held clinics at each location to screen and evaluate potential team members.
"There's a lot of talented wrestlers that we don't find," said Hicks, a former two-time Marine Corps Athlete of the Year. "We haven't done a good enough job of finding them, getting them released from their units and getting them" to Quantico Marine Corps Base in Virginia, where the All-Marine team is headquartered.
While the Army can recruit a wrestler and spirit him straight into the World Class Athlete Program, "we don't have that luxury," Hicks said.
His current tour began earlier this month with a stop at Marine Corps Base Hawaii and Kaneohe Bay Air Station, then moved last week to Iwakuni Air Station in Japan before coming to Okinawa. Hicks returns to Quantico later this week, then will visit Camp Lejeune, N.C., and Camp Pendleton, Calif., in October.
He's looking to bolster the ranks of an All-Marine team that sent 14 wrestlers to the 2004 Olympic trials, but only five to the world championships earlier this year. Some veteran wrestlers have moved on, while others are deployed to Iraq or Afghanistan.
"That's hurting us," Hicks said. "But that's real life. Commanders need them. So we keep doing the best we can do."
Hicks said he and Clark have identified "at least three" wrestlers on Okinawa "who could make an impact on our team."
What he seeks in a wrestler is not so much experience but desire.
"We look for athletes who are willing to work and do whatever it takes to win a championship," Hicks said. "We can teach them anything they need to know. But they have to have heart and determination. You can't coach that."
The stop on Okinawa proved, Hicks said, that it's not that the wrestlers aren't out there.
"We just have to find them," he said.