Mannheim's Meeks stands out on the court, in the classroom
by
Rusty Bryan
January 23, 2003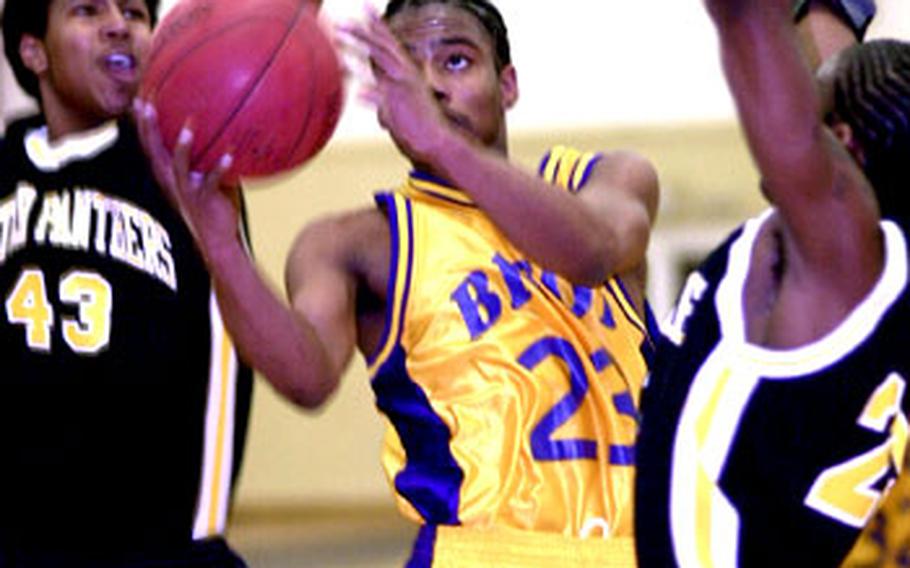 MANNHEIM, Germany — Talk about living the dream.
Mannheim Bison senior James Meeks is an All-Europe point guard who led his team to one European title and is in position to do it again.
He's also senior class president and a National Honor Society student who has earned the respect of his teammates, teachers, coaches and classmates.
Meeks credits his parents for making him find the way to succeed — hard work.
"Growing up, my parents made me disciplined," he said. "I couldn't play basketball unless I had the grades."
Meeks grew up playing basketball, starting at age 4.
"Basketball is in my blood," he said. "It's just exciting. When I watch a game, it makes want to get on the court. It's just a rush."
To get that rush, Meeks endlessly practiced balancing books and basketball. He makes it look easy, but admits it isn't.
"Doing well at both can be difficult at times," he said.
Meeks battles through the rough patches with the uncommon drive and fortitude that have become his trademark, according to his coaches.
Mannheim football coach Burt Blank, who teaches calculus to the honor student, observes Meeks' grit in the classroom.
"He's smart, but calculus doesn't come easily to him," Blank said. "When things get hard, a lot of people just give up. James doesn't quit. He works very hard. He sucks it up and gets it done."
Mannheim basketball coach John Crockett sees the same qualities on the court.
"In 10 years of varsity coaching, he's one of the top two kids with the most heart I've ever had," said Crockett, who calls Meeks the best point guard in Europe.
"No matter what happens, he absolutely will not quit. He sets a goal and goes after it."
Meeks is the unquestioned leader of a Mannheim team that lost key seniors from last year's championship run but plugged the gaps quickly.
"As a senior, I thought I'd have to do more scoring," said Meeks, who averaged 16.1 points, 3.8 rebounds, 3.8 assists and two steals per game as a junior. "But my teammates have stepped up so quickly I don't have to."
Meeks, whose averages after three games this season are 21.6 points, five rebounds, 2.6 steals and nearly five assists per game, still knows how to fill the basket.
Last Friday, Meeks burned SHAPE for 30 points in a 63-57 victory, after the Spartans tried to psych him out.
"They started out with an 8-0 run," Meeks chuckled, "and came running by shouting 'Who's Meeks? Who's Meeks?' I thought it was funny."
Funny, but deserving of serious payback.
For now, Meeks has set his sights on leading Mannheim to another Division II title.
He'll be the one holding the reins and taking that last shot as the Bison pursue their goals of a second title and an unbeaten season.
"He uses his brain as well as his physical gifts to win games," Crockett said. "He won't come out of any game until it is very, very well decided."