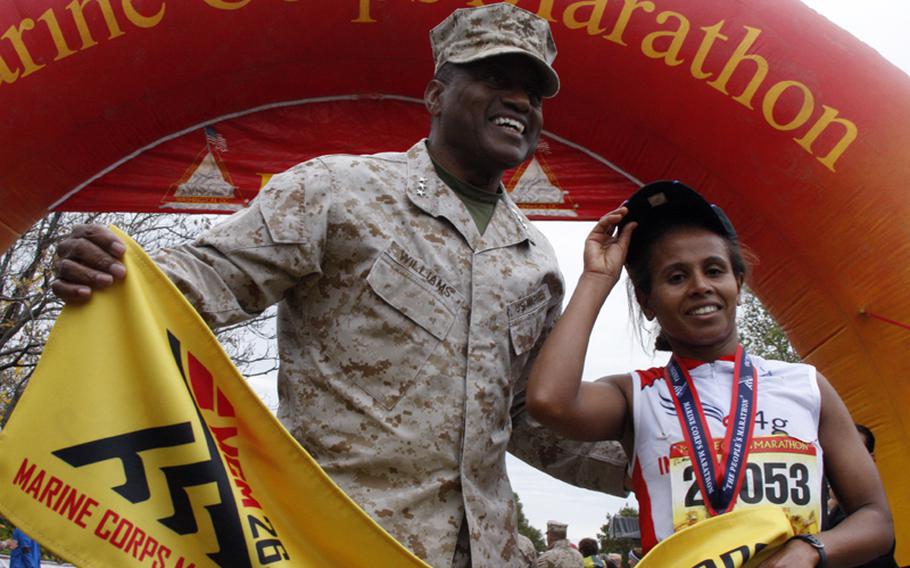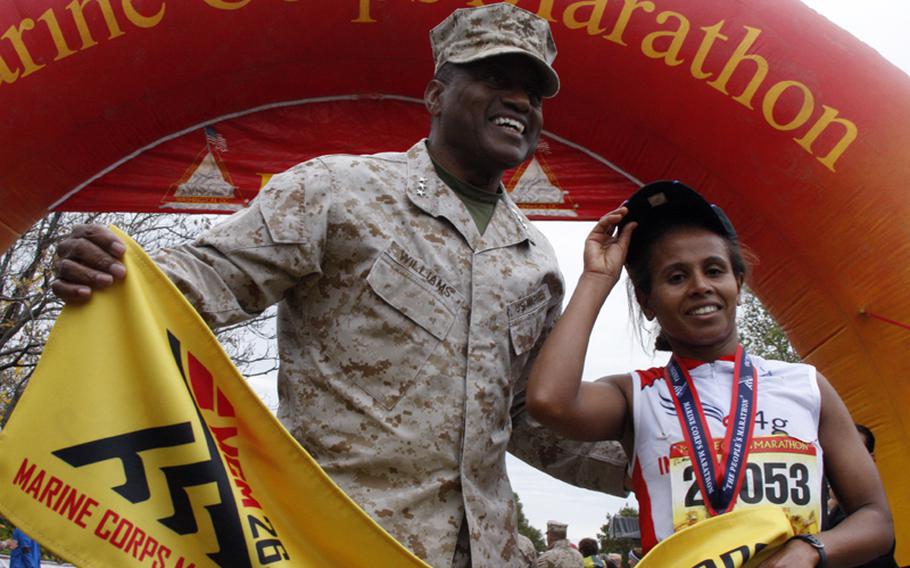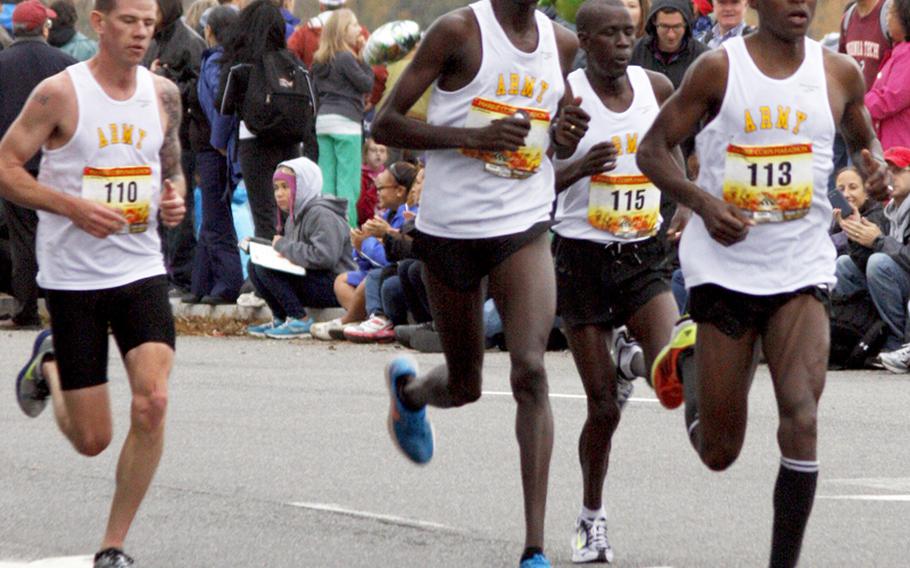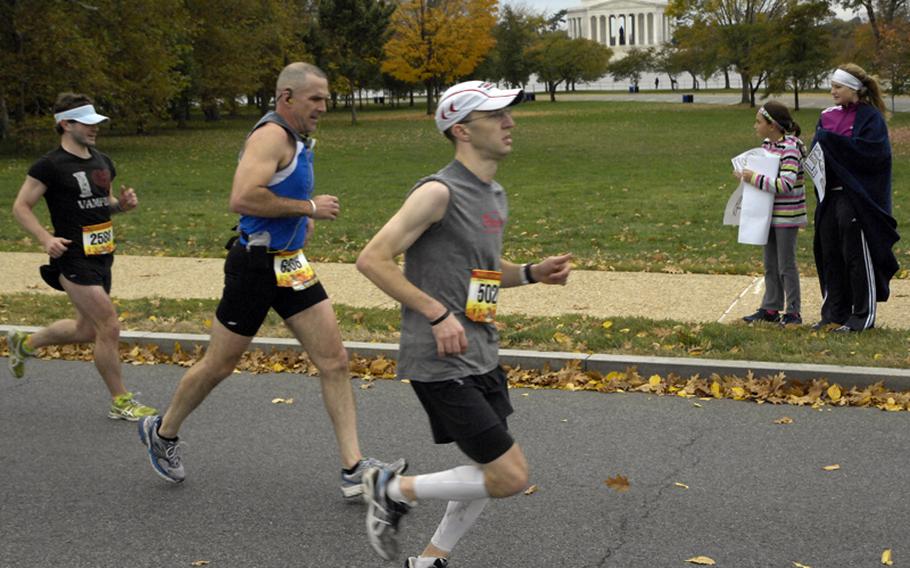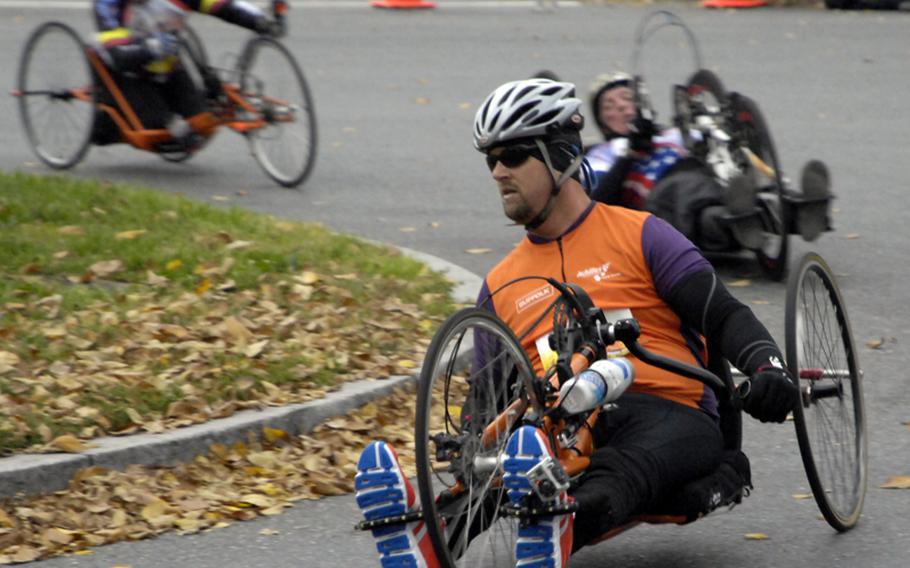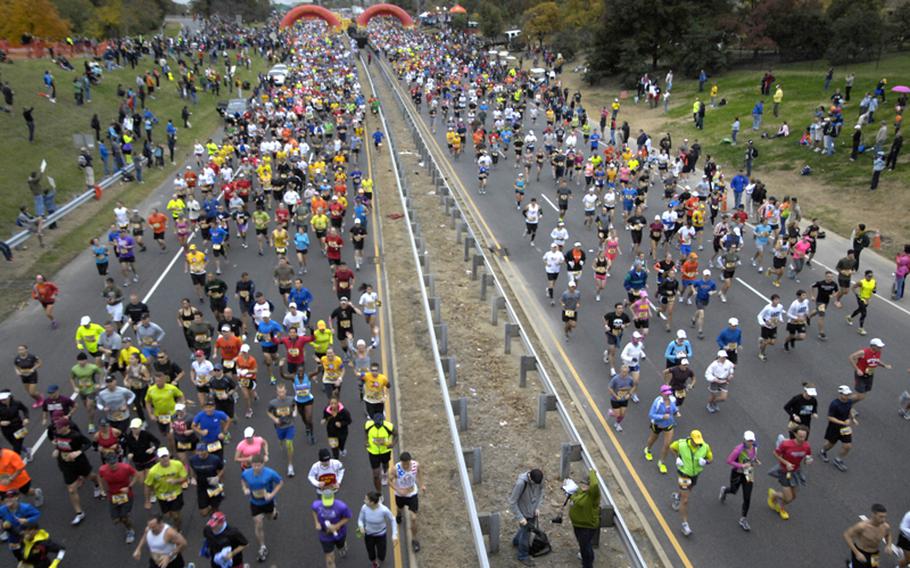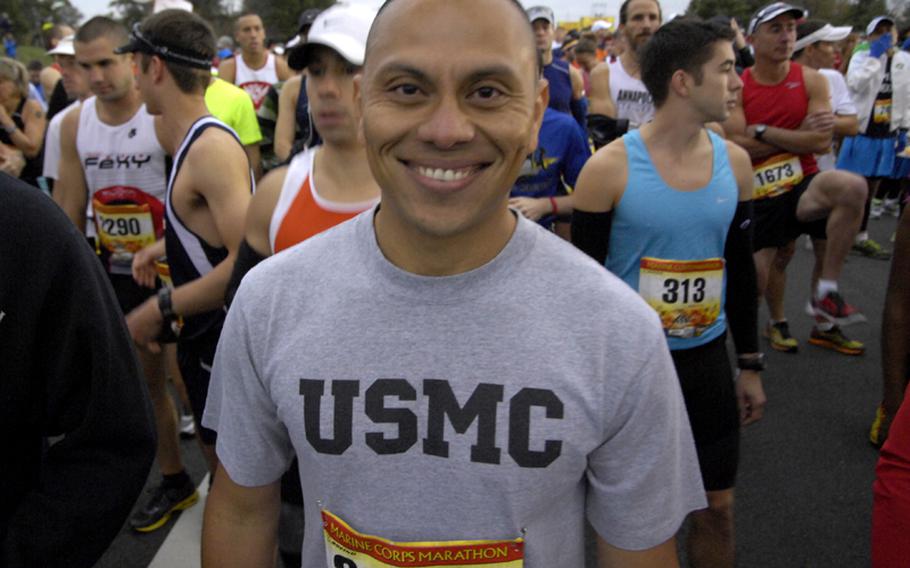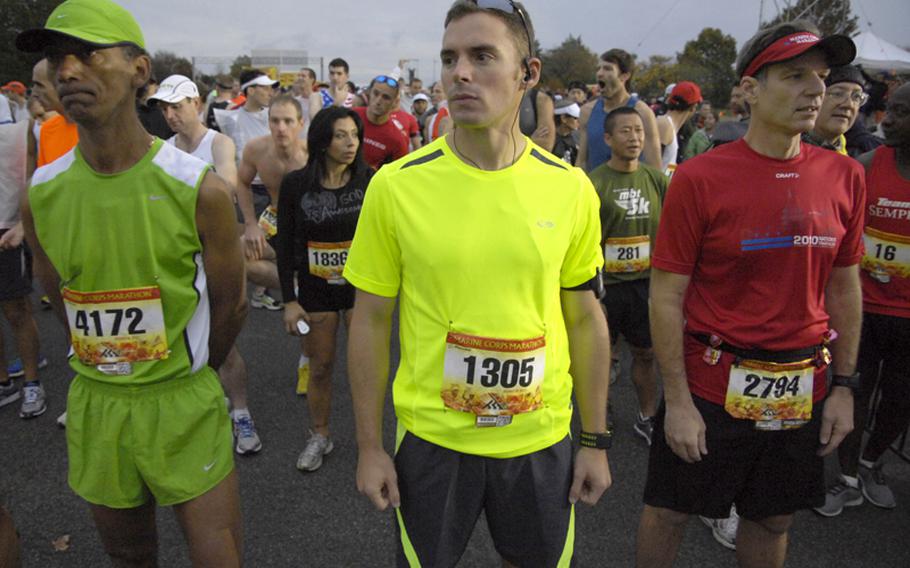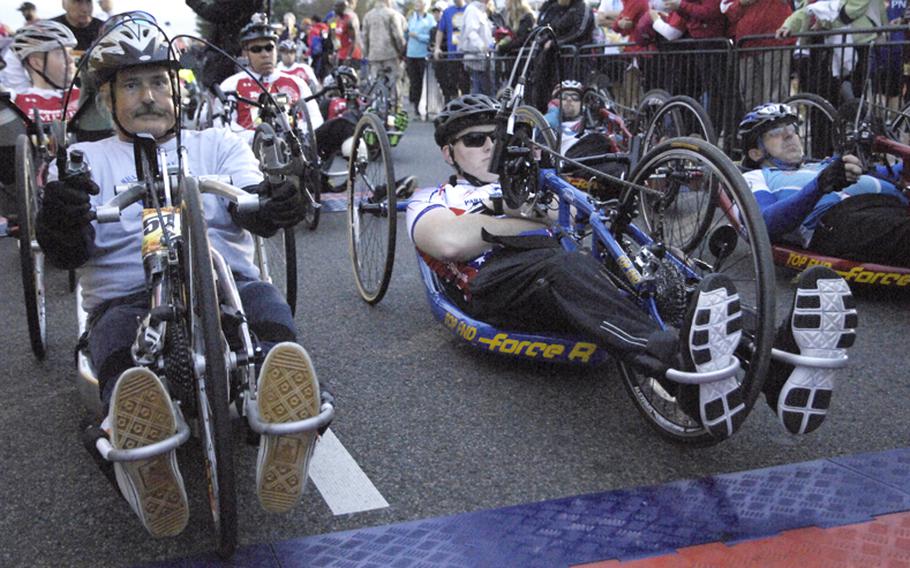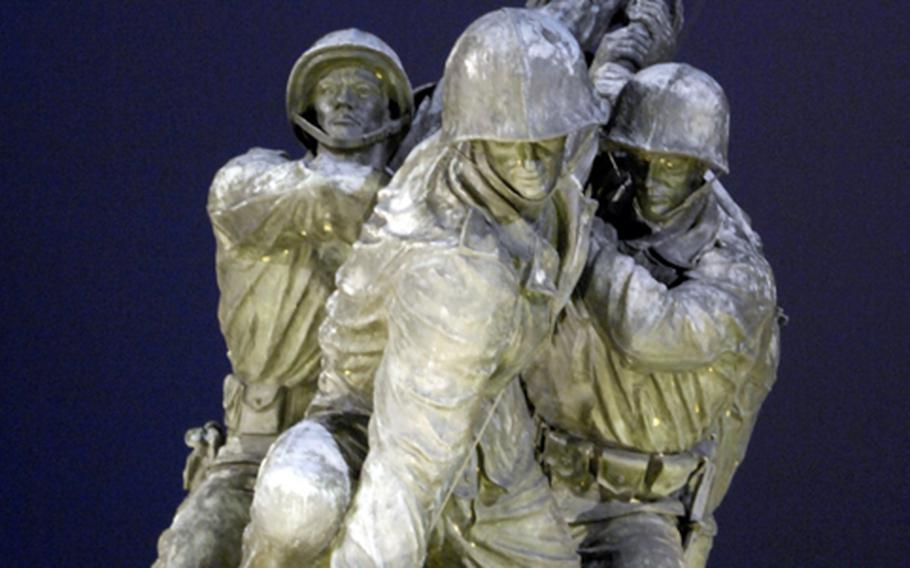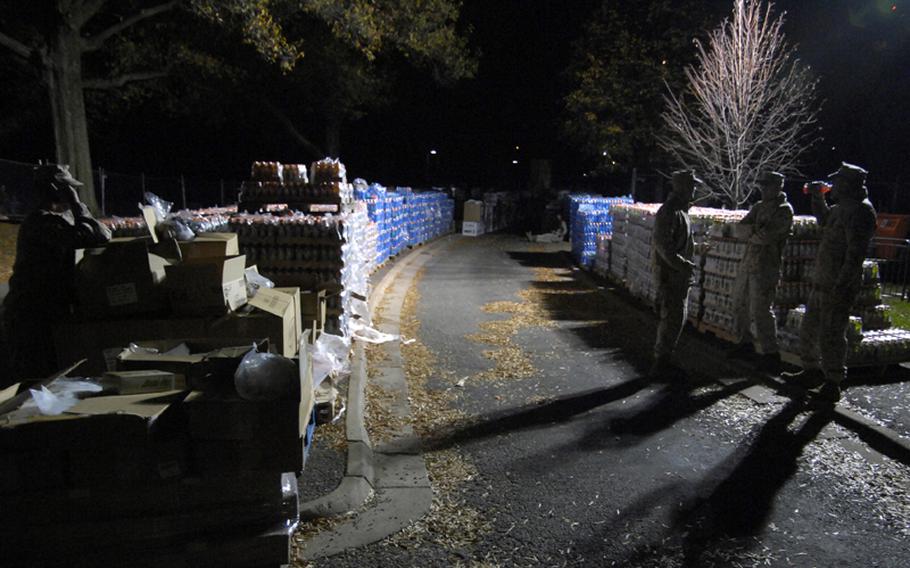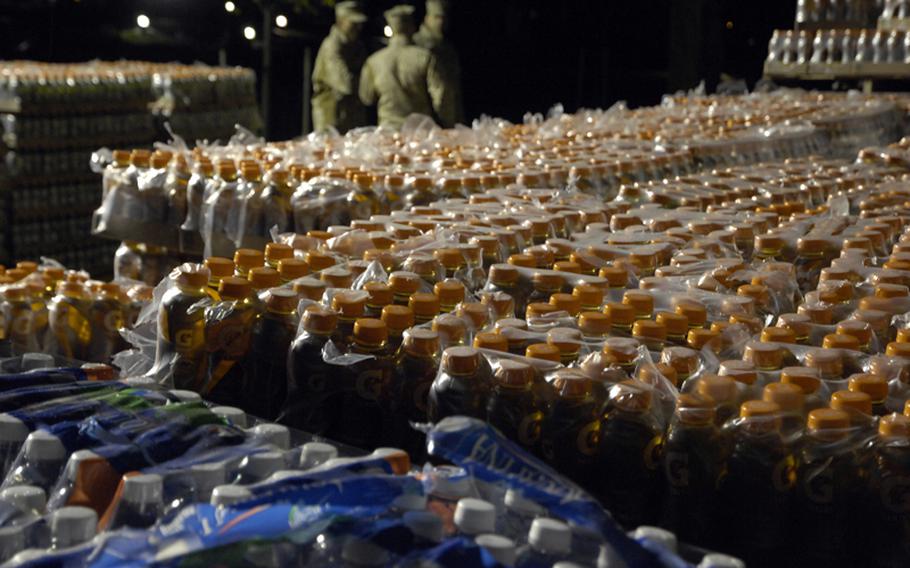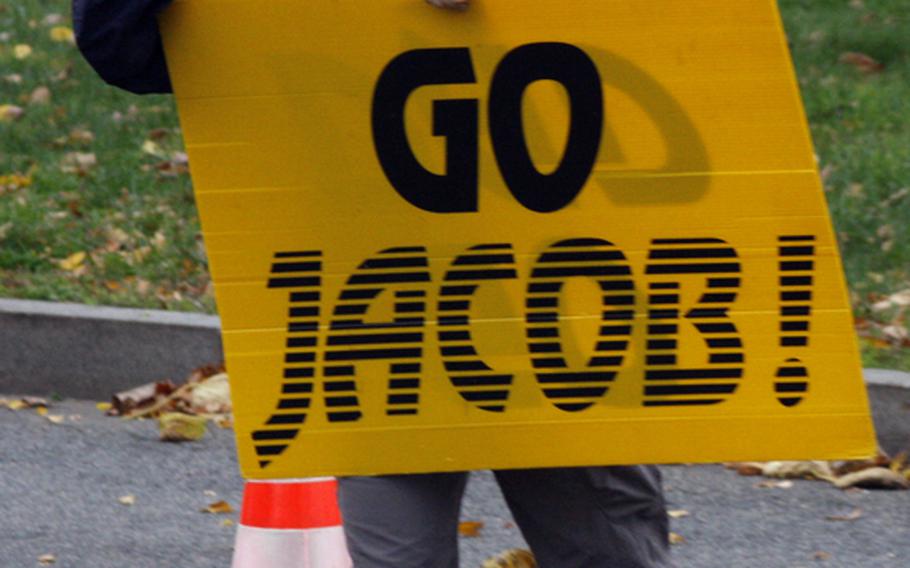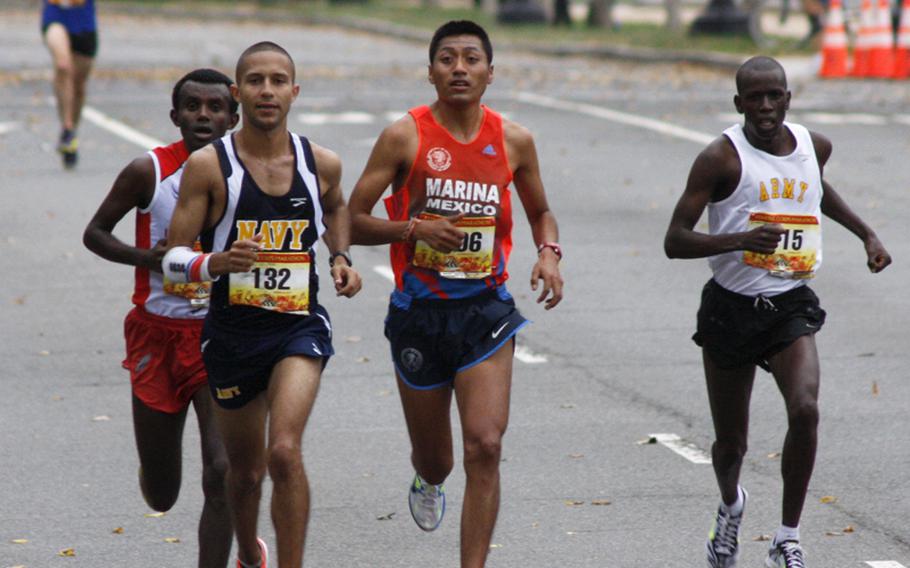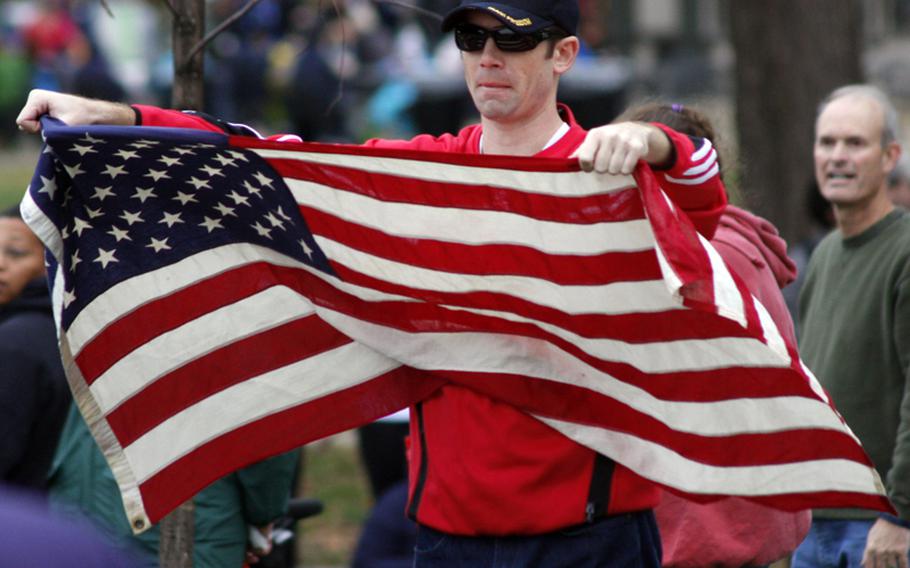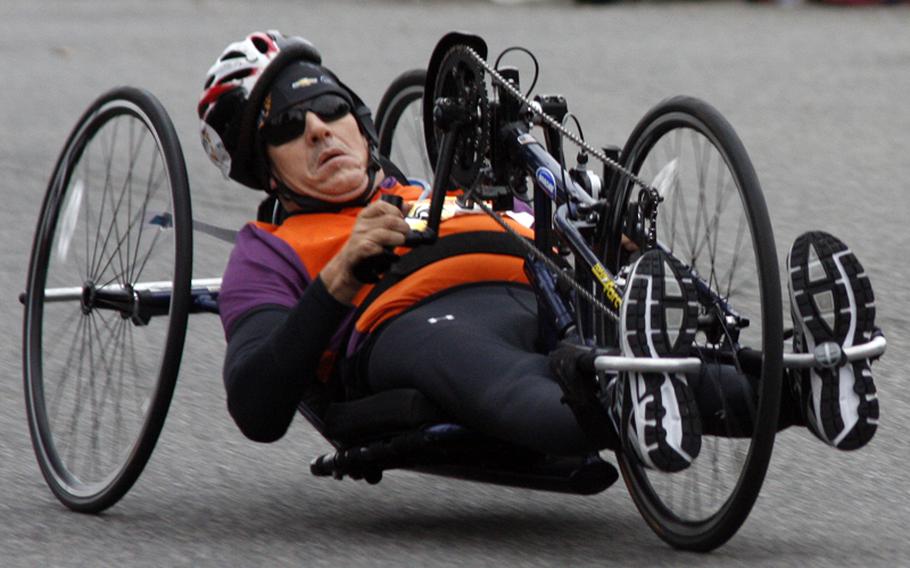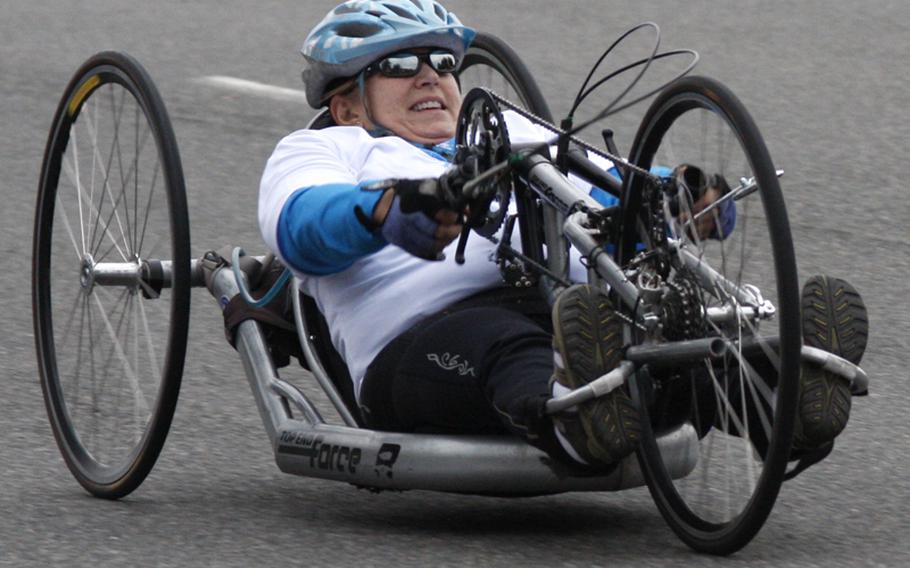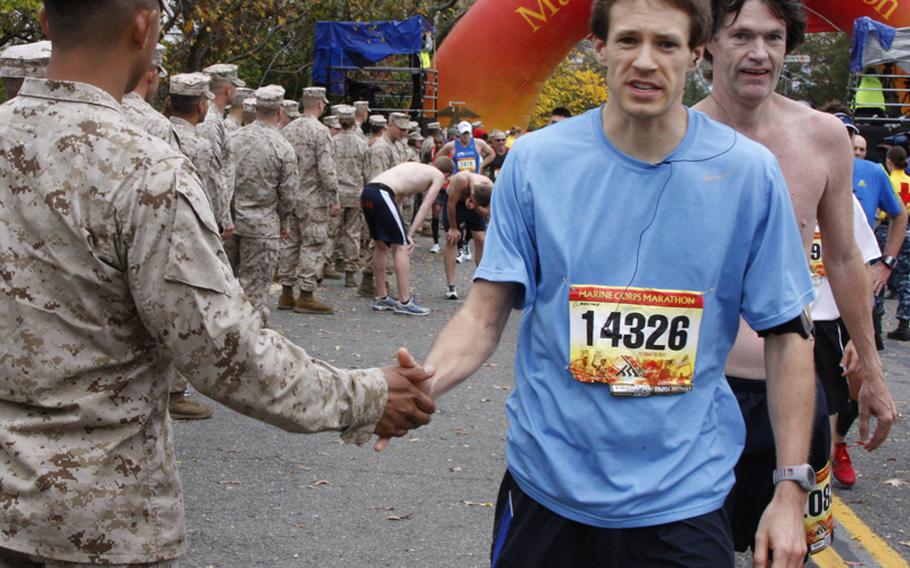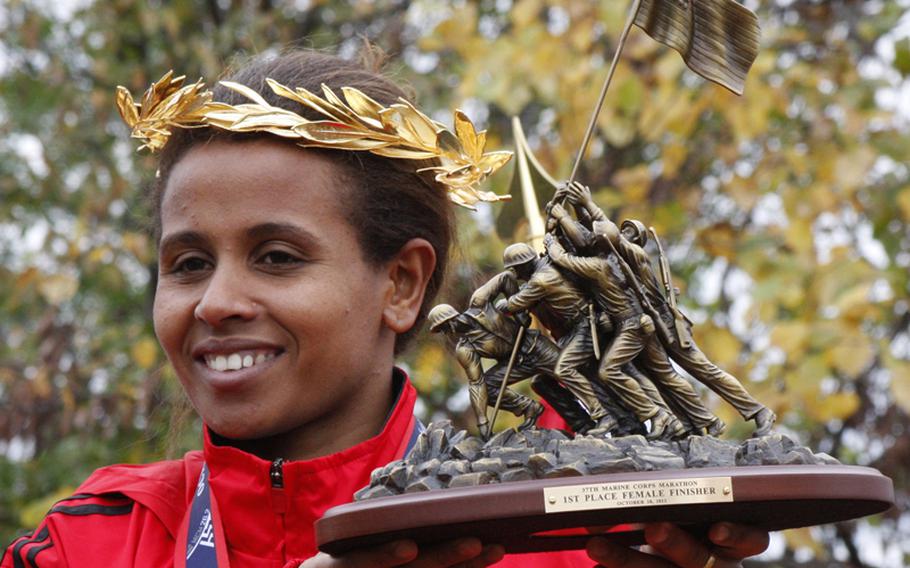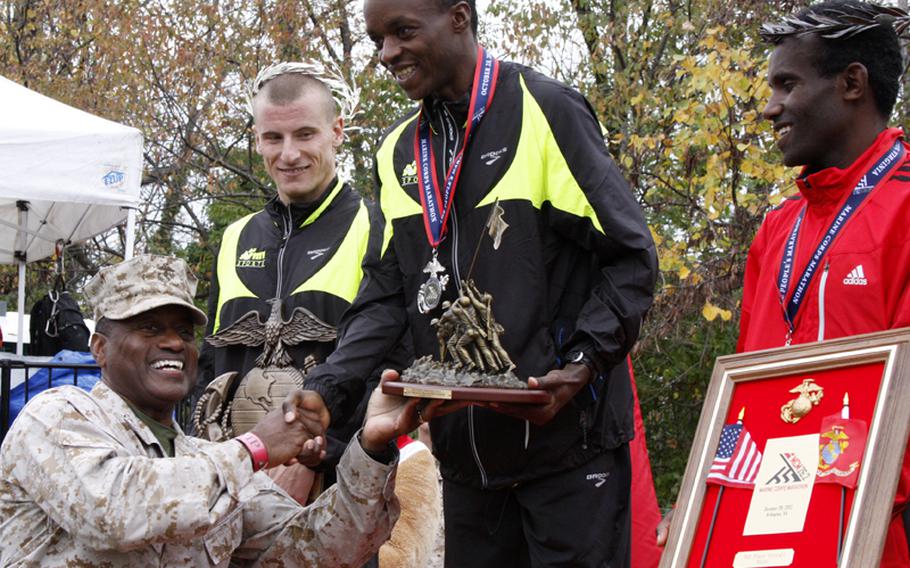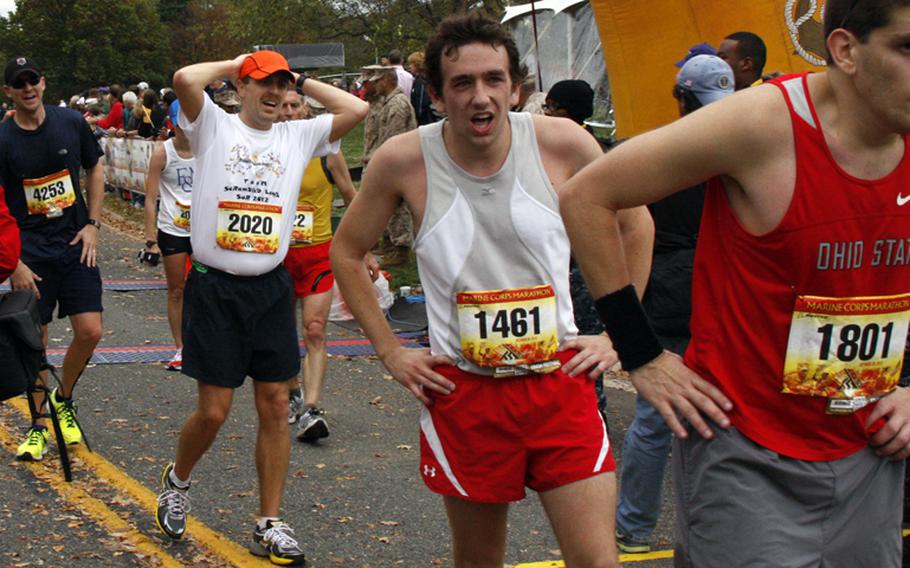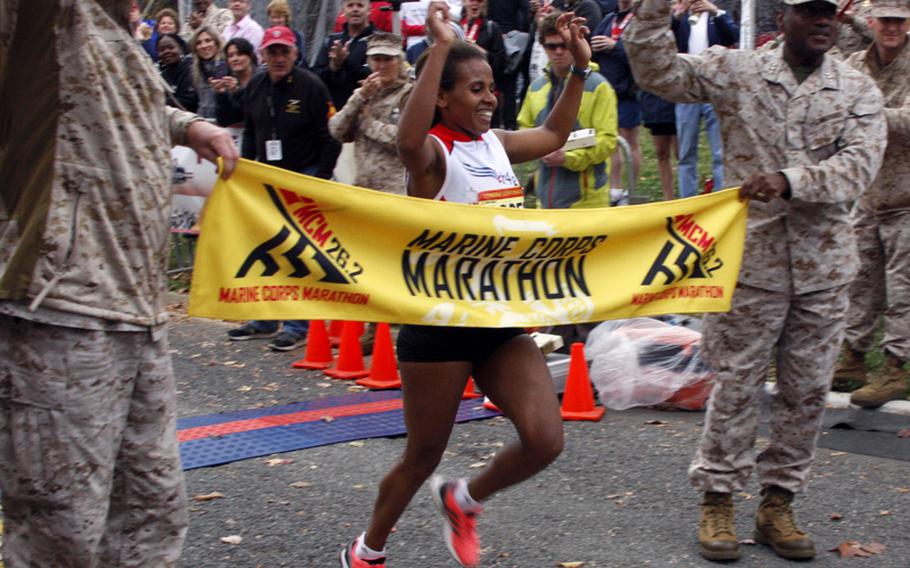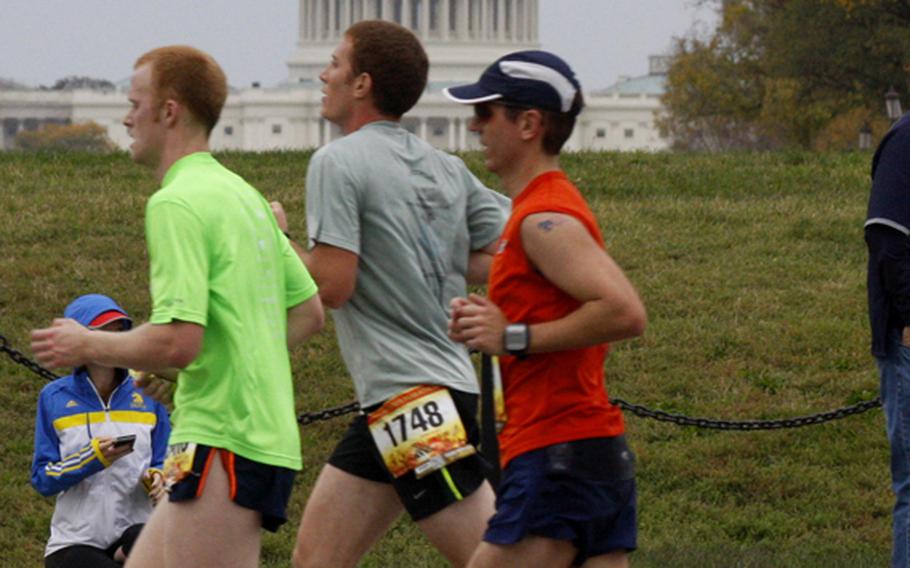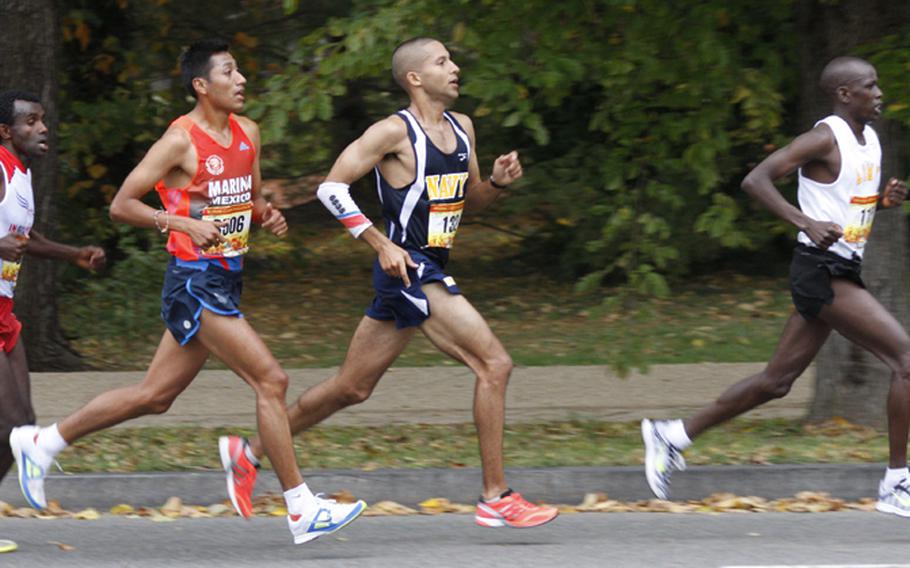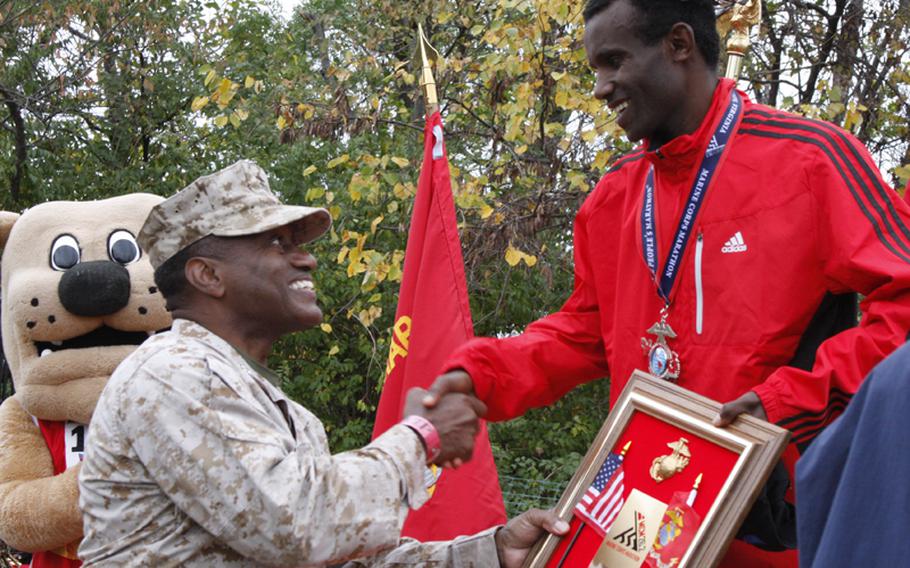 WASHINGTON, D.C. — With rains from Hurricane Sandy holding off, a U.S. Army soldier attempting his first-ever marathon won the 37th Marine Corps Marathon on Sunday.
Spc. Augustus Maiyo, 29, posted a time of 2 hours, 20 minutes, 20 seconds, leading a pack of about 30,000 runners in a grueling 26.2 miles around Washington, D.C., and Arlington, Va., before finishing near the Marine Corps War Memorial.
"To run my first marathon and then win it, it's a one-in-a-million feeling," said Maiyo, from Colorado Springs, Colo., who was representing the Army's World Class Athlete Program.
Maiyo's win comes a week after he placed second in the Army Ten-Miler.
Hirut Guangul, 20, of Team I Run 4 God (IR4G), was the first female to cross the finish line, coming in at 2:42:03, a week after coming in second at the Twin Cities Marathon.
"I'm very happy to win this one," Guangul said through a translator, who added the Ethiopia native was happy to be running in support of the U.S. military.
Maiyo's teammate, Capt. Kenneth Foster, came in second at 2:22:39 and Birhanu Tadesse, a native of Ethiopia, placed third with a 2:23:03.
Wayinshet Hailu of Ethiopia posted a 2:47:04 to become the second woman to finish the race, while Erin Richard of Michigan came in third at 2:48:11 in her first Marine Corps Marathon.
"It's inspiring," said Richard, who is not affiliated with the military, after receiving a plaque and a bronzed olive branch wreath. "They do so much, and I'm just running a race, and they're treating me like I'm great."
David Swope of New Windsor, Md., won the men's wheelchair division with a 2:09:03 and Leonardo Varon of Colombia came in first on handcycle at 1:23:17.
Gigi Ranno of Norwood came in first in the women's wheelchair division at 5:34:46 and Sherry Schulz was first for handcycle at 2:25:18.
Team IR4G, which was running on behalf of an Army sergeant who has PTSD and traumatic brain injury and has been in treatment at Walter Reed National Military Medical Center, captured three out of the six spots on the podium.
The accomplishment was one the group hopes will help inspire the wounded warriors it runs for, said Lt. Col. (Ret.) Sue Bozgoz, coach of IR4G.
"It means a lot because it tells the wounded warriors that they can stay in the present and move forward," Bozgoz said.
Marines lined the roadway after the finish line to congratulate finishers, but many runners instead took the chance to offer them an "Oorah" and thank them for their service.
"I'm glad that this many people come out and support the Marine Corps," said 2nd Lt. Carl Stofberg, who got some handshakes from finishers. "It's an awesome feeling to be able to support them as they go through this. It's really about the runners today."
linc@stripes.osd.milTwitter: @cjlinSS
---
---
---
---