D-III volleyball
Luna, Rota win third straight title
by
Jennifer H. Svan
November 3, 2012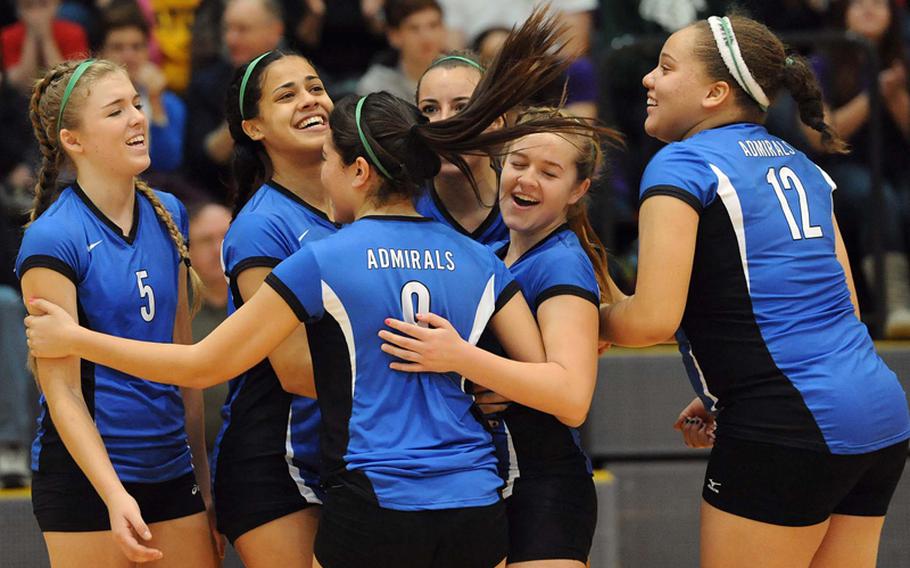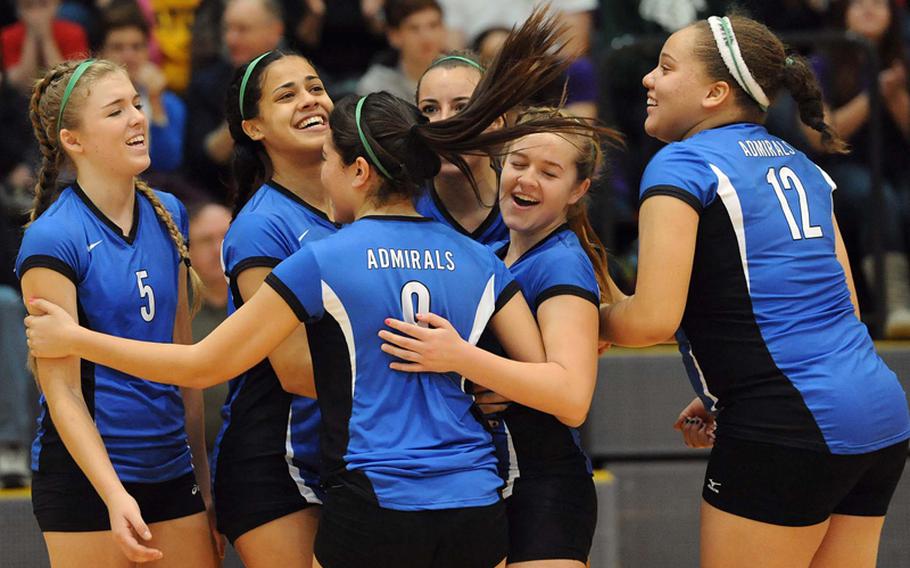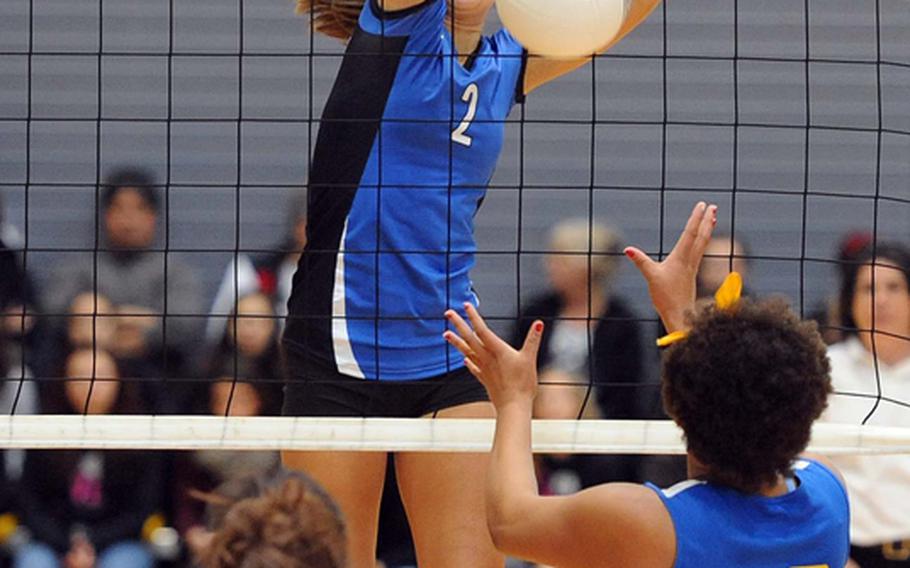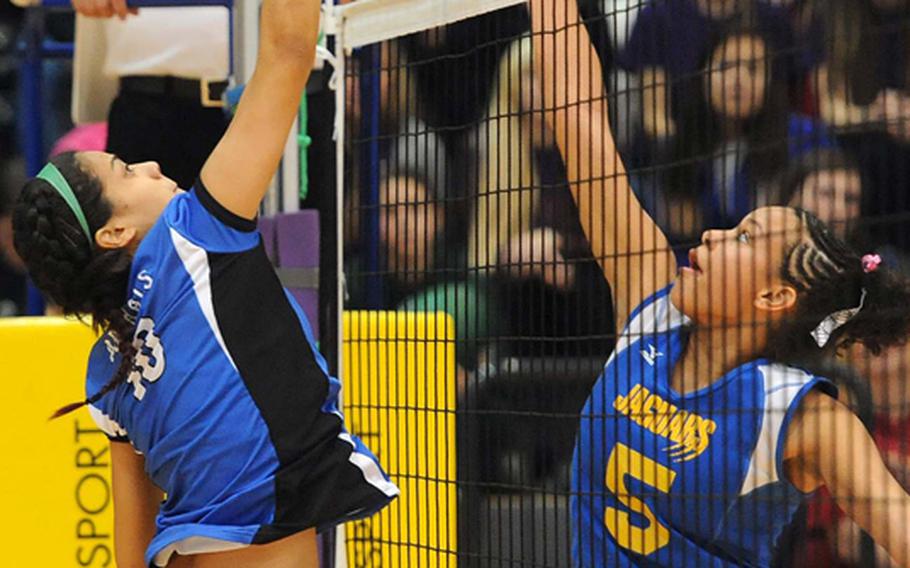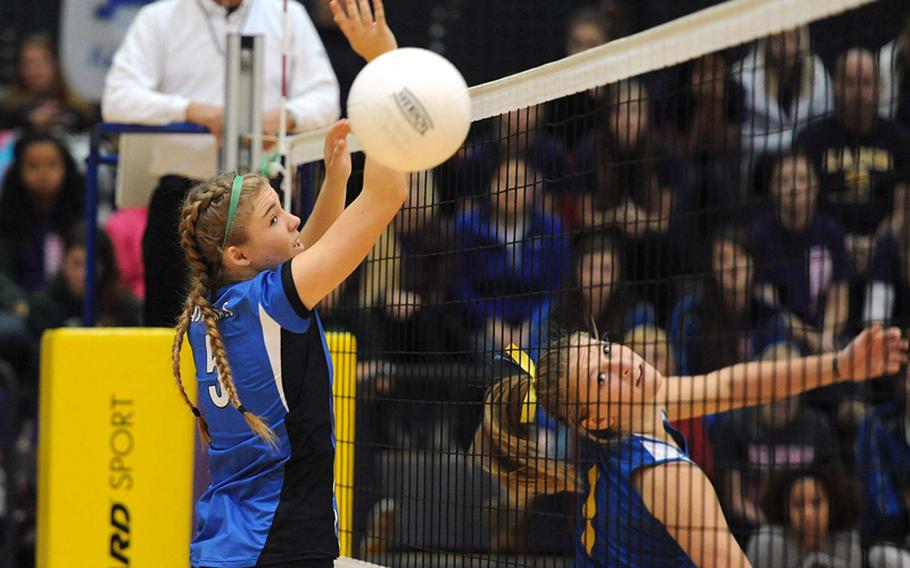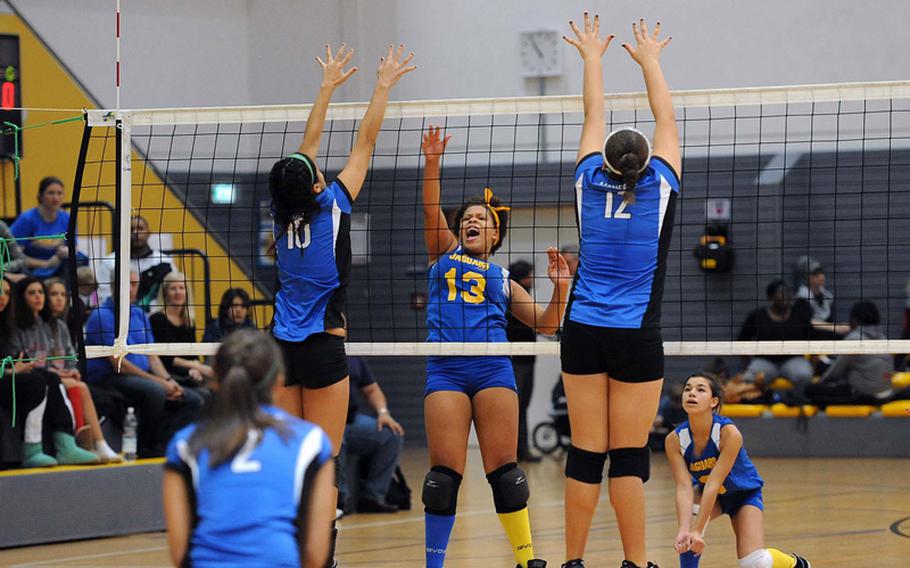 RAMSTEIN AIR BASE, Germany – Near the end of the second set of the Division III DODDS-Europe Volleyball championship match Saturday, the scoreboard flashed: Rota 20, Sigonella 22.
The No.8-ranked team that had made an improbable run through tournament play this week was momentarily leading the reigning European champs.
After falling behind 20-17, the Jaguars put up five straight points to come within striking distance of handing Rota its first set loss of the year.
But it was not to be. After getting the ball back, Rota junior Mikaela Palmer served up an ace and Aspen Luna fired off a kill and the Admirals pulled away for a 25-23 win.
The Jaguars went on to lose in three straight sets, 25-18, 25-23, 25-19, giving Rota its third consecutive Division III championship. In the end, Sigonella couldn't contain Luna, who was named the tournament's Most Valuable Player for Division III, and selected to the all-tournament team, along with senior teammate Natalia Rivera.
"Aspen was the difference maker," said Sigonella head coach Shawn McCarthy. Not only does she have a great team around her, he said, but "she's an intelligent player. Before she hits the ball, she takes a quick peek (at the defending court) and she knows exactly where to put the ball. It's virtually impossible to defend against."
Luna had 23 kills for the match. Her hits were fast, hard, and furious, often landing just out of reach of Sigonella's defenders. "It's like catching a bullet," McCarthy said.
A beaming Rota head coach Melinda Luna gave credit to her entire team, saying this year's squad was her strongest yet, possessing both the necessary technical skills and mental fortitude. In the finals, "we dominated on the free balls coming over," she said. "It was 'pass, set and hit.'" Freshman setter Hailey Landry, who had 27 assists in the match, "did a great job setting up" Luna and Rivera, who had six kills, Melinda Luna said. The rest of the team covered the court and took care of their area, the coach said.
Aspen Luna, who plays volleyball year-round for a Spanish team, said the match was "a little nerve-wracking," but "we played our game. I'm happy right now. I'm really proud."
Defender Jesseca Landry, one of only two seniors Rota will lose from its starting six to graduation, said Sigonella was the Admirals' toughest opponent, "both today and in pool play. They were the team to beat for us."
The Jaguars, who fought their way into the championship match with a five-set win over No. 2 seed Alconbury on Friday, held their heads high after their fairy-tale ride through the tournament came to an end Saturday.
"I think we accomplished our goal and that was just to stay in the game with them and give everyone a good game to watch," said sophomore setter Rachel Vosler, who had two aces, seven kills and four assists in the match. Vosler and senior Alessia Briggs were named to the Division III all-tournament team for Sigonella.
"The kids played their hearts out," McCarthy said. "They left everything on the court; no regrets, just a great tournament."