Lucky 7 for Ramstein QB Wallace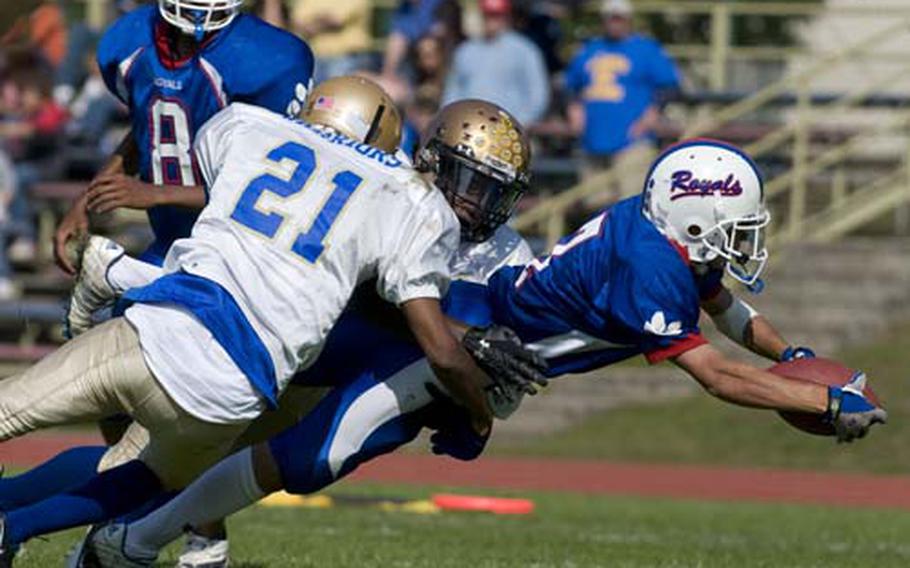 Senior quarterback Michael Wallace rushed for three touchdowns, passed for three and caught a pass for a score Saturday as Ramstein battered visiting Wiesbaden 55-12 in a Division I high school football game.
Wallace, who ran the ball 14 times for 174 yards, found Aaron Salcido for TD tosses of 28, 12 and 23 yards as the Royals improved to 2-0. Salcido grabbed five passes for 81 yards.
Wallace completed 10 of 14 passes for 117 yards and no interceptions. And just in case anyone doubted his athletic ability, he hauled in a 12-yard TD pass from backup quarterback Shane Foley for his seven-TD outing.
Ramstein coach Carlos Amponin said Saturday that Wallace moved to wideout to help his team develop more strength at that position.
"I'm not as deep at receiver as I thought," Amponin said, "so when Shane comes in, Michael moves out there. He's such a good athlete you can play him anyplace on the field."
Both scores for Wiesbaden (1-1) came on first-half kickoff returns. Senior Tre Johnson broke the first one, an 80-yard jaunt in the first quarter to narrow the score to 7-6.
Sophomore Tyrese Davis broke loose for an 83-yard return after Ramstein's third TD.
All opposition points have come against Ramstein's special teams this season. The defensive unit has yet to surrender a point.
In other D-1 games Saturday:
Vilseck 40, Kaiserslautern 0: At Kaiserslautern, Angelo Anderson rushed 28 times for 231 yards, and the Vilseck defense turned two interceptions and a fumble recovery into touchdowns.
Daniel Arroyo scored both interception-return TDs, one for 38 yards and the other for 35. He grabbed a third interception in the fourth quarter to blunt a K-town drive. Kalyn Smithson picked up a fumble and returned it 33 yards for the final touchdown for Vilseck (2-0 overall, 1-0 in Division I).
All-Europe quarterback Tyler Hall completed two of four passes, one for a 54-yard TD to Smithson. Hall also ran for a 6-yard touchdown.
Kaiserslautern (1-1) amassed 165 yards passing on 22 completions, but the five interceptions were costly.
"It was a great day for our defense," Vilseck coach Jim Hall said.
Heidelberg 47, Lakenheath 6: At Lakenheath, defending D-I champion Heidelberg (1-1) rebounded from its 7-2 opening-day home loss to Ramstein.
Quarterback Jimmy Montfleury, who ran for a touchdown, completed five of seven passes for 102 yards. One of the strikes was a 38-yard scoring toss to Chris Cuthbert.
Heidelberg's Jordan Shackleford ran for 61 yards and a TD on seven carries, and Thomas Hogue had 55 yards on the ground to go with two rushing TDs and a fumble recovery for a third score. Sterling Jones rushed six times for 56 yards and a TD.
Lakenheath (0-2) scored in the second quarter on a 65-yard pass from Alex Federinko to Mitchell Christiansen.
Patch 37, Fellbach Warriors 6: At Stuttgart, sprint star Julius Johnson-Rich ran 12 yards for the game's first TD, threw a 17-yard scoring pass to Marshall Haas and returned a kickoff 73 yards for a TD as the Panthers claimed an exhibition victory over a German club team.
Kenny Hall and Conner Charlton each ran for Patch TDs, and the Panthers also scored on an 18-yard pass from Ryan Tannenbaum to Tyler Williams.
Johnson-Rich excelled on defense, too, picking off a Fellbach pass.
A.J. Oliver also had an interception for Patch.
---
---
---
---