Low-post players make presence felt
---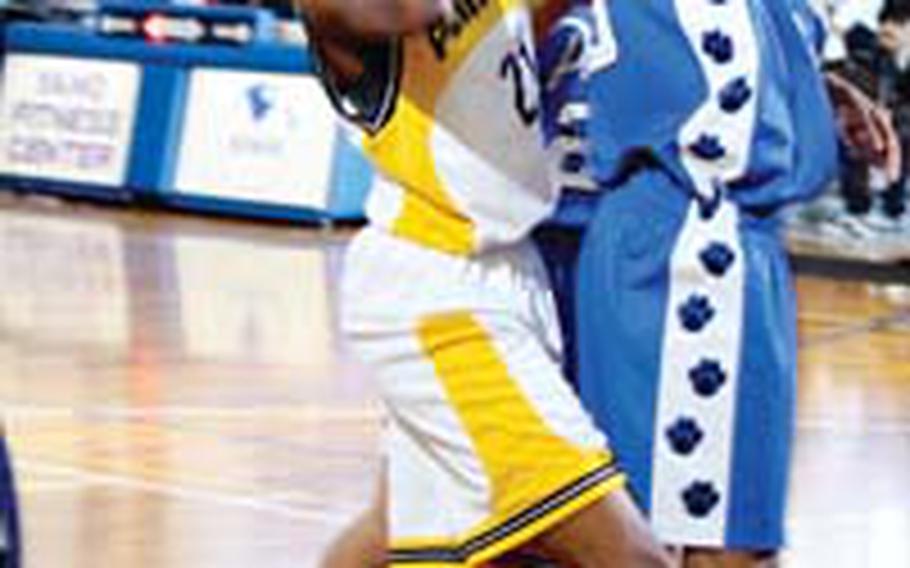 Coach Dewayne Pigge' could only sit and marvel at the performance of his center, Jasmine Taylor. Not that she scored many points — six, to be exact — but how much she prevented other teams from scoring.
Time and again, just when it appeared Yokota had an open shot inside, the 6-foot senior center would swat the ball out of danger as defending Far East High School Girls Class AA Basketball Tournament champion Kadena doubled up the Panthers 66-33 in Tuesday's pool play.
"I stopped counting her blocks," Pigge' said after the contest, which helped Kadena finish pool play 3-0 with one of four top seeds entering Wednesday's single-elimination playoffs.
"I had her for 15," said Dan Beaver, coach of last year's Class A champion Faith Academy, which is in the Class AA tournament this year due to an enrollment spike and considered one of the pre-tournament favorites.
Such performances by game-changing post players seem quite common in Far East tournaments across Japan this week.
Whether for their scoring, rebounding or shot-blocking, a handful of inside stars, including Taylor, were making opposing coaches rethink tactics and strategy as they prepared for possible playoff showdowns.
"They alter shots," Beaver said. "They create momentum for the other team. Some teams that count on inside play, that's a factor."
Between Taylor and 6-1 junior Aja' Walker, Kadena "has two good centers" and remains in the Far East title hunt, Beaver said.
Other tall commodities, such as Daegu American's 6-7 senior Drew Snowden, helped the Warriors win two of four games in the Boys Class A tournament at Misawa Air Base, including an 85-49 romp over Hokkaido International.
"He is a disruptive force when he plays inside. No one can stop him," coach Phillip Loyd said of Snowden, who had 20 points and blocked four shots against the Huskies.
Nile C. Kinnick's girls, who finished second in their pool at 2-1, count heavily on the play of 6-foot sophomore Shannon Jackson, who has averaged more than 20 points and 15 rebounds per game this season, including a campaign-high 36 rebounds in one game last month.
"She makes things happen in side that nobody else on the team makes happen," coach Henry Falk said. "She controls the inside. When she's in control, we do a great job."
Then there are the tall threats of the future, such as freshman Mike Jorgenson of Zama American's boys. Trojans coach Tom Allensworth spoke highly of the 6-5 transfer from Ramstein Air Base, Germany.
"He's got a big upside," Allensworth said, adding that Jorgenson works a lot on his own on playing with front and back to the basket. He has a "nice little 15-footer," Allensworth said, but says the frosh needs to work on his ballhandling skill. "He listens. He's very coachable."
Class AA boys treated to 'Jellybean'The Boys Class AA Tournament got a special treat for its opening ceremony, held a day after the tournament started.
Joe "Jellybean" Bryant, Kobe Bryant's father and coach of the Japan pro basketball league's Tokyo Apache, spoke during the ceremony before Yokota High School's entire student body.
Appearing with Yokota's 374th Airlift Wing commander Col. John Newell and DODDS-Japan assistant district superintendent Dennis Rozzi, Bryant spoke to students about the benefits and opportunities that people have overseas. Bryant played seven seasons in Italy when Kobe was young.
"It was a great time," tournament director Tim Pujol said. "It was really, really nice."
---
---
---
---