DODDS-Europe girls basketball
Losses leave most teams looking for new stars
by
Gregory Broome
December 4, 2013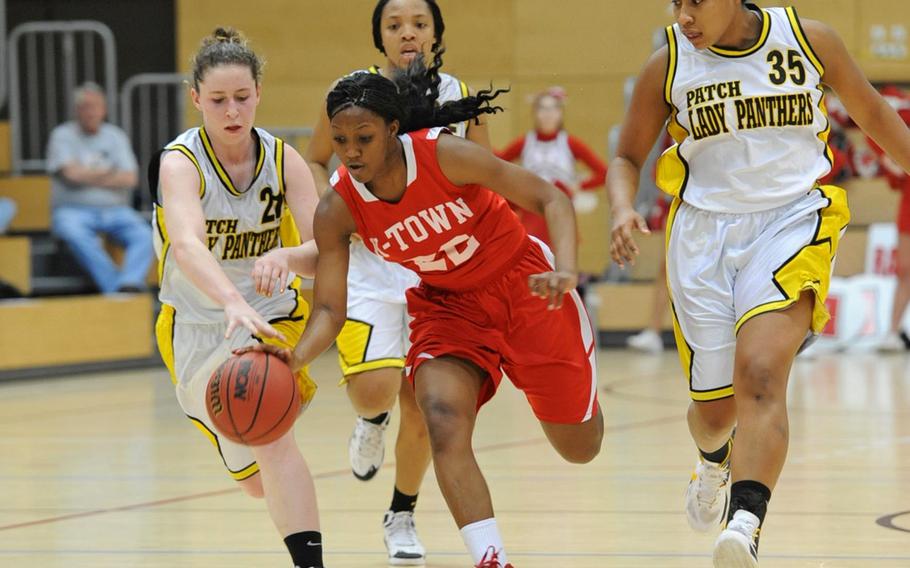 A 16-game weekend slate kicks off the 2013-14 DODDS-Europe girls basketball season. Here's a look at the contenders in each of the organization's three divisions:
Division I As it did a year ago, the race among DODDS-Europe's largest schools might take a few weeks to take shape.
Defending European champion Kaiserslautern took some offseason hits to the perfectly-balanced roster it boasted last season. But Stars and Stripes player of the year Johanna Quinn and fellow All-European Alana Dickerson both return for head coach Corey Sullivan, and a flood of fresh talent should fill in the gaps in the Raider rotation.
That process will take time, however.
"We have a long way to go from where we are," Sullivan said. "We have a pretty inexperienced team right now.
"If they continue to work hard and get better there is always a chance."
That description could apply to nearly every one of the Raiders' Division I challengers.
Wiesbaden is poised for another run at the title after coming up agonizingly short last season.
Guards Phylecia Faublas and Cierra Martin set the tone for an athletic squad heavy on perimeter talent but unproven on the front line.
Lakenheath returns first-team All-Europeans Jourdan Hodge and Kristen Reed under new management in former Heidelberg coach Jon Mittenzwey.
Ramstein also brings in a new leader in former Bitburg coach Lin Hairstone, who inherits a potential-laden team anchored by rebounding prodigy Katherine Enyeart and rapidly improving sophomore point guard Desiree Palacios.
Patch hopes to leap back into title contention behind returning senior forwards Breanna Rodriguez and Rebecca Hess.
Observers won't have to wait long for an idea of where the Raiders and Warriors stand. The two teams stage a championship-game rematch Saturday at Wiesbaden.
Division II Much like the Division I ranks, it's extremely difficult to identify a clear favorite among the throng of Division II contenders.
Defending champion Bitburg, runner-up Ansbach and third-place Hohenfels have all lost All-Europe talent from last year's teams. Ansbach boasts the only returning first-team All-Europe star in Division II in formidable post Alyssa Solis, giving the Cougars a good head start on another year of expected contention.
The offseason upheaval could open an opportunity for a new team to enter the title picture.
Aviano could be that team. The Saints, with head coach Laura Corder returning to the sideline after a few years away, lost very little from a team that went 6-4 over a tough Italian regular-season schedule before faltering at the European tournament.
Corder will deploy a balanced lineup spearheaded by junior point guard Jasmyn Green and featuring a promising wing in sophomore Jasmine Hinkamp and a solid post in senior Sadie Hellwig.
Italian rivals Naples and Vicenza will look to fend off their regional foe in hopes of disrupting last year's Germany-dominated title scene.
The combined team from Schweinfurt and Bamberg, meanwhile, could make noise behind All-Europe junior post Damonique Lamons and an unpredictable but promising group of newcomers.
Division III Just as it did at the recent European volleyball championships – and featuring many of the same key players - the race for the small-school hoops crown might come down to Brussels and Sigonella.
Brussels is the defending champion, and has a balanced starting lineup that is the envy of the Division III ranks in guards Aleeza Vitale and Ali DeFazio and forwards Ana-Marija Vasileva and Teodora Vasileva.
Sigonella, meanwhile, will look to coalesce around the dominant post play of Sydney Moore in hopes of duplicating the school's recent volleyball title win over the Brigands.
Twitter: @broomestripes