Loss to Germany leaves U.S. empty-handed in Schweitzer tourney
by
Rusty Bryan
April 10, 2010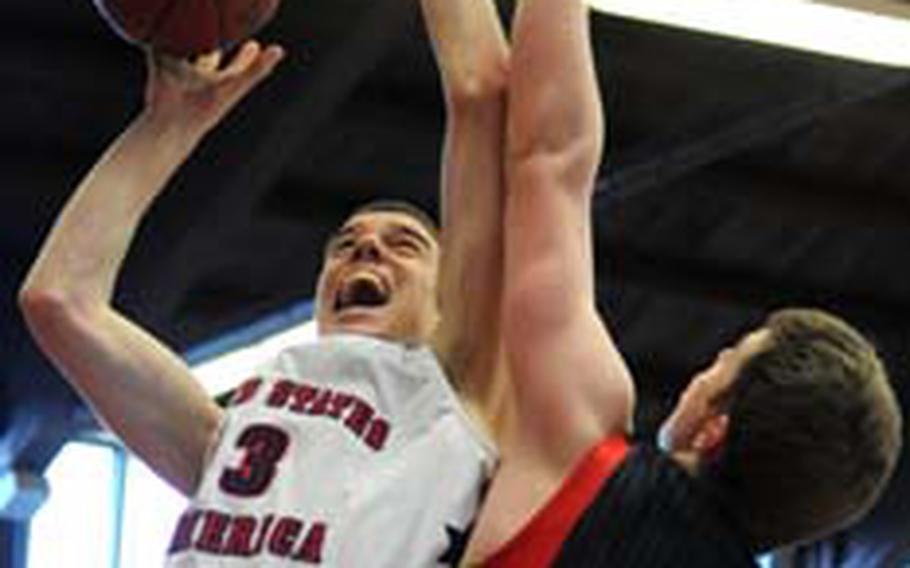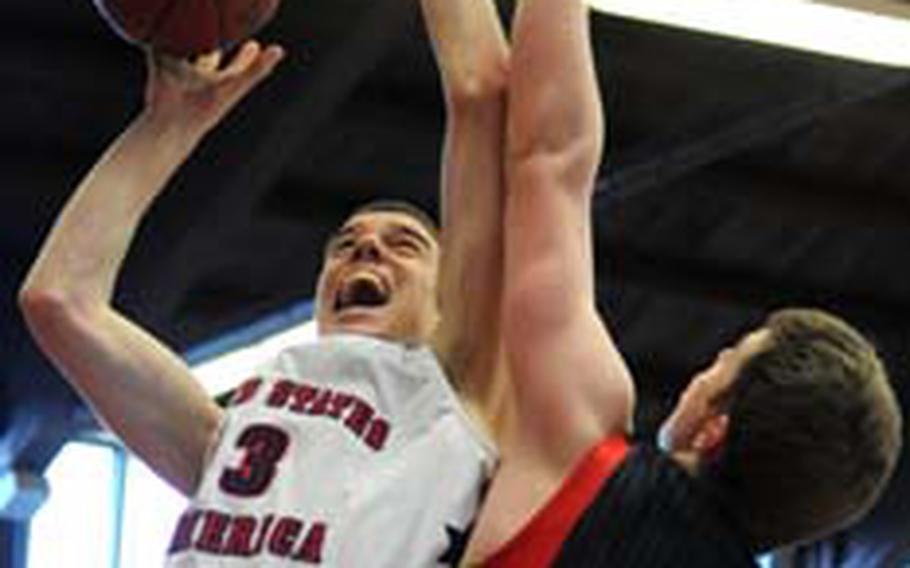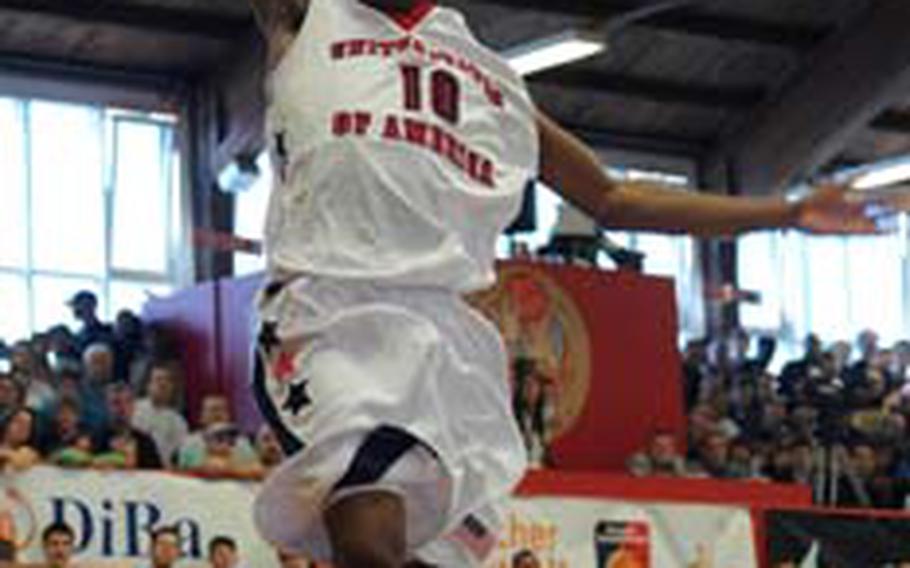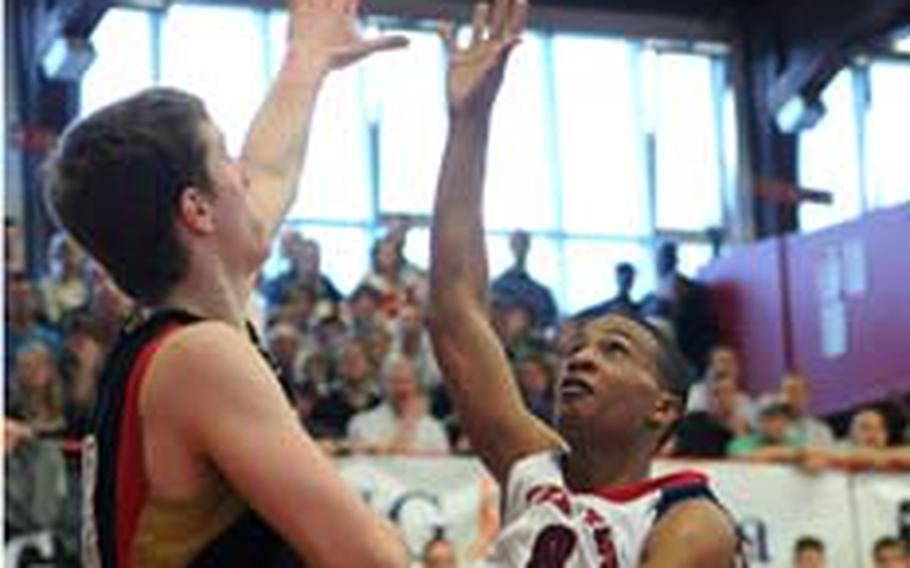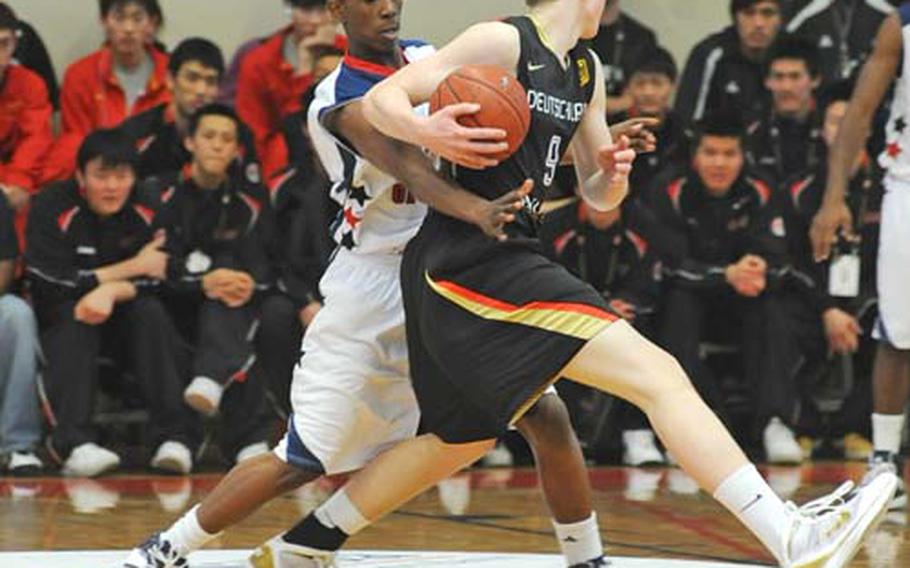 RELATED STORY:Australia claims Schweitzer championship
MANNHEIM, Germany — For the fifth straight time in the biennial Albert Schweitzer International Youth Basketball tournament, the U.S. team departs without a medal.
Germany's Under-17 national team saw to that Saturday by inflicting a 79-68 defeat on the U.S. team in the consolation game of this weeklong, 16-team event.
"It was a good experience," said Ryan Boatright, a junior at East Aurora (Ill.) High School, who scored 18 points Saturday to finish his seven-games-in-eight-days run here with a 19.6-point average. "It didn't come out how we'd like, but that's life."
Boatright scored 16 of his points in the first half for the Americans, who fell behind early, evened the score at 17 near the end of the first period, but were then outscored 27-18 the rest of the half.
Their prospects for a second-half rally took a beating when they missed eight of their first nine shots at the start of the second half and closed the third quarter with their eighth turnover of the stanza. It was 61-49 at that point, and the U.S. never got closer than eight points the rest of the way despite also getting 18 points from Damian Leonard of Greenville, S.C.
It was the second straight fourth-place finish here for the Americans, who've won the event a record 10 times but not since 1996.
U.S. coach Larry Krystkowiak said he wasn't surprised.
"Under the circumstances, we did well," he said. "Keep in mind, we were just introduced to each other two weeks ago. The Australian coach told me four of his players have been together for two years at the National Sports Academy. I think the Germans start forming their teams when the kids are 12."
Even though the days when a dozen American all-stars could compete against year-round national teams seem to be long past, Krystkowiak couldn't help dwelling on what might have been.
"If we'd had a few more shots fall for us along the way, we might be out there now warming up," he said as he gestured toward the Benjamin Franklin Village Arena floor where the Germany Under-18 team and Australia were having a pre-title game shootaround. "But that's the way life works."
The Americans looked weary heading into their final game following Friday night's semifinal loss to the German Under-18 team, 64-59 in a game Krystkowiak called "a Friday-night fight."
Germany's 18-year-olds put Friday's game away with a 13-5 run over the final 5:10, scoring their final eight points from the free-throw line. For the game, they were 20-for-28 from the stripe, compared to the Americans' 10-for-19 performance.
Fatigue also factored in, Krystkowiak said.
"I give (the Germans) credit," he said, "but a lot of our guys have played a lot of minutes. We haven't had any easy games where we could rest people. Some guys' tanks were running on empty."
Saturday, their bags were packed.
"I told them it didn't work out the way we hoped," Krystkowiak said, "but that no one can take the past two weeks away from us."
Echoed future Kansas Jayhawk Royce Woolridge of Phoenix: "I had a great time. It was a great experience."
SaturdayGermany U-17 79, U.S. 68
Third-place game Germany U-17 19 25 17 18—79U.S. 17 18 11 22—68Scoring—Germany U-17: Besnick Bekteshi 17, Paul Albrecht 13, Malik Mueller 11, Julius Wolf 10, Jakob Krumbeck 9, Anselm Hartman 6, Stephan Haukohl 5, Tim Unterluggauer 4, Fabian Blec 2, Josip Peric 2; U.S.: Ryan Boatright 18, Damian Leonard 18, Royce Woolridge 11, Mike Chandler 4, Andrew White 4, Farooq Muhammad 3, Kevin Ware 3, Joshua Henderson 2, Chris Mannhertz 2, Marshall Plumlee 2, Jamal Tuck 1.Rebounding—Germany U-17 40 (13 offensive, 27 defensive); U.S. 35 (10 offensive, 25 defensive) Leonard 6, Ware 5, Manhertz 5. Field-goal shooting—Germany U-17 28-for-66, 42 percent, 7-for-23 on three-pointers, 30 percent; U.S. 24-for-63, 38 percent, 8-for-23 three-pointers, 35 percent. Free throws—Germany U-17 16-for-18; U.S.A. 12-for-17.
FridayGermany U-18 64, U.S. 59Semifinal gameU.S. 10 24 12 13—59Germany U-18 17 19 12 16—64Scoring—U.S.: Ryan Boatright 19, Damian Leonard 10, Andrew White 6, Joshua Henderson 5, Michael Chandler 4, Kevin Ware 4, Chris Manhertz 3, Farooq Muhammad 3, Royce Woolridge 3, Dillon Wadsack 2; Germany U-18: Falko Theilig 13, Phillipp Neumann 11, Daniel Theis 8, Patrick Heck 7, Mathis Moenninghoff 7, Mario Blessing 6, Thomas Reuter 5, Lars Wendt 5, Bill Borekambi 2.Rebounding—U.S. 44 (12 offensive, 32 defensive) Boatright 10, Manhertz 10, Chandler 7; Germany U-18 47 (15 offensive, 32 defensive) Theis 10. Field-goal shootingU.S. 22-for-59, 37 percent, 5-for-21 on three-pointers, 24 percent; Germany U-18 20-for-64, 31 percent, 4-for-27 three-pointers, 15 percent.
Free-throw shooting—U.S. 10-for-19, 53 percent; Germany U-18 20-for-28, 71 percent.