Home Team
Long-distance attacks changing coaches' game plans
---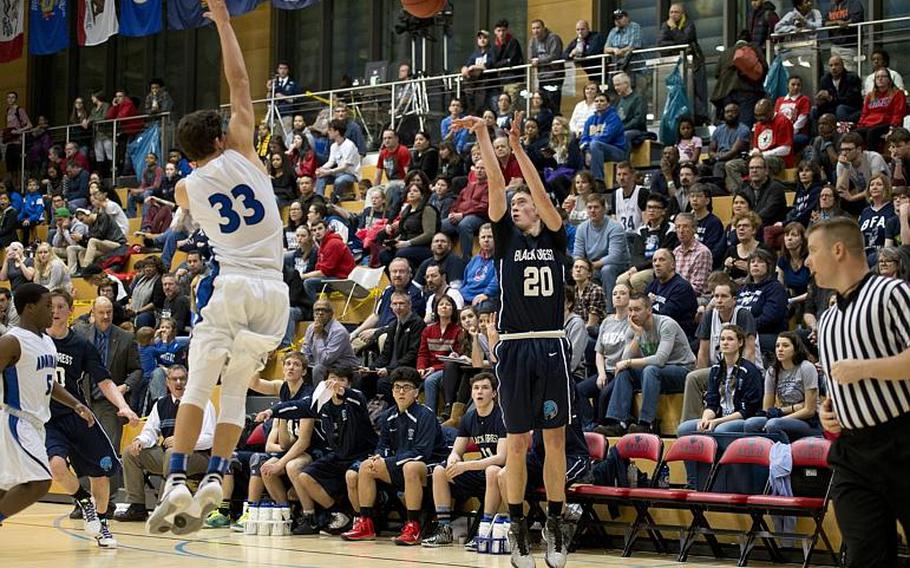 A three-point shot is worth more than a two-point shot. But only if the ball goes through the basket.
That's a predicament basketball coaches across DODEA-Europe are increasingly engaged with as the shot's rising popularity at higher levels of the sport trickles down to high schools.
"The three-point shot has become an integral part of most offenses," Hohenfels boys coach Joel McDonald said. "Including ours."
The reason for the growing phenomenon is simple, coaches say. Players love shooting from three-point range, and are getting better at it.
"Players definitely enjoy shooting the three more than any other shot, so they practice it more on their own," Wiesbaden boys coach David Brown said. "Why wouldn't I take advantage of that?"
Black Forest Academy girls coach Cindy Kennedy said the shot is "the norm" now, rather than an occasional highlight.
"I would say my philosophy has changed, but so has the ability to shoot the three," Kennedy said. "In the past it was rare to have someone on the team capable of shooting the three. But now most of my guards are three-point shooters."
Though there is no firm data at the DODEA-Europe level to corroborate the trend, coaches said the uptick has been apparent across the organization.
"I have noticed more opponents willing to shoot from further away against me," Aviano boys coach Kevin Lehde said.
When it comes to freeing their own players to fire away from distance, however, those same coaches are more cautious.
"This year, I identified which players are allowed to shoot threes based on proficiency," Lehde said. "But even they are not allowed to shoot contested threes, only wide open shots."
As Lehde suggested, coaches will indulge their players' fascination with the three-point shot as long as it fits within the team's overall game plan.
"We encourage players to shoot the shot if it has come out of the flow of the offense," AFNORTH girls coach Matthew Wise said.
"A player should know whether or not he has the green light to try a three," Naples boys coach Craig Lord said.
Not every coach is so enthused to follow the sport's steady drift away from the paint.
"I am an old-school post player," Stuttgart girls coach Robin Hess said. "When I played, it was the post player that dictated the game."
But Hess acknowledged that "many teams are turning toward outside play," and her undefeated Panthers aren't exempt.
"I think having that balance between inside and outside shooting should be the optimal goal for teams," Hess said.
When that balance is achieved, the results can be remarkable.
"More than ever before, my kids know where their spots are. So everyone is working to get each other shots in their spots," Brown said. "One of the most beautiful things about the sport to me is how players have to recognize and accept where their strengths are and use them for the betterment of the team."
In general, then, coaches are willing to grant players the power to shoot three-pointers if the players are willing to exercise that power selectively. And that sense of personal responsibility extends to the development of the ability itself. Rather than spend an inordinate amount of team practice time on a largely individual skill such as outside shooting, coaches expect players to take the initiative in improving their long-range accuracy independently.
"They either have the shot or they don't," Lord said. "They should develop the shot on their own."
That's exactly what's now happening across DODEA-Europe as young players emulate the long-distance exploits of their heroes at higher levels of the sport. Most coaches are happy to reap the rewards of the burgeoning trend.
"The numbers don't lie," Brown said. "Three is worth more than two."
Twitter: @broomestripes
---
---
---
---