Girls basketball roundup
Loney helps Patch stay perfect
---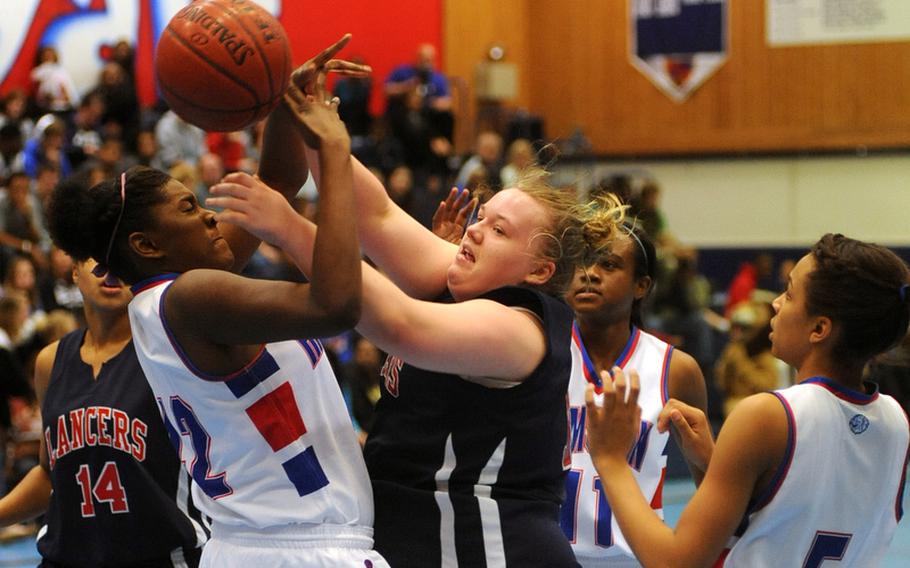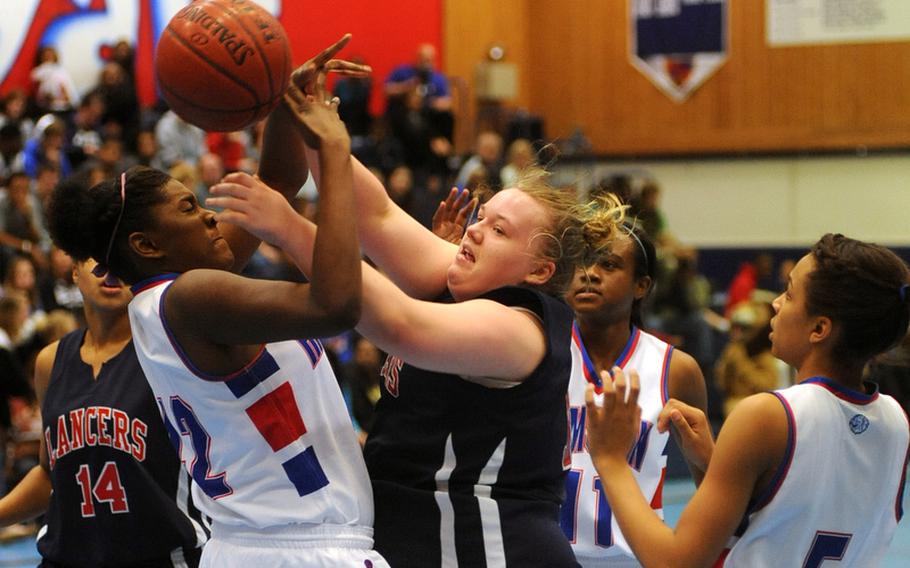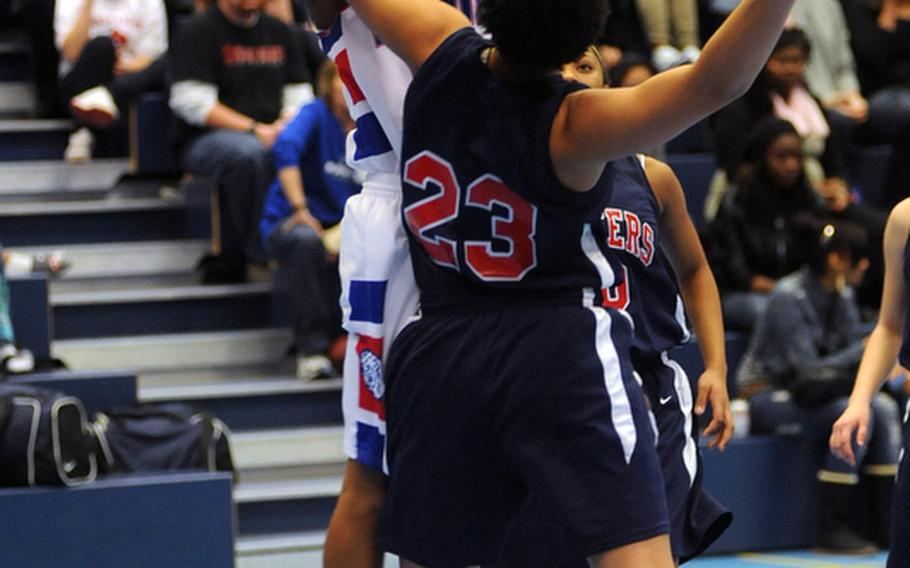 Stars and Stripes' 2011 basketball player of the year Janelle Loney posted a triple-double Saturday to keep the defending European Division I champion Patch Lady Panthers unbeaten with a hard-fought 36-27 victory at Vilseck.
"It was a good, tough game," Patch coach John Kohut said by telephone Saturday after three-time All-European Loney put 17 points, 10 rebounds and 10 steals into the scorebook. "It was a very strategic game. My compliments to (Vilseck coach) Jim Hall and his team."
Loney, who scored 24 points and pulled off nine steals in Friday's 42-31 victory over their Region III and Division I rivals, also handed out three assists in each game to help Patch run its winning streak to 12 straight dating back to last year's European tournament. The Lady Panthers will take an 8-0 overall and 6-0 regional record into this weekend's regional games against visiting Bamberg, a D-III school.
Hall said by phone on Saturday that most of that strategy involved putting a box-and-one on Loney, whom he called "a complete player."
Senior Taylor Hall drew the "and-one" part of the defense, holding Loney to just eight points in Friday's first half and three in Saturday's first 16 minutes before foul trouble by the defenders and Loney's prowess at the free-throw-line – six-of-seven on Friday – finally broke the logjam.
"I'm very proud of our defense," said Hall, whose team went a hard-to-overcome two-of-13 from the line on Friday. "We took a team which was scoring 65 points a game and held them to 42 and 36."
Johanna Quinn, who scored six points in each victory, topped the champs with 11 rebounds on Saturday.
China Sumpter led Vilseck with 11 points on Friday and 15 on Saturday, greatly impressing Kohut with her stroke.
"She's a great shooter," he enthused about the sophomore who was three-of-four on trey tries on Saturday. "She hit a half-court shot at the final buzzer today."
Vilseck fell to 5-3 overall and in the region and next hosts Wiesbaden for non-regional games on Friday and Saturday.
In other girls' games of note:
AFNORTH 30, SHAPE 27: Saturday at Brunssum, Netherlands, Sara Sawyer's double-double, 10 points and 12 rebounds, and 14 vital rebounds by Taylor Bonenclark allowed the Lady Lions to pin the first defeat of the season on their guests.
Gina Rhett scored a game-high 17 points for SHAPE, which by virtue of Friday's 39-26 home victory over AFNORTH clinched the Region I big-schools title in spite of Saturday's loss. Rhett led the way Friday, too, also with 17 points.
AFNORTH, idle this weekend, is 9-2 overall and 2-2 in big-schools' regional play. SHAPE completed its regional schedule at 5-1. The Lady Spartans, headed for games at Menwith Hill this weekend, are 9-1 overall.
AOSR 64, Marymount 29: Friday at Marymount International School of Rome, Ceara Lafferty posted an industrial-strength double-double, 22 points and the same number of rebounds , that jump-started the American Overseas School of Rome Falcons over their hosts.
The game, originally scheduled for Feb. 10, was moved up when an Italy-wide, truckers-strike-induced gasoline shortage prevented Aviano and Vicenza from taking on the Rome-based schoools.
AOSR, which also benefited from Bianca Oetiker's 22-point night, will take a 4-3 overall and league record into its Tuesday night rematch at Marymount. The Lady Royals fell to 1-6.
Sigonella 46, Milan 22: Saturday at Sigonella, Deeanna Brown cleared the decks for a season-ending home showdown Feb. 10-11 against league-leading Naples by filling the scorebook with 16 points, five steals, five assists and five blocks, according to Sigonella coach Mark Gillett.
Also contributing significantly to the weekend sweep which kept the Lady Jaguars a game behind Naples at 8-2 were sophomores Tenia Strobridge and Dinayda Garcia-Diaz. Strobridge scored 12 points in Friday's 49-15 romp and 14 more on Saturday, and Garcia-Diaz posted a team-high 13 points, along with five steals, on Friday.
Heidelberg 43, Bamberg 38 (OT): Saturday at Bamberg, the Lady Lions ducked a second-straight long-ball barrage from Bamberg senior Loleen Tomokane to complete the sweep of their D-III hosts.
Tomokane, who drained six three-balls en route to a game-high 24 points in Friday night's 44-34 loss to the Lady Lions, canned three more treys on Saturday to help the Lady Barons force overtime against their D-I guests.
Heidelberg overcame Tomokane's threes and a game-high 12 rebounds by Vanessa Sanders behind 13 points from senior Rebecca Luna and 10 rebounds from Chelsea Shivers to improve to 6-2 overall and 5-1 in region. Bamberg will take 2-6, 2-5 marks into its next matchup, Friday and Saturday at unbeaten Patch.
---
---
---
---