DIII girls soccer
Lone goal enough to help Rota win again
by
Rusty Bryan
May 21, 2011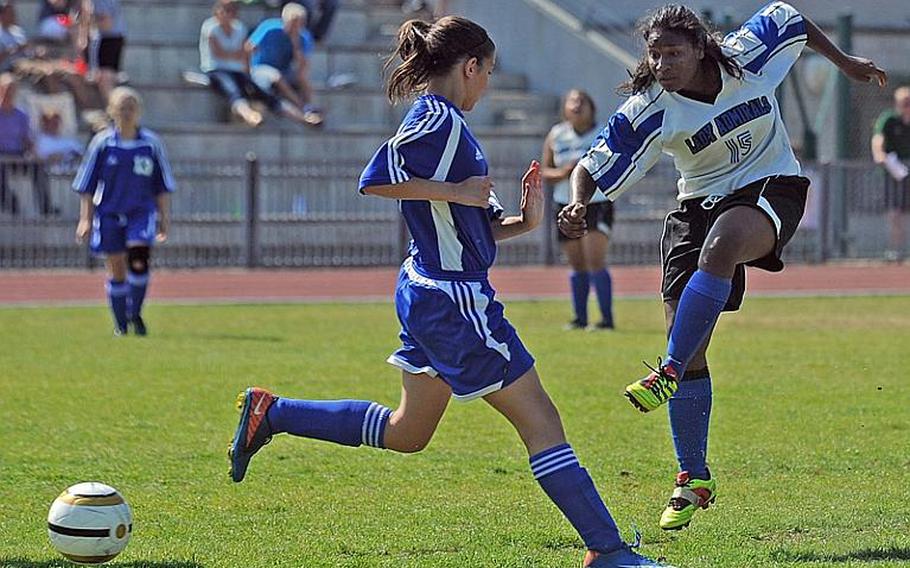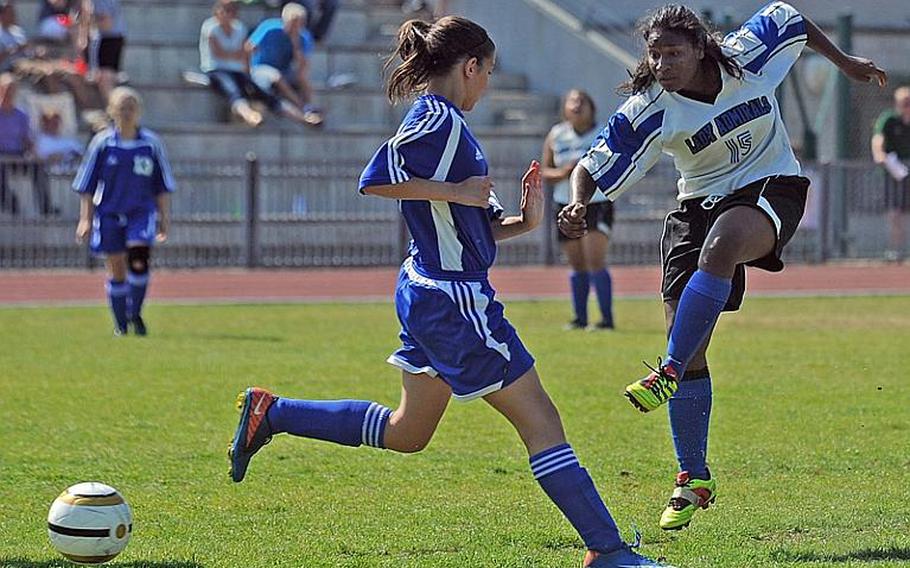 RAMSTEIN AIR BASE, Germany — Fifteen minutes into Saturday's European Division III girls soccer championship game, Yesenia Solis ran on to a loose ball in the Brussels penalty area and scored the only goal of a 1-0 victory over the Lady Brigands as Rota repeated as D-III champs.
Turns out, Solis' opportunistic goal was more than just a game-winner. It was the answer to a prayer.
"I give all the credit to God," Rota coach Clarice Brown said as the Lady Admirals celebrated another small schools championship. "We pray every day. I firmly believe that's what made the difference today."
The victory handed Rota, which lost 2-1 to Brussels in Friday's round-robin phase of the six-team D-III event, the season series against Brussels. Rota defeated Brussels 8-0 April 30 in Alconbury, England.
Brown and Solis agreed that Friday's loss, top-seeded Rota's first of the season to a DODDS team, was a blessing in disguise.
"It's what we needed to get our minds clear," Solis said as Brown nodded her agreement.
"It was good in one way and bad in the other," Brown said. "You never want to lose, but we came in here with a lot of pressure on us. It took some of that away."
The game was the second of the day for each team. Rota downed Ankara 6-0, and second-seeded Brussels tied Sigonella 1-1 in the teams' morning round-robin finales. The two teams with the best records in the round-robin qualified for the final.
Most of the title game was played in the Brussels end of the field, where the Lady Admirals, who were on target so effectively in the morning, just missed time after time.
Solis said the string of unfinished chances weighed on her a bit, especially when others noticed.
"It was frustrating at times when I'd get it taken away, when I didn't do something right," Solis said, "and then I'd hear the coaches saying something."
On the trip back to Spain, however, Solis and her teammates are likely to hear nothing but praise from those very same coaches.
"These girls are wonderful," Brown said.
---
---
---