London Central wins D-III softball
by
Marni McEntee
May 23, 2004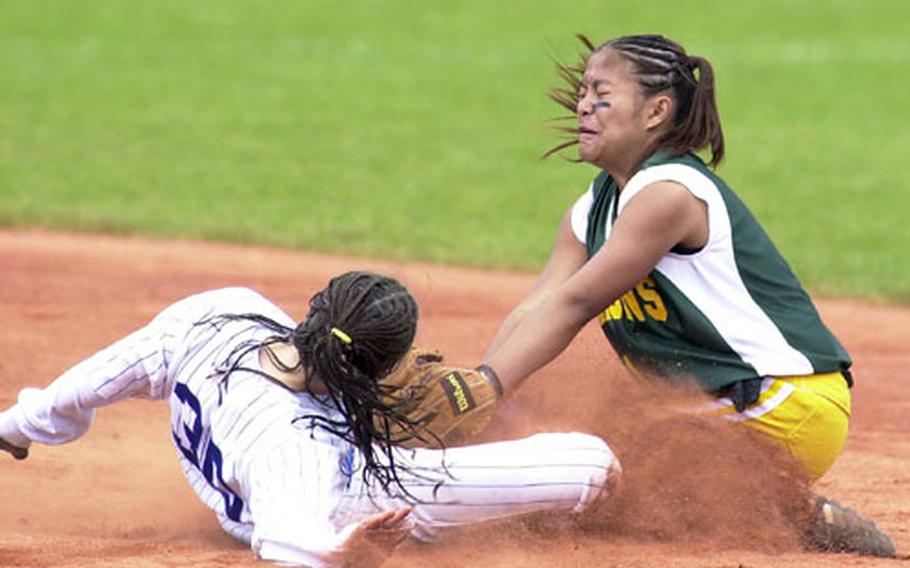 RAMSTEIN AIR BASE, Germany — If ever an underdog made good, it was the London Central Lady Bobcats, who beat Alconbury's Lady Dragons 10-4 in the Division III softball championship Saturday.
The Lady Bobcats, who didn't win a game last season, scored four runs in the bottom of the sixth inning to seal the victory.
Mickey Galloway drove in the first of three runs in the bottom of the fourth inning to tie the Dragons 3-3.
London Central added three runs in the fifth to make it 6-3, but Alconbury answered with a run in the top of the sixth to cut the lead to 6-4.
Bobcats pitcher Ashley Willis, 18, said the game turned in the fourth inning, when the team jelled into a fighting force.
"We came back strong and just kept striking them out," Willis said.
First-year Bobcats coach Duke Eidt said the team had many new players this year and had to work hard to unify their efforts.
"They were a ragtag bunch, but they could play," Eidt said. He gave much of the credit to Willis, saying the team "rallied behind her."
Obviously disappointed after the game, Lady Dragons head coach Don Ballard said the team lagged on defense, failing to back up the strong pitching efforts of junior Reva Ballard, who had 50 strikeouts this season.
The team had been seeded No. 1 coming into the game, he said.
"They played their hearts out the whole season," Ballard said.
The team has some consolation in the fact that none are seniors, so they'll likely all be back next year.