Little returns to Okinawa in time to spark Falcons to JMAC title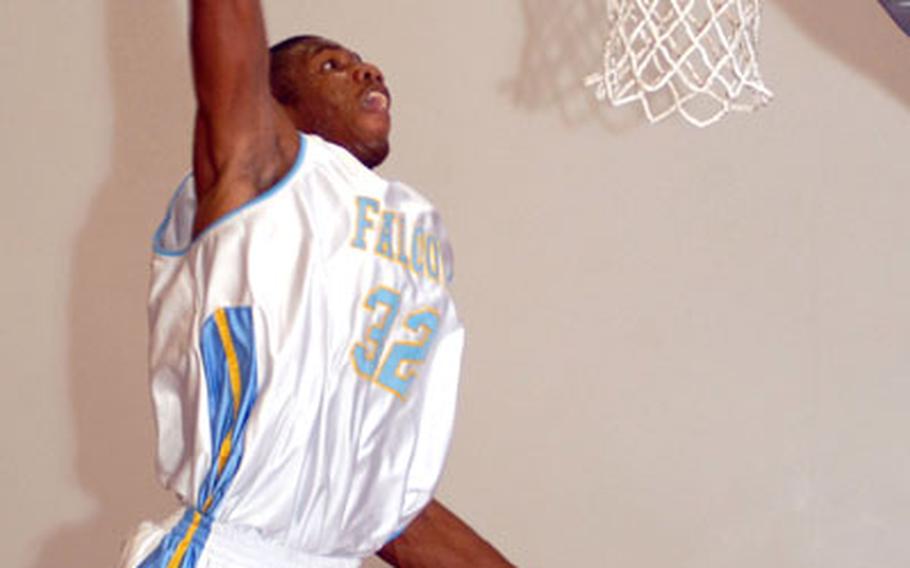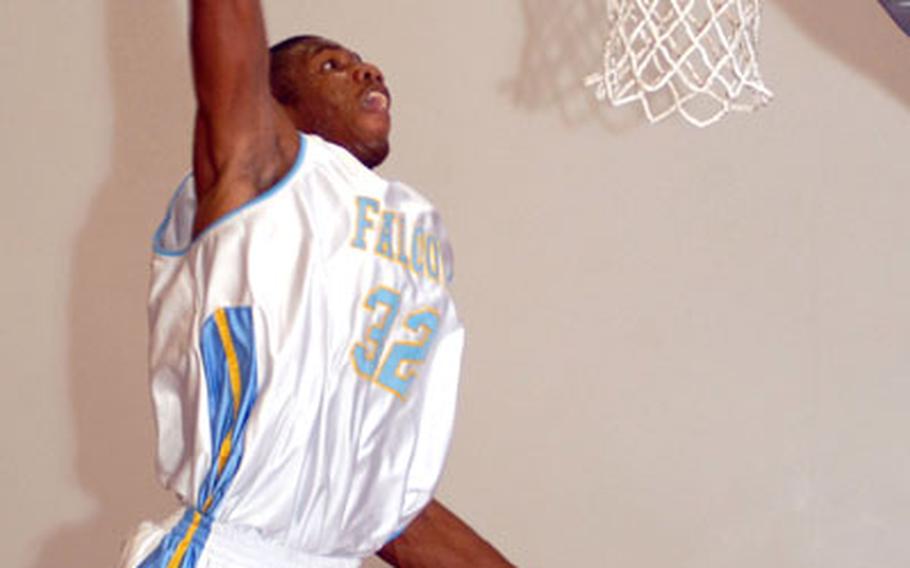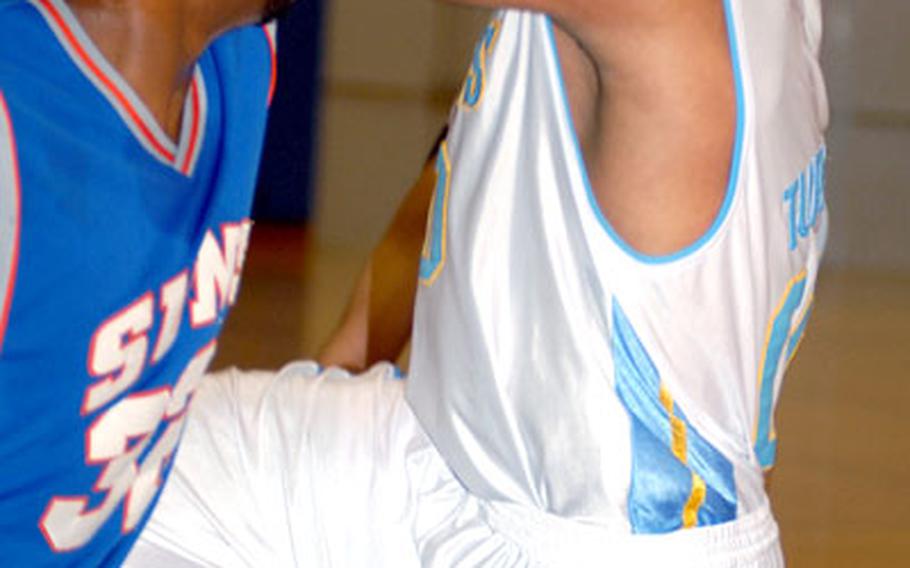 KADENA AIR BASE, Okinawa — Three days earlier, halfway around the world in Belgium, Carl Little and Team USA came one victory short of a gold medal in a 10-team international military basketball tournament.
On Tuesday, after Little jetted home to Kadena, he and his Kadena Falcons gratefully accepted a suitable consolation prize — the championship of the inaugural Okinawa Joint Military Athletic Conference season.
"It's sufficient," Little said after scoring 10 points and blocking three shots in just over 13 minutes as the Falcons downed the Okinawa Suns 93-85 in Tuesday's championship game at Kadena's Risner Fitness and Sports Complex.
For Little, Tuesday's triumph served as the capper on a month-long odyssey that saw him help lead Air Force to the All-Armed Forces tournament title at Fort Carson, Colo., the first time Air Force has won it in six years. That preceded the trip to the Supreme Headquarters, Allied Powers Europe international tournament in Mons, Belgium, where Team USA finished third, beating Italy 88-79 on Saturday for the bronze medal.
"My goal was to win the All-Armed forces championship, which we did, then to be the only Air Force player on the All-Armed Forces team, that was a blessing," Little said.
The victory also capped an unbeaten season for the Falcons, who entered the six-team double-elimination playoffs as the top seed following a 16-0 regular season.
Besides Little, the Falcons boasted plenty of star power, including two-time All-Armed Forces guard Kendric Green and 1996 Air Force Academy graduate Reggie Minton.
The Suns, meanwhile, were the surprise team of the playoffs, entering as the sixth seed with a pedestrian 8-8 mark but battling all the way to the final, winning three games and losing only to Kadena, 96-83, in the winner's bracket final Nov. 30 and in Tuesday's title game.
Kadena wasted no time breaking out of the gate, going up 21-11 7:11 into the contest on Markel Felder's slam dunk. The Falcons forced 23 turnovers, outrebounded the Suns 43-31 and led by as many as 24 points, 75-51 after five straight points by Adam Wilson with 8:56 left.
The Suns rallied, cutting the gap to 92-85 with 16 seconds left on the second of two straight Eric Honeycutt three-point goals, but it was as close as they would get.
"It feels good to go undefeated," Little said, adding that having so many individual stars didn't get in the way of team building. "Everybody was gunning for us, but we meshed as a team."
Despite the victory and going 20-0, "I'm not satisfied, wasn't satisfied with the way we closed it out," Kadena coach Gerry Barnes said.
He used the final partly to assess some of the players he'll take to South Korea later this month for the Pacificwide holiday tournament at Osan Air Base. "I wanted to play them to get their confidence up, win and prepare for Korea. We have a nice, formidable lineup," he said.
Six Falcons scored in double figures, paced by Bryan Simpson with 15.
"That first half really killed us," Suns coach Keith Richardson said; the Suns trailed 49-33 at intermission. "We made some adjustments as we went along, but by then it was too late."
B.J. Ziemann paced the Suns with 25 points, going 11-for-12 from the foul line. Raquawn Jean added 17, former Kubasaki High School star Bill Gray added 15 and Honeycutt totaled 22, including six three-point goals.