Little League baseball: Brussels bounces back with win over Ramstein
---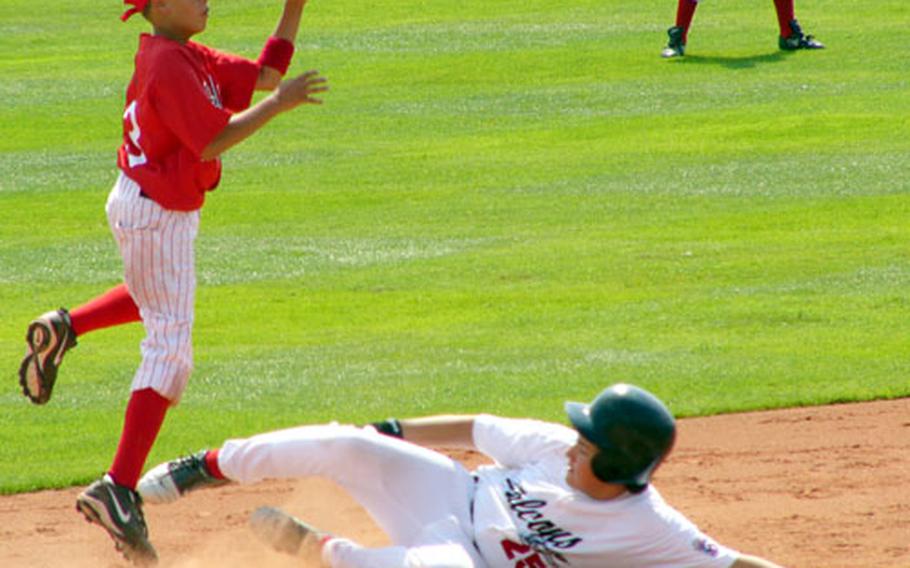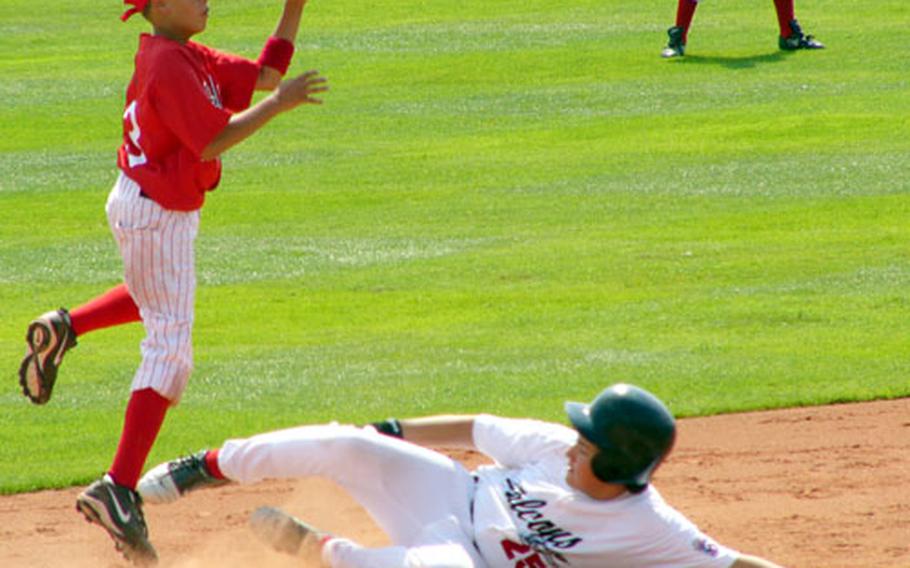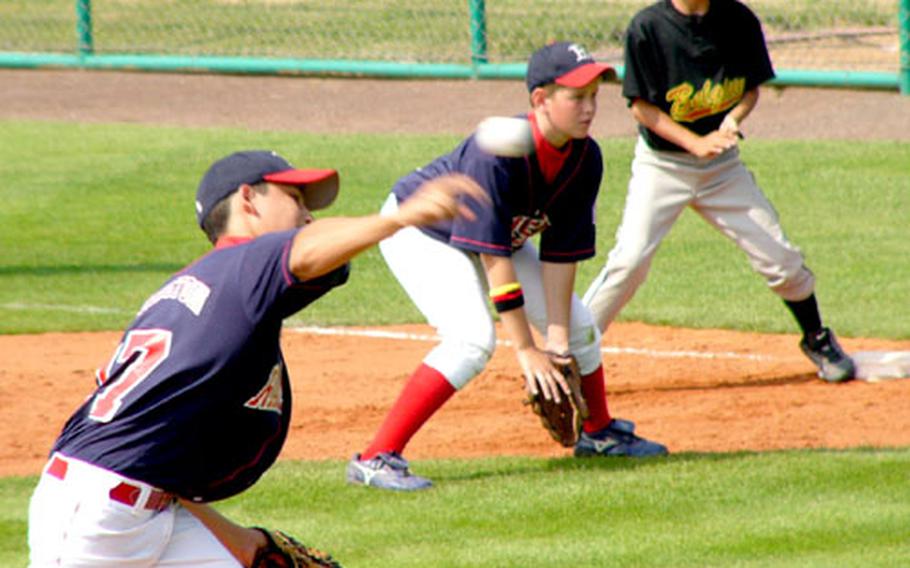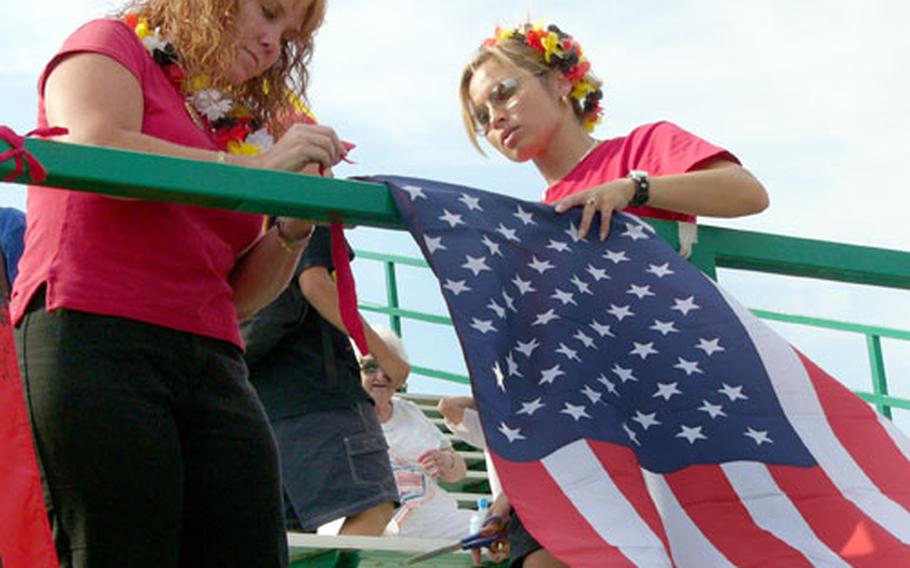 KUTNO, Poland — Resilience was the order of the day Saturday for Belgium champion Brussels in the Little League European Region's Transatlantic regional tournament.
Brussels rebounded from a 13-0 mercy-rule loss to six-time defending champion Saudi Arabia on Friday's opening day of this six-day round-robin with a 6-3 victory over Germany champion Ramstein.
"We knew we had to come out and play tough today," said winning pitcher Ryan Burr, who allowed six hits, struck out nine and walked three in going the six-inning distance.
Brussels took a 3-0 lead in the top of the first inning. After Benji McGee struck out to open the game, Brussels stroked three straight hits — a single to center by shortstop Peter Oppenheim, a double to center by Burr and a two-run single by third baseman Matt Heinrich.
Brussels added a run in the third on an RBI double from Patrick Schunk and put the game away with a two-run fourth by taking advantage of three walks, one of them a bases-loaded pass to Schunk.
Ramstein struggled against Burr, scoring two of its runs on wild pitches. Angelo Ortiz, Ramstein's No. 9 hitter, accounted for his team's lone RBI on a single to center in the second inning.
Asked what was working for him on Saturday, Burr replied, "My cut fastball, our defense and our offense. I was throwing hard."
Ramstein, which withstood a five-run last inning by Naples to defeat the Italy champions 8-6 Friday night, mounted a threat in its final at-bats, but left runners at second and third with the tying run at the plate.
"I wasn't tired," said Burr, who faced six batters in the last inning. "I wanted to go more. I wanted to push it and finish the game."
In other Saturday games:
Naples 10, Dubai 9Chris Johnston, who celebrated his 13th birthday with an RBI double off the left-field wall in the first inning, lined a shot off pitcher Jose Carrizo's glove with two out in the bottom of the last inning, and Zach Lilley raced home from third with the winning run.
"I thought he was going to catch it," said Johnston, who connected on a 3-2 pitch. His blow capped a two-run rally for Naples and helped the Italy champs even their tournament record at 1-1. They play Brussels on Sunday.
The loss was doubly disappointing for Dubai (0-2), champs of the United Arab Emirates. The Falcons, who led 2-0 but fell behind 8-2 after two innings, rallied for five runs in the fifth and two in the sixth to take a 9-8 lead into the bottom of the sixth.
Connor Oliver and Brandon Cavil opened the decisive frame by drawing walks, and pulled off a double steal to put runners at second and third. Oliver was retired in a rundown on Lilley's grounder to third, but Carrizo threw a wild pitch that allowed the tying run to score. After a strikeout, he was unable to grab Johnston's liner.
Alex Cheshire, who came on in the fifth in relief and surrendered his team's lead, got the victory; Carrizo took the loss.
Dubai (0-2) plays Saudi Arabia Sunday. Saudi was playing England in Saturday's third game, which matched the only remaining unbeaten teams in the tournament.
Brussels faces Naples in Sunday's third game and closes out its round-robin against Dubai on Monday and London on Tuesday.
Saudi Arabia 16, England 0Michael Knight, who pitched a no-hitter on Friday, did his damage at the plate Saturday, hitting home runs in consecutive at-bats in the first two innings to drive in five runs. He hammered a leadoff double down the left-field line in the fourth.
The first five Saudi batters got hits hits and scored in the romp, which was ended by the 10-run rule after the minimum four innings. After the score reached 16-0 in the top of the fourth, all Saudi batters received the bunt sign.
Catcher Matt Timoney, who doubled home a run in his first at-bat, stroked a two-run homer over the left-field fence in the second.
Pitcher Andrew Holden tossed a shutout, but allowed the first hits against Saudi Arabia this tournament — singles to Justin Cerutti and Brad Dalson. Holden struck out six and walked two.
Saudi Arabia (2-0), seeking its seventh straight title here, plays Gulf rival Dubai Sunday; England (1-1) takes on Ramstein.
Ramstein plays London on Sunday, Saudi Arabia on Monday and Dubai on Tuesday.
Semifinals are scheduled for Wednesday, with the No. 1 team playing No. 4 and No. 2 taking on No. 3. Thursday afternoon's final will determine which of the six teams here advances to the Little League World Series next month at Williamsport, Pa.
---
---
---
---