Likely showdowns highlight league tourneys
---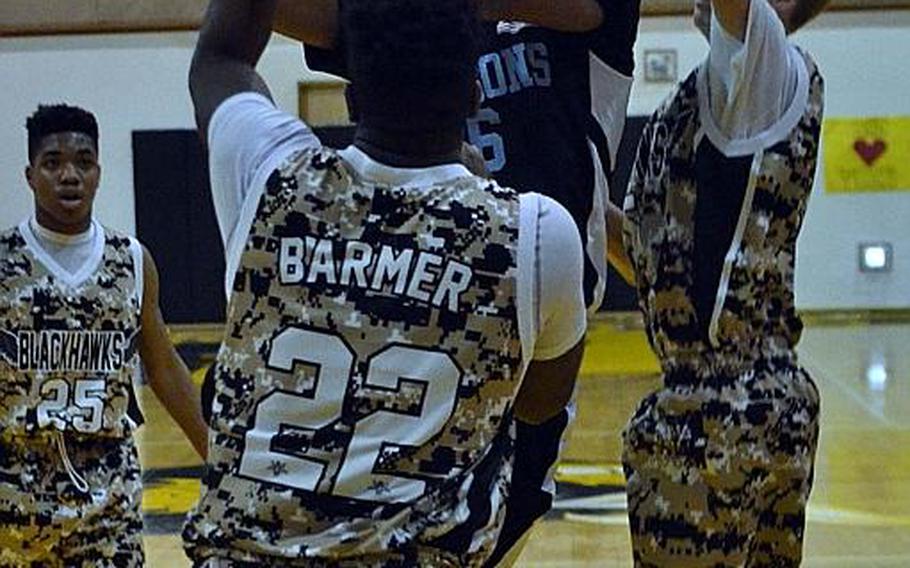 YOKOTA AIR BASE, Japan – He says he doesn't dwell on it. But Ron Merriwether still remembers.
Last February at Taejon Christian, Merriwether's Humphreys boys basketball team fell to Seoul American in the Korea Blue tournament, 54-50.
The situation is similar as the Blackhawks approach this weekend's tournament at Yongsan International: Humphreys won its second straight regular-season title with the Falcons nipping at its heels in second place.
"The quicker you forget things and move on and learn from mistakes, you can come out of a situation on top," Merriwether said Thursday, the night before the tournament begins.
He said after last year's final that he needed to prepare his team better in future similar situations.
"I've been in that situation many times," he said. "As long as we execute the game plan, we'll be OK. I like our chances. We'll see. Time will tell."
The finals of the Korean-American Interscholastic Activities Conference's Blue Division tournaments are 2:30 p.m. for girls at Seoul American and 3 p.m. for boys at YIS-Seoul. Seoul American's girls clinched the top seed and won the regular-season title.
Meanwhile, two other district championships are on tap this weekend across the Sea of Japan in Tokyo.
Yokota's Capps Gym hosts the next-to-last event in the facility's 43-year history with the DODEA-Japan basketball tournaments for boys and girls. Capps is scheduled for demolition this coming summer. A new high school is slated to open in August.
"It's pretty much a dress rehearsal" for the Far East tournaments later this month, said coach James Bailey of host Yokota. The fact that four of the teams are Division II-level and the Panthers will see them at Far East is a plus, Bailey said.
In particular, the Panthers have their eyes on improving Robert D. Edgren, which has won six of its last eight games. "They'll be a challenge for us at Far East," Bailey said.
The girls tournament figures to end in a showdown between the Panthers and league-leading Nile C. Kinnick, while on the boys end, host Yokota and E.J. King, a combined 42-2 entering the weekend, are taking aim at a Saturday finals battle. The girls title game is at 2 p.m. and the boys at 3:30 p.m. Saturday. Play began Thursday afternoon.
Wrestling will crown champions in Saturday's Kanto Plain Association of Secondary Schools finals at St. Mary's.
St. Mary's is also the Kanto Plain regular-season champion and winner of four straight in-season tournaments, with Kinnick right behind them every step of the way.
"That'll give us another look to see if we need to tweak anything," Red Devils mat coach Gary Wilson said. Wrestling begins around 9 a.m. Saturday.
The district finals are the last major tune-ups before Far East, wresting Feb. 16-18 at Osan Air Base, South Korea and basketball Feb. 20-23. Boys and girls Division I tournaments are being hosted by Kubasaki, boys D-II at Yokota and girls at Matthew C. Perry.
Twitter: @ornauer_stripes
---
---
---
---