Legrier waits, then wins
by
Rusty Bryan
July 28, 2003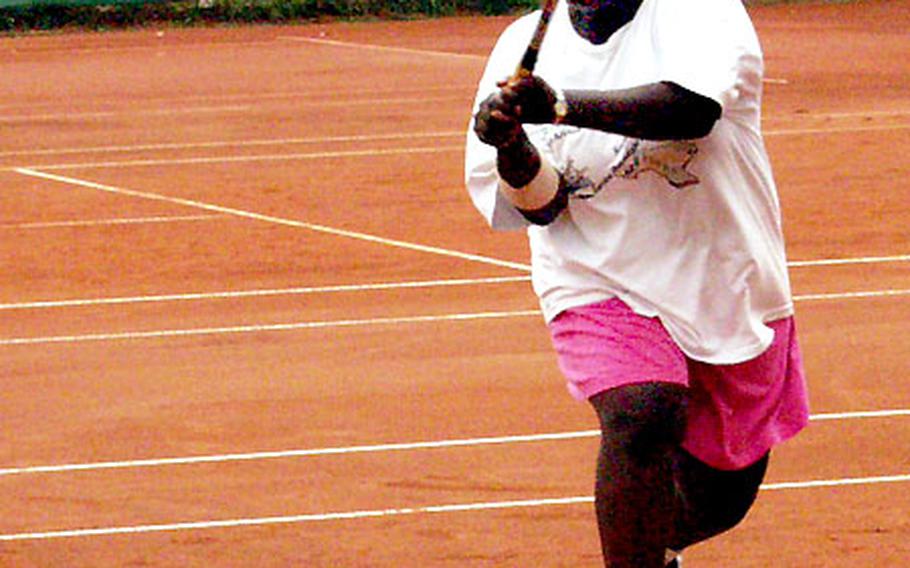 HEIDELBERG, Germany — Not even a lengthy rain delay Sunday could keep Heidelberg's Philisa Legrier from her appointed rounds in the 2003 U.S. Forces- Europe tennis championships.
Forced to sit an extra 70 minutes between her singles and doubles matches while a shower soaked the clay courts at the Heidelberg Tennis Center, Legrier matched the singles title she won Sunday morning by teaming with Yolanda Mason to earn the doubles title. Both victories were in straight sets.
"No problems today," Legrier said after outgunning Vilseck's Cristina Miklas 6-2, 6-0 for the singles crown in the three-day event.
Although the former West Georgia University player was referring to her singles match, she might as well have been predicting her doubles showdown, too. She and Mason downed 2003 mixed doubles champ Leah Creiglow and former two-time European high school doubles champion Alison Pineta 6-0, 6-3.
"She's really precise," Miklas said of Legrier's game. "She didn't make any mistakes."
Legrier's high-velocity strokes didn't fail her in doubles, either. Legrier blasted winners to close out the first four games of the first set as she and Mason allowed their foes five total points during the stretch.
It was Game 6 before Creiglow and Pienta, a former Heidelberg High School star who now plays recreational tennis at Holy Cross, even forced a deuce game.
Things improved for the runners-up, who embraced after finally holding Pineta's service in the second game of the second set. Legrier answered that by serving the winners to 2-1 at love. Two service breaks followed before Pineta held again to get the set back on service at 3-3.
But Legrier and Mason took charge and closed out the set in three straight games.
"I think we kind of relaxed in the second set," Legrier said.
The victory allowed Legrier, who plans to defend her USFE titles at least twice, to join a pair of SHAPE stars who claimed singles and doubles titles on Sunday.
Jeff Rice defeated Dennis Kirstein of Mannheim 6-4, 6-3 to retain his masters crown for players 40 years of age and older, and then teamed with seniors titlist Doug Whitney to win the men's doubles crown by default. The forfeit came about when Darmstadt's Roy Tannis, Saturday's open singles champion, was unable to play on Sunday.
Whitney, a 49-year-old playing in the 30-39-year seniors category, defeated Jim Hewitt 6-3, 6-3 for his championship.
"It was all serves today," said Whitney. "I got a break in each set and was fortunate to hold service throughout after that."
Rice, the defending masters champion, wasn't as impressed with his performance Sunday as his opponent was.
"We both had problems breaking serve," said Rice, who'll vacate his crowns when he transfers back to the States in June. "We made a lot of mistakes."
That was news to Kirstein.
"He's very consistent," Kirstein said. "He did things right."
Creiglow salvaged something from the day by teaming with Jim Matosek to win the mixed doubles title 6-3, 6-4 over Peter and Maria Williams.