Lawson, others heat up on chilly track
---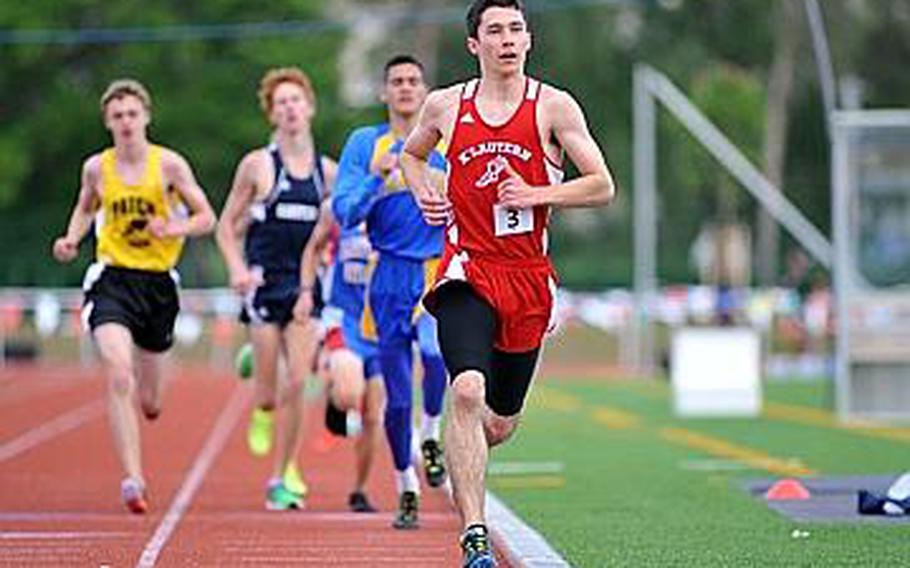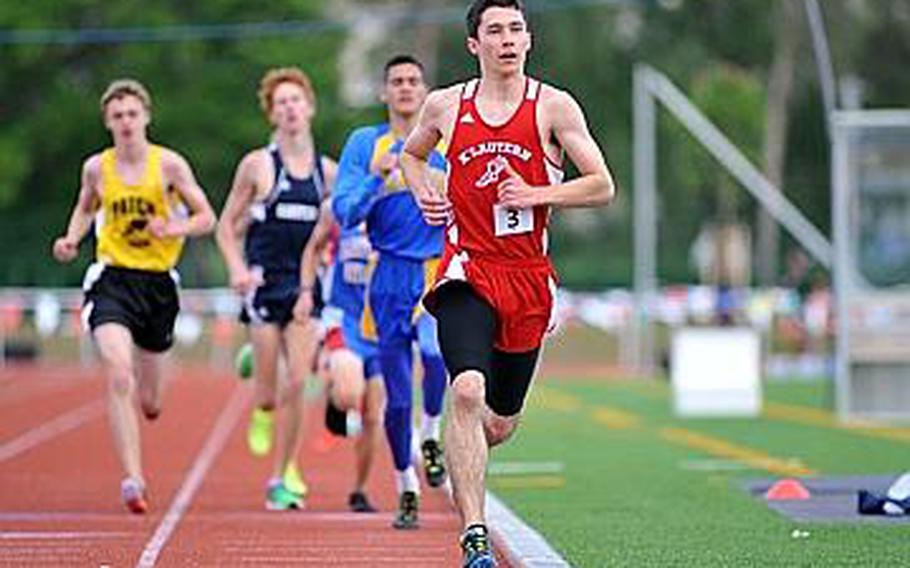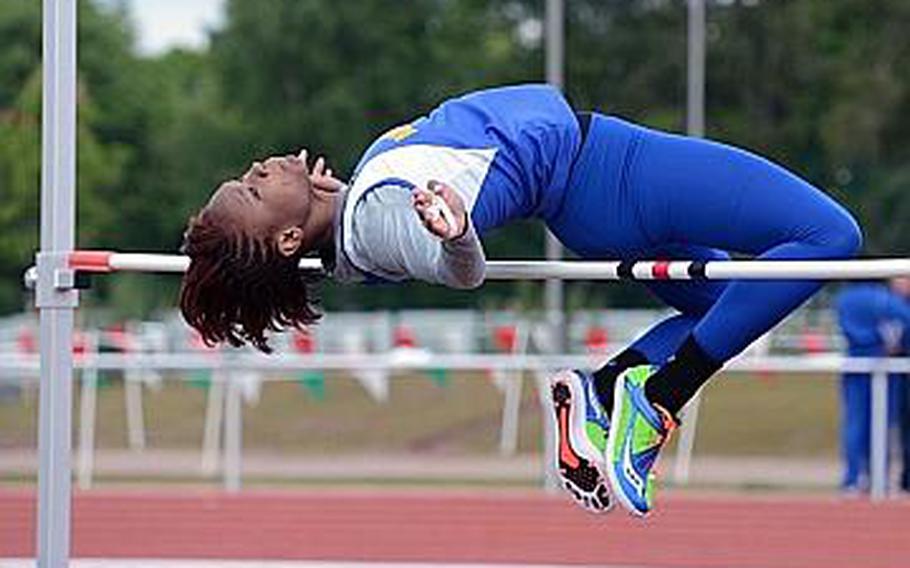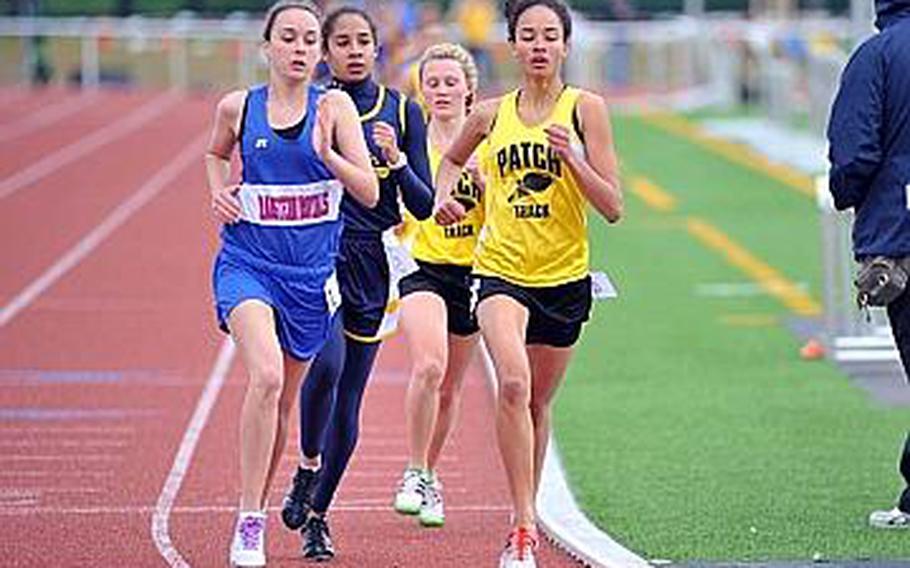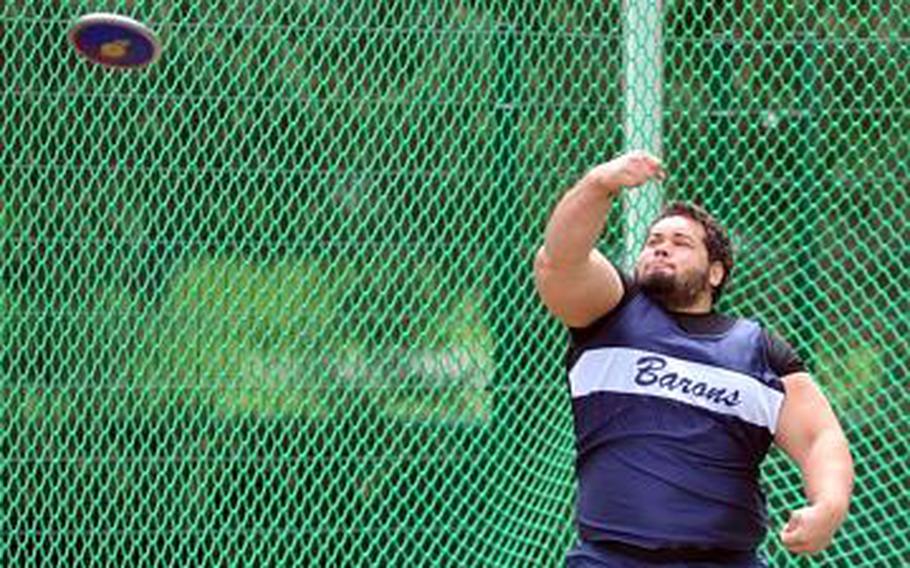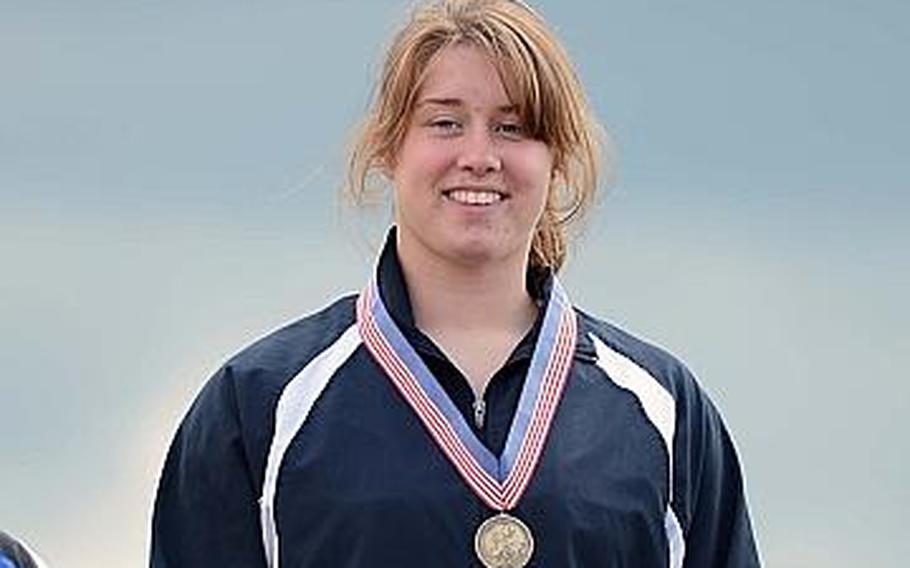 This report has been corrected.
KAISERSLAUTERN, Germany – Athletes wore spandex and huddled under blankets Friday on the first day of the DODDS Europe Track and Field Championships. The chilly conditions made it feel more like a November cross-country meet than the finale to spring track.
Fittingly, the lone record to fall was in the longest race on the track. Kaiserslautern High School running sensation Michael Lawson, the European cross-country champion, eclipsed the DODDS Europe record in the 3,200-meter run by less than half a second, covering eight laps around the oval in 9 minutes 53.19 seconds.
The previous record was set only a year ago, when DODDS replaced the 3,000-meter run with the 3,200. Heidelberg's Brian Hannum set the bar in that race at 9:53.68, beating Lawson by about 10 seconds.
Lawson said he was happy with the win but had been chasing his school's record of 9:40. He led from the gun, but second place was up for grabs for most of the race. Kaiserslautern's Sean Davis was at one point in last place, but the senior slowly picked off runners and ended up second with a personal record 10:02.62. Wiesbaden junior Alex Wieman, who trailed Lawson for the first four laps, was fourth in 10:05.96, less than half a second behind Ramstein sophomore Tim Ward.
Running in front of the hometown Raiders' crowd was special, Davis said. "I think it's cool to be able to run on our own track," he said.
Kaiserslautern's new stadium and all-weather track opened this spring, allowing the school to host the European finals for the first time.
The 3,200-meter run was one of four finals on the track Friday. On the field, winners were crowned in the girls' high jump, long jump, and shot put, and the boys' triple jump and discus.
In the high jump, Ansbach's Caprice Lockett nabbed first, one year after settling for runner-up in the same event. On her last jump, she cleared 5-0 to better Patch's Kelly Makee by two inches.
Bitburg scored a rare double win in the boys' discus and girls' shot put. Junior Brandy Oliver's second throw in the shot put was golden. Her heave of just over 37 feet was about 3 feet farther than she's thrown this season, her first year competing in track. "It feels pretty great," she said.
Colton Engelmeier was just as pleased with his performance in the discus. After finishing eighth last year in the finals, he trained harder this year with the goal of ending his senior year with a gold medal. His winning toss was just over 130 feet, more than 9 feet farther than junior Drake Harness of Ramstein.
Kaiserslautern grabbed two first places in the jumps. Junior Rhea Harris took the long jump with a mark of 16 feet, 4.5 inches, and Joshua McGowen, a freshman for the Raiders, outclassed the rest of the field in the triple jump with a leap of 44 feet, 5.75 inches. McGowen is also a double threat for gold Saturday in the 110- and 300-meter hurdles, after earning the top qualifying marks in both events in Friday's preliminary rounds.
Defending DODDS-Europe champion in the girls' 100-meter hurdles, Phylecia Faublas of Wiesbaden, tripped up during her qualifying race and failed to advance to Saturday's finals. The junior was practicing "three-stepping" between hurdles, instead of four, to improve her speed and power. Her times this year were faster, but on Friday, midway through the race, she second-guessed herself and "retracted back to four steps, which messed it up," she said. Nerves from being the defending champion also played a part, she said. "Next year, I don't have to worry about that," she quipped. Faublas still has a shot for a medal in the 300-meter hurdles after advancing in Friday's preliminaries.
In perhaps the most surprising outcome on the track Friday, Ramstein sophomore Madison Morse won the girls' 1,600 meters in 5:21.57, out-striding Heidelberg junior Shanice Harmon by less than three seconds and out-pacing Patch's cross-country aces, Baileigh Sessions and Morgan Mahlock, who finished third and fourth, respectively.
"I just wanted to hang with the top group of girls and see if my kick helped me," said Morse, whose best time coming into the meet was 5:36.
"It did," said teammate Quinci Cox, a freshman who finished eighth in the mile.
Another sophomore, Patch's Julia Lockridge, won the girls' 800 in 2:20.52, improving on her second-place race at the finals last year. "I feel so happy," she beamed afterwards. "I was feeling so nervous. My parents were talking me through it" and helped boost her confidence.
Lockridge will try to help Patch defend its 2012 title in the girls' 3,200-meter relay Saturday when track events resume at 11:30 a.m.
Kaiserslautern won the boys' 3,200-meter relay on Friday in 8:25.15. Junior Michael Close and senior Justin Sestan ran the first two legs. Davis, on the third leg, wrested the lead from Wiesbaden on the final curve and sprinted down the homestretch before handing off to Lawson, who maintained a comfortable lead on the Warriors for the last two laps.
: Correction The spelling of Ansbach's Caprice Lockett has been corrected. Her name was misspelled in programs provided to Stars and Stripes.
---
---
---
---