Late TD lifts Foster-Futenma in Okinawa Football League opener
by
Dave Ornauer
September 27, 2005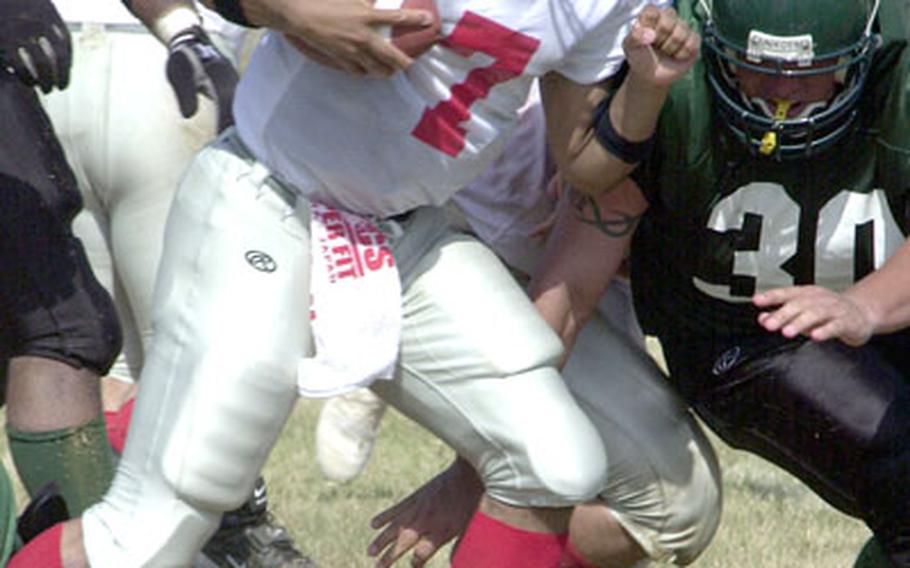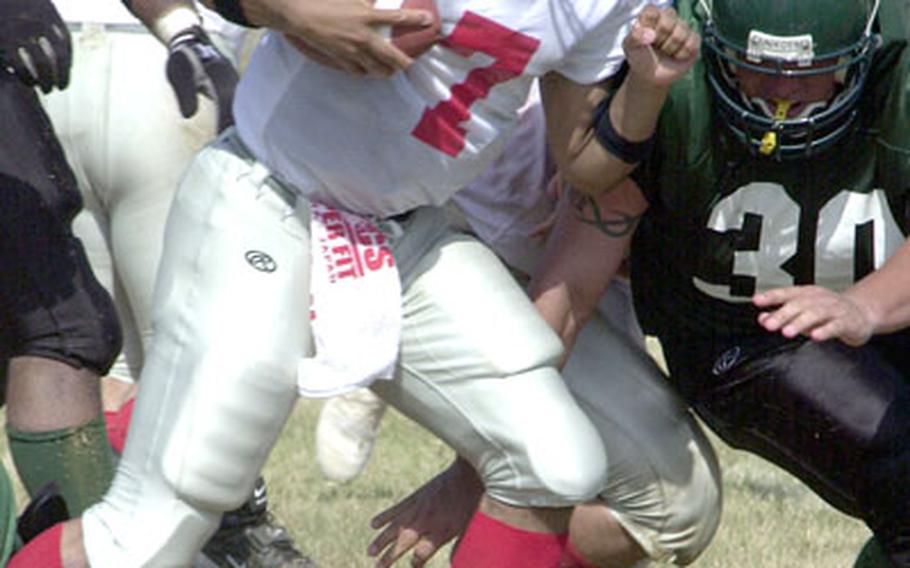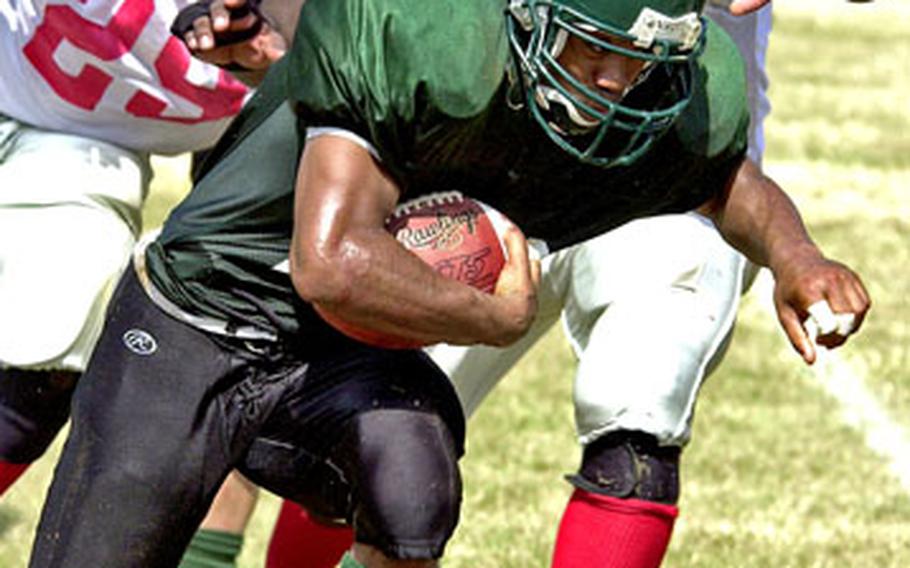 Foster-Futenma 14, Courtney-Hansen 13
The Bulldogs led most of the way, but found themselves on the wrong end of a 13-7 deficit following a 50-yard scoring dash up the left sideline by Titans tailback David Burnell.
AnDroy Senegar promptly returned the kickoff 41 yards to the Courtney-Hansen 49. Backup quarterback Angel Pantoja converted a pair of fourth-down plays, one on a quarterback sneak and the other on a 20-yard pass to Chris Brooks, which preceded Lasker's game-clinching TD run.
"They responded well," Titans coach Rodney Best said of the Bulldogs. "Our special teams allowed a decent runback, they had a short field to work with and they took it from there."
The point-after kick produced an anxious moment. After a low snap, German Reyes clanged the ball off the right cross bar. It fell to earth between the goalposts, giving Foster-Futenma a lead it never lost.
"I was just happy it went in," Reyes said. "I saw it flick off the goalpost, and when it went through I said, 'All right.' I thought it was going to fall short or go wide. With a low snap, you have to work with what you get."
Coach James Moore felt his Bulldogs "got too complacent" with a fourth-quarter lead, and that Burnell's touchdown scamper was the "smack in the mouth" his team needed.
"Probably it was first-game jitters, the team hadn't had a live scrimmage, and they're young," Moore said. "Our offensive line needs work. Penalties and lots of mistakes. I guarantee the next outing, we'll show a lot better."
Neither team could sustain much offensive momentum. The two squads combined for just 292 yards of offense, and were flagged a combined 18 times for 155 yards.
"Execution was our downfall," Best said. "We have to improve on the offensive line. That's where games are won, in the trenches."
Quarterback Chris McDougal, a converted interior defender, got the Bulldogs on the board first with a 42-yard run on a quarterback sweep in the first quarter. He led the team with 65 yards of total offense, while J.J. Janabajal recovered two fumbles to lead a defense that forced three turnovers and recorded three sacks.
Burnell racked up 181 all-purpose yards, Vedel Poindexter had two sacks and Nygil Chambers a sack and a fumble recovery for a Titans defense that recorded five sacks. Fullback Micheal Thomas' 15-yard touchdown rumble got the Titans within 7-6 3:53 into the third quarter.
Kinser 14, Ryukyu University 0
While the Stingray fell for the ninth time in its nine OFL games dating back to last season, eight of the losses by shutout, this was not the same Ryudai team that lost to the Knights by a combined 92-0 a season ago, Kinser coach John Glaister said.
"A lot of teams are going to be surprised by them," Glaister said of a Stingray squad that dressed 35 players, up more than 150 percent from last year, and whose option offense netted 53 yards, much different from a team that routinely finished in negative territory last season. "Teams won't be running the score up on them this year."
Kinser broke out of the gate quickly, as Patrick Harper raced 65 yards for a touchdown on the Knights' first play. But after that, the Stingray defense got stingy, allowing only another Harper breakaway TD run of 59 yards in the second quarter.
Harper finished with 187 yards on 13 carries for a Kinser team that netted 262 yards of offense, but hurt itself by throwing three interceptions, losing two fumbles and being flagged 14 times for 147 yards.
"We need to work on that," Glaister said. "Our offensive line needs work, too."
Okinawa Football League
W L Pct. PF PA
Kinser 1 0 1.000 14 0
Foster- Futenma 1 0 1.000 14 13
Kadena 0 0 .000 0 0
Courtney-Hansen 0 1 .000 13 14
Ryukyu University 0 1 .000 0 14
Sunday, Sept. 25
Foster-Futenma 14, Courtney-Hansen 13
Kinser 14, Ryukyu University 0
Sunday, Oct. 2
At MCAS Futenma
Courtney-Hansen vs. Kinser, 10 a.m.
Kadena vs. Ryukyu University, 2 p.m.