Late takedown keeps Naples' Campos pefect
by
Kent Harris
February 11, 2007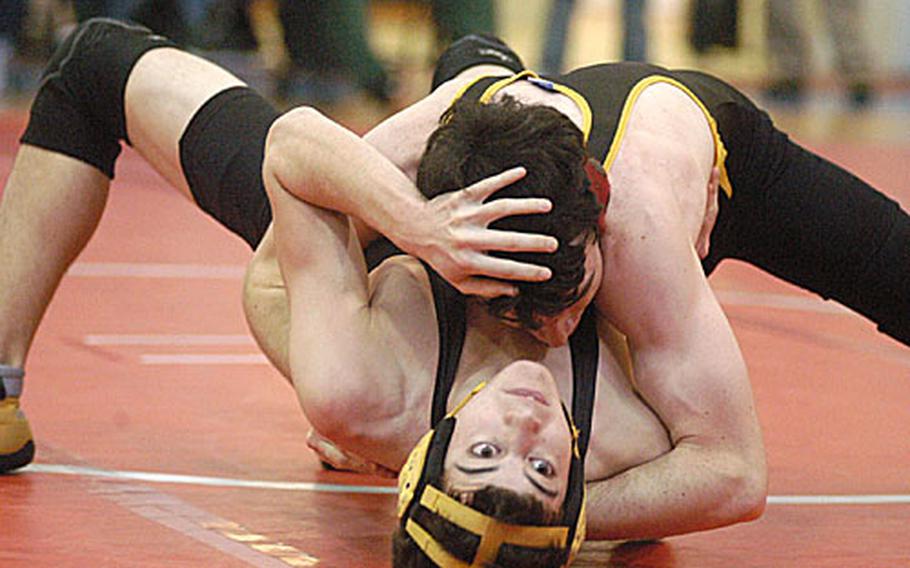 AVIANO AIR BASE, Italy — Chris Campos was seconds away from losing his perfect record as a high school wrestler.
In a battle of defending European titlists, the Naples sophomore trailed Patch's James Ricks 3-2 with the clock running out Saturday in the third period of their 119-pound championship match in the DODDS-Europe Southern Section regional.
But Campos scored a takedown at the edge of the mat just before the clock expired, escaping with a 4-3 victory and earning the top seed from the qualifying tournament.
"I just got lucky, I guess," said Campos, who was unbeaten last year at 112 pounds. Ricks, a junior, was also perfect last year at 103 pounds. Each moved up in weight classes and hadn't lost this season heading into the championship match.
Ricks earned a point for an escape with 22.6 seconds left to break a tie and looked headed for the victory until Campos' move in the final seconds.
"I just let up a little bit," said Ricks, who didn't seem too disappointed with the loss. He'll have a chance to wrestle again this week at the European finals in Wiesbaden, Germany. And maybe get some revenge if the two meet up again.
The top two finishers from four sectionals Saturday qualified for the finals, with four other spots in each weight class to be decided later in a wild-card criteria. The other regionals were held at Heidelberg and Bamberg in Germany and RAF Alconbury, England.
The only other wrestler in Aviano with a European title in his belt was the Saints' Gary Vogt, who won a title as a sophomore before finishing sixth a year ago when he was ill. Vogt won both of his matches at 135 pounds with pins. Teammate Dante Rankin also won at 160 pounds.
Patch had seven wrestlers finish either first or second to lead all the schools in Aviano. Three won titles and coach Todd Taylor would have had four if Ricks could have held on.
"You've got to wrestle the full 6 minutes," he said. "Especially at this level and beyond, because everyone's fighting for a spot. Let up for a second and you could get pinned or lose a match."
Patch made up for Ricks' late loss by stealing a victory late in a 145-pound semifinal. Aviano's Justin Iseminger was leading Patch's Chris Oppliger 9-3 in a 145-pound semifinal only to be pinned just as the clock expired.
Naples, which had 27 wrestlers entered, had six automatically qualify for Europeans. In addition to Campos, Christian Somera (112), Kiko Bratcher (171), Mitchell Marzaili (215) and Matt Hejab (275) all won titles.
Coach Bill Hall said it was the fewest number of wrestlers he's had qualify in his six years at the school, but he's planning to lobby for wild-card spots for several more.
Nick Rogers (125), Ryan Ramirez (145) and Brian Taylor (189) each won their weight divisions for Patch.
Vicenza had a pair of winners in Shane Hinton (140) and Kyle Stammer (152). Other weight-class titlists were Sigonella's Bretton Gilbert at 103 and AOSR's Anthony Rusopli at 130.
---
---
---
---