2010-11 Europe H.S. wrestling preview
Last year's champions seeking to rebuff team, individual title threats
by
Rusty Bryan
December 17, 2010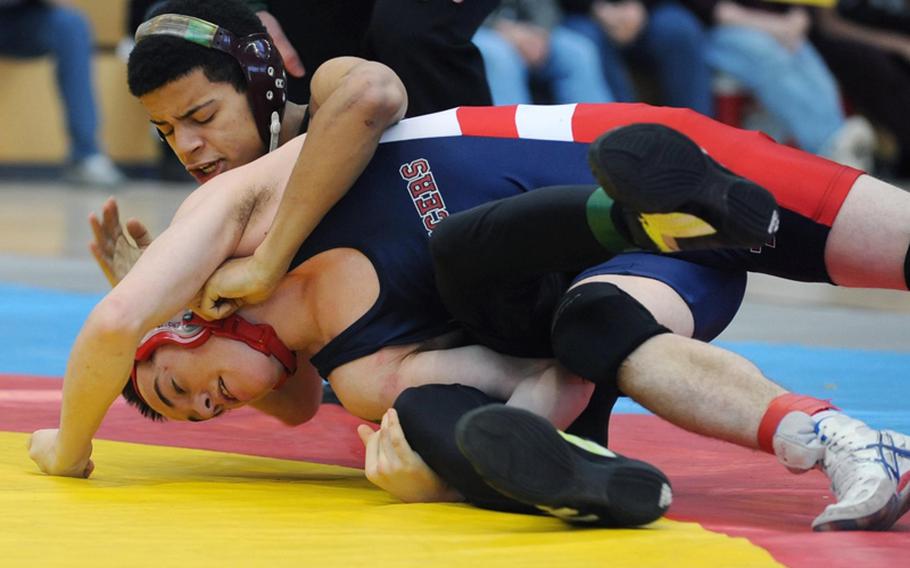 Two weeks of winter-weather-reduced competition hasn't done much to change the preseason perception that DODDS-Europe's 2010 wrestling champions — Patch, Baumholder and Sigonella — are the teams to beat this year.
Division I Patch, buoyed by returning champ Calen Fields and 2010 European runner-up Matt Seely, won both its pre-holiday tournaments by wide margins.
But according to Wiesbaden coach Steve Jewell and Lakenheath coach Darryl Brock, a Patch repeat will be hard-earned.
"I think the Division I race will be somewhat wide open," Jewell wrote in an e-mail Tuesday. "Obviously Patch is the returning champion, but there are six strong schools in Division I that could make things interesting."
Tops among those half-dozen is Brock's talented squad, which placed second to Patch, 232-169, in last February's European tournament. In addition to returning a defending champion in Adam Carroll, Lakenheath sends out three 2010 European runners-up in Tyler Lloyd, Devon Parrish and Shae Emerton, along with 285-pound newcomer Matt Russell, who qualified for the state championships in Oklahoma last year.
"We would love to do better than last year; i.e. walk home with the first-place plaque," Brock wrote Tuesday in an e-mail. "We have the heart, talent and possibly the numbers."
Numbers — the larger ones, at least — work against Division II champ Baumholder, according to new coach Erik Majorwitz.
"With the lack of any heavyweights other than Robert West, we give up points in every weight class above 160," Majorwitz wrote in an e-mail.
Under 160, however, the Bucs are doing just fine, thank you, fielding returning champion Adrian Julien and bronze medalist Prince Owusu.
Those wrestlers will be key in rebuffing D-II contenders such as 40-wrestler strong Naples, which welcomed former Heidelberg competitor Patrick Hernandez to the fold this season, among others.
"Naples looks very strong, and we will need to be on our game starting in January if we hope to fend them off," Majorwitz continued. "We'll also never count out Bitburg or AFNORTH."
The Bucs edged Bitburg 120-115 on Dec. 4.
Aviano, which finished behind division rivals Naples and Vicenza in an all-Italy meet Dec. 4 but placed ahead of Vicenza last Saturday at Patch, is a dark horse in D-II. It returns an experienced nucleus of seniors Chris Heath, Andy Kunis, Christian Hall and junior Nik Weiser, all team captains.
"I expect all four of them to medal at Europeans," veteran Aviano coach Robin Clements, buoyed by his team's showing at Patch last Saturday, wrote in a Tuesday e-mail.
Division III champion Sigonella lost plenty of points to graduation, but the Jaguars retain the punch provided by Daniel Vossler and Marco Summerfield, each unbeaten in two outings this season.
Alconbury was a distant second in 2010, and the Dragons hope to close the gap with what coach Bruce Ballard calls "a small but feisty group" led by Andrew Luong, Johannes Wimmer, new from Virginia, and Mark Cogdell.
Ballard, however, thinks Sigonella's main challenge will come from Brussels.
"Brussels looks very good in Division III," Ballard e-mailed Tuesday, citing Vince Alonso, Joe Kren and Dakota Deverill as the major point-scorers for the Brigands.
Coaches who've seen SHAPE newcomer Karl Kristensen wrestle at 125 pointed to the Spartan as an early-season standout, but Kristensen and all the other DODDS-Europe performers face the same challenge as the season goes into a 35-day hiatus.
"The long gap is tough," Majorwitz wrote. "You get complacent … and the holiday meals make it tough on the wrestlers who are close to their weight-class limit."
Rust also becomes a problem, he added, although most wrestlers knock it off quickly when the bell finally rings again.
"They might forget a few things taught to them before the break, but usually they pick up right where they left off with a few practices. Also, wrestling is pretty intense, and having a break in-between gives them time to reflect and start new come January."
Striving for two2010 European wrestling champions eyeing a second gold medal Feb. 18-19 at Wiesbaden Army Airfield fitness center (2010 weight class in parentheses):
Adam France (103 pounds), RamsteinAdrian Julien (112 pounds), BaumholderAdam Carroll (130 pounds), LakenheathCalen Fields (145 pounds), Patch
2010 team championsDivision I: PatchDivision II: BaumholderDivision III: Sigonella