Last year's also-rans dominate Wolfpack Classic
by
Rusty Bryan
January 5, 2003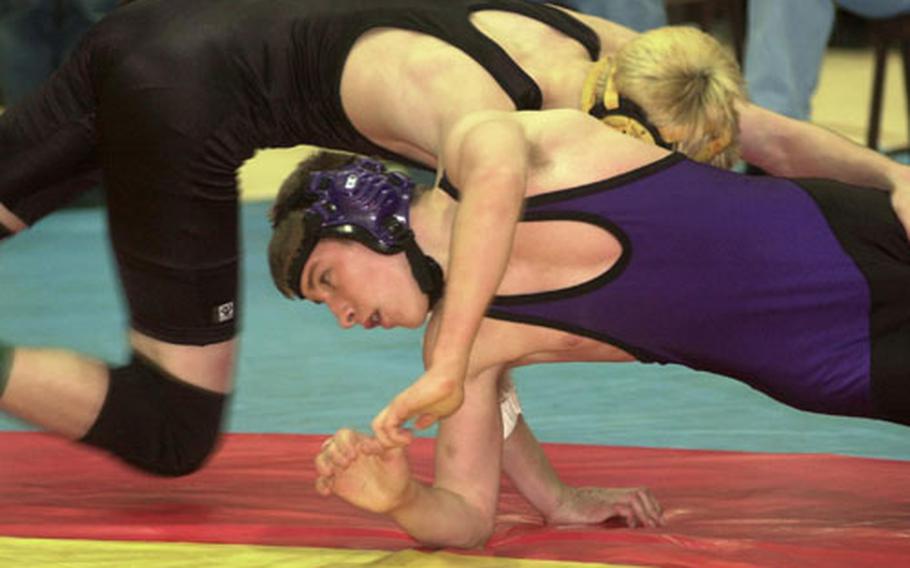 SCHWEINFURT, Germany — A pair of runners-up from last season's European wrestling tournament established their credentials for the 2003 season Saturday during the semifinals of the Wolfpack Holiday Classic.
Thomas Hanson of Kaiserslautern and Würzburg's Saevar Weaver defeated tough opponents to move into Saturday night's championship bouts of this annual event.
Results of Saturday's finals were unavailable at press time.
Hanson dominated Justin Ryan of Patch 15-1 in his 135-pound semifinal; Weaver fended off Heidelberg's Mike Cacal 9-2 at 145.
The annual Wolfpack event brings together a broad field of wrestlers and is seen as an early-season litmus test, according to Hanson.
"It's a great way to get a feel for how everybody's shaping up," he said. "You can see where your competition is."
Weaver's victory over Cacal was his second match of the day and his second over the Heidelberg wrestler this season.
"Last time, he pinned me," Cacal said. "At least this time I survived."
He did more than that, according to Weaver, a two-time European runner-up.
"He's getting better each time," Weaver said. "This one was a lot tougher than the last one."
There might not be a third match between two, however. Weaver said he is contemplating dropping to 140 for team-point purposes at next month's Europeans.
The Europeans are in the back of Hanson's mind, too. He said his status as a 135-pounder hinges on a common dilemma for wrestlers.
"It depends on whether I feel like dieting," he said.
If he doesn't, a rematch of last season's thrilling 9-7 championship loss to Josh Anderson, who wrestled 130 here, might not happen.
"It would be great to face Josh again," Hanson said, "but a chance at a rematch is not the determining factor."
Hanson's victory was his second of the day, and despite going the distance, he would have like a bit more.
"I'd like to get as many matches as I can," he said. "You can't duplicate the experience you get here."