2010-11 Europe boys basketball
Last season's contenders again in running for titles
by
Rusty Bryan
December 17, 2010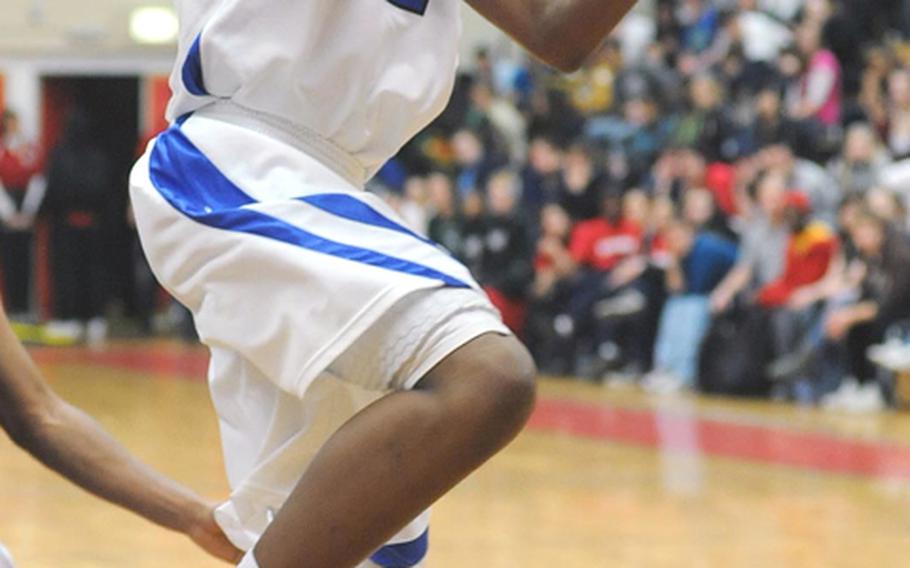 Judging from the first few games of the new boys basketball season, several of last year's challengers appear in good shape to make a move to the top — or to stay there — when the 2011 European championships are played Feb. 23-26.
As the schools pause for the holidays, 2010 Division I runner-up Heidelberg and D-II bronze-medalist Bamberg are unbeaten and look to have talent enough to continue their winning ways.
Heidelberg (4-0), which fell to Ramstein 65-63 in last season's title game, is clicking under new coach Ron Merriwether. All four victories have come against D-I opponents by an average margin of 31-plus points.
Bamberg has played just once, a 53-44 victory over visiting Mannheim on Dec. 3, but the Barons appear to possess an enviable mix of experienced scorers and inside presence.
The Division III title game could well feature a rematch. Defending champion Rota is all but certain to be in the title game against 2010 runner-up Sigonella, judging from early returns.
Here's the outlook at the season's winter-holiday pause:
Division I: Heidelberg has a returning All-Europe star in 6-foot guard Eugene Jones and gets scoring from all over the floor. The Lions already hold victories over two-time defending champion Ramstein, where All-Europe guard Thomas Amrine is leading the Royals' quest for the three-peat, and Kaiserslautern. They pose the biggest challenge, on paper, at least, to Heidelberg's eighth European crown since 2000.
Merriwether — who won consecutive titles in 2006-07 at defunct Giessen — isn't counting any chickens. Ramstein remains a threat despite the graduation of All-Europe guards Dillon Wadsack and Michael Wallace, who helped guide the Royals to victories over Heidelberg in the past two title games.
"Ramstein is the defending champs and although it's a new season, Andrew (Ramstein coach Andy O'Connor) and what he has done the past two years cannot go without recognition and respect," Merriweather wrote in a recent e-mail.
O'Connor thinks the holes in his backcourt can be filled.
"We have four guards — Thomas Amrine, Jarrod Henry, Kenrick Ellis and DeVonte Allen — who have been playing in my system … three to four years now," he wrote in an e-mail, "so, hypothetically, we have the players to replace Dillon and Mike. All have put in endless hours of work in the offseason, so now it's just a matter of asking themselves, 'Do I really want this?' "
Division II: Like Ramstein, Aviano (4-0 against two courtesy-rule opponents) is a two-time defending champ. But the Saints are retooling this season, according to coach Ken McNeely.
"Aviano is in a rebuilding year," McNeely wrote in an e-mail this week. "The young players are developing very well, and with time should become a completive team as the season develops."
They'll have to be, if the Saints expect to pull off the three-peat. Hohenfels, the 2010 runner-up, hasn't played yet due to snow-outs, but the Tigers return All-Europe guard Jamie Tompkins.
Then there's Bamberg. The Barons suit up scoring and ball-handling punch in Javonte Knuckles, Quadel Webb and Brandon Wright, and a budding inside presence in 6-5 sophomore Terry Williams.
And they are led by a coach who knows how to win: Tim Smith led defunct Hanau to European crowns in 2004, '05 and '06.
Unlike Aviano, the Tigers and Barons benefit from playing against D-I teams Heidelberg, Patch and Vilseck in Region III play.
Other D-II contenders include Naples (4-0) and Black Forest Academy (2-0).
Division III: Led by All-Europe junior Tre'von Owens, who spent his summer playing for the Atlanta-based Southern Kings Nike Elite travel team, Rota has to be the favorite to repeat. But don't start engraving the trophy just yet, advises coach Ben Anderson.
"Sigonella (4-0) has many great athletes," Anderson wrote in an e-mail, "and one of the best players in DODDS-Europe in Larry Stevenson. Brussels (4-1) has a five-man (Braden Brower) who can probably play in college one day if he keeps progressing … Menwith Hill (0-2, both at Brussels) has (point guard) Chris Jackson back…(He) is really tough to match up with…
"It should be an exciting year in Division III."
The excitement in all divisions resumes Jan. 7-8 with a light schedule, then a full slate of games the following weekend.