Last-minute goal gives Heidelberg boys another Division I soccer crown
by
Rusty Bryan
May 24, 2004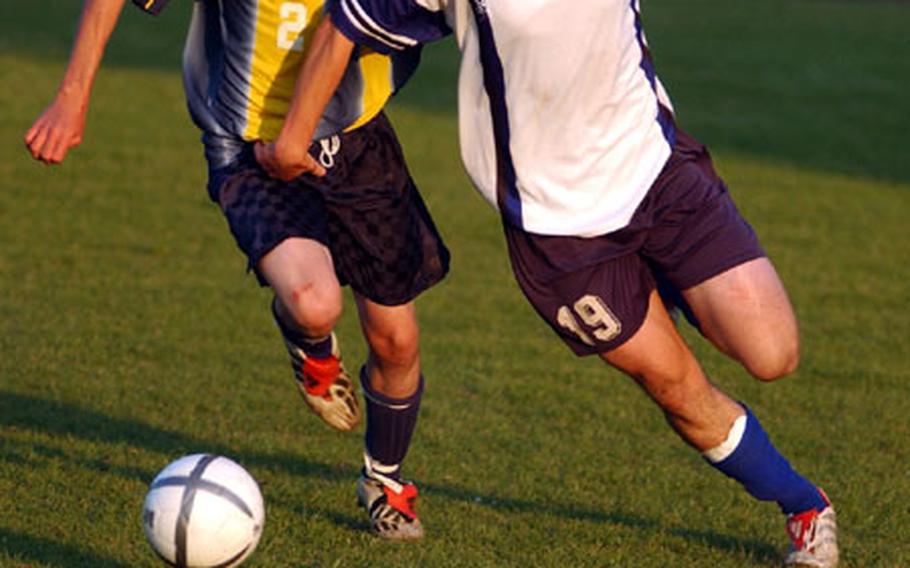 RAMSTEIN AIR BASE, Germany — The Heidelberg Lions won their eighth straight European Division I soccer championship Saturday night partly because they had won the previous seven, both coaches agreed.
Heidelberg junior Kevin Thorne rocketed a shot just under the crossbar with a minute to play in regulation to give the Lions a 1-0 title-game victory over the Wiesbaden Warriors. It was the kind of clutch plays the Lions have called on to pull out more than one championship in their current eight-year cycle.
"I think the seven titles they had already won really helped them," Wiesbaden coach Ben Arcila said. "It gave them confidence."
Heidelberg coach Larry Heintzman also credited the streak for helping his team play with the assurance it showed Saturday against a relentless Wiesbaden defense, led by sweeper Scott Pangrazzi and all-tournament goalkeeper Dan Parker.
"We have a long tradition of success at Heidelbeg," Heintzman said Sunday. "A lot of our alumni were there, and they talked to the kids about our tradition and success."
The game-winning goal came when Thorne finally found himself running into space in front of the Wiesbaden penalty box for practically the first time all game. Freshman midfielder Jack Smrekar fed him the ball from across the field in full stride with the aplomb of a veteran.
Heintzman cited Smrekar as an example of one reason the Heidelberg program is able to excel: an influx of talented players.
"He's going to be one tremendous soccer player," Heintzman said of Smrekar, adding that many of his players benefit from local expertise.
"We are fortunate there are a lot of clubs in Heidelberg who welcome Americans," Heintzman said. "We have of lot of people playing for them."
It's a point that hasn't escaped Arcila.
"I tell my boys it's difficult to get together for three months and play as a team," he said. "Heidelberg plays together on German clubs all year round. We're going to work on that."
Arcila said his team, which was playing without standout Cooper Bryant because of a knee injury suffered before the European tournament and had Pangrazzi at "half-strength" after the burly back-liner was injured during the tournament, still was convinced it could beat Heidelberg, especially after the way the Warriors had rallied the previous night against Lakenheath.
Trailing 2-0 Friday, Wiesbaden tied the game in regulation and advanced by winning the second five-player shootout.
"We've overcome adversity all year," he said. "The shootout game brought them back. We were very motivated to avoid a repeat of last year's championship game, when we played Heidelberg well in the first half. They blew us out in the second half 6-1."
There was no blowout on Saturday.
"We took them out of their game plan," Arcila said. "Heidelberg does well on the passing game, so we tried to give them very little space."
The pressure game worked perfectly until Pangrazzi had to leave the game with 12 minutes left.
"He's a warrior," Arcila said, "but when he went out, it left a gap in our back four."
The one that Smrekar and Thorne exploited.
"It took longer than we thought it would," Heintzman said, "but you have to give credit to Wiesbaden. They're a good group of young men. They're well-coached, and it showed."