DODDS-Europe volleyball championships
Large schools title up for grabs as favorites rule in other divisions
by
Rusty Bryan
November 4, 2010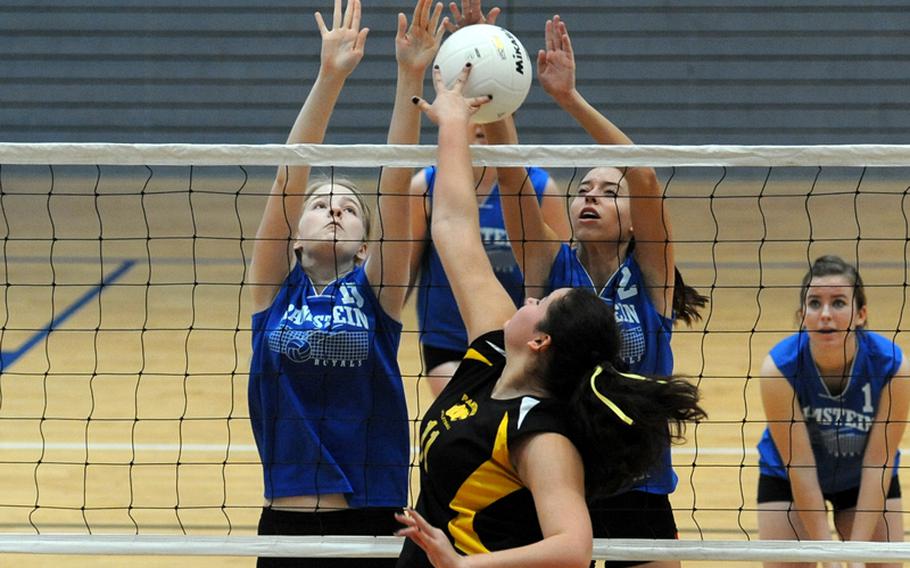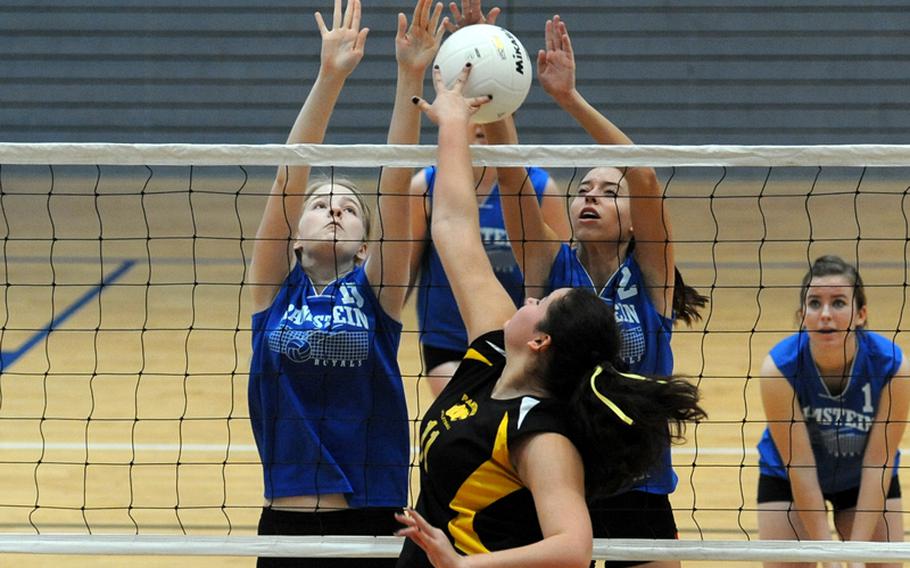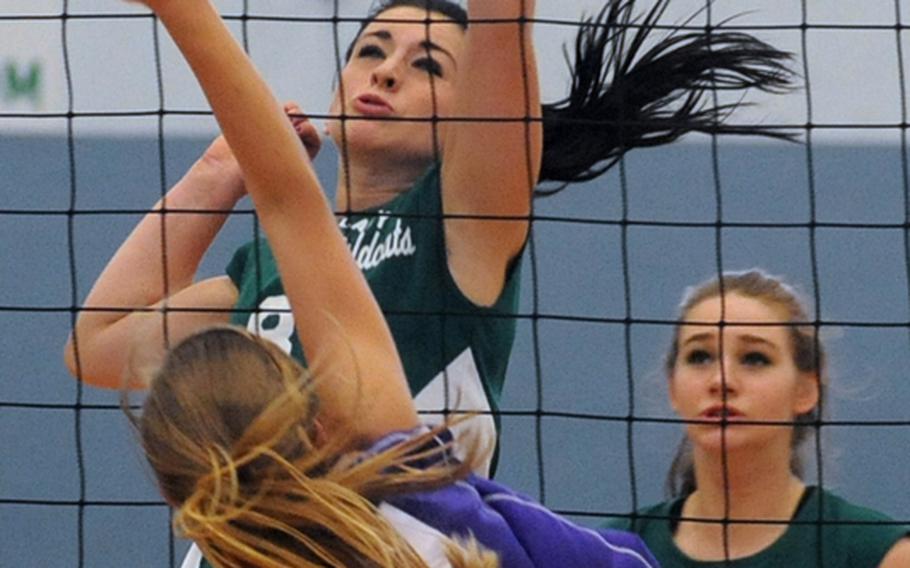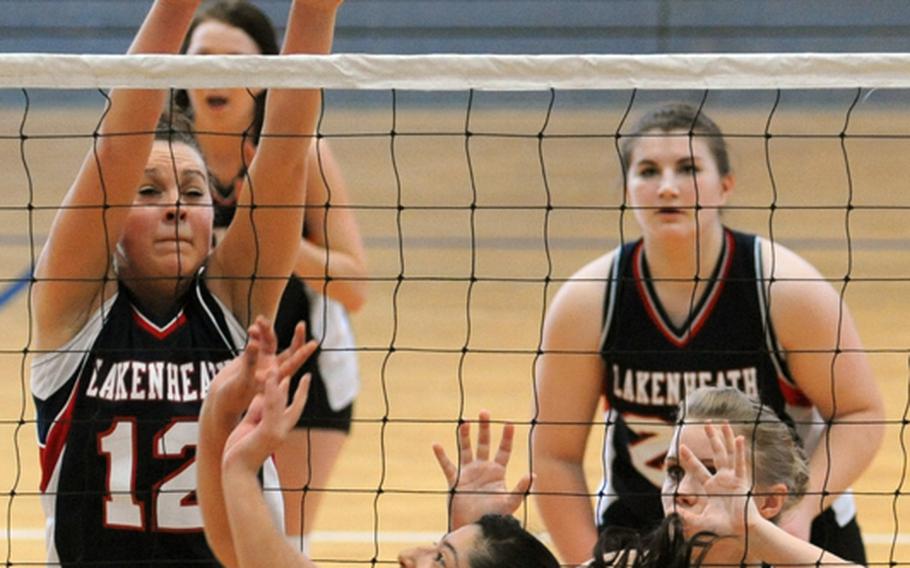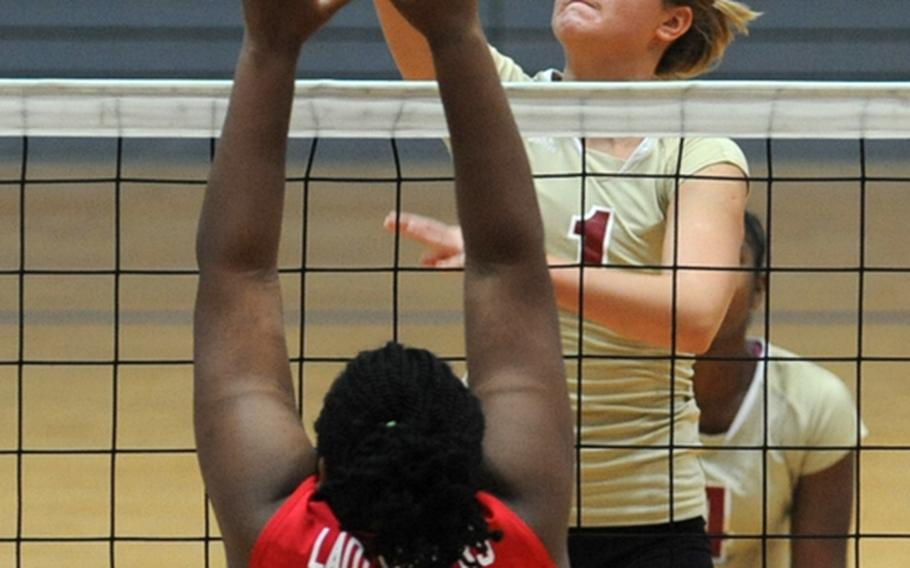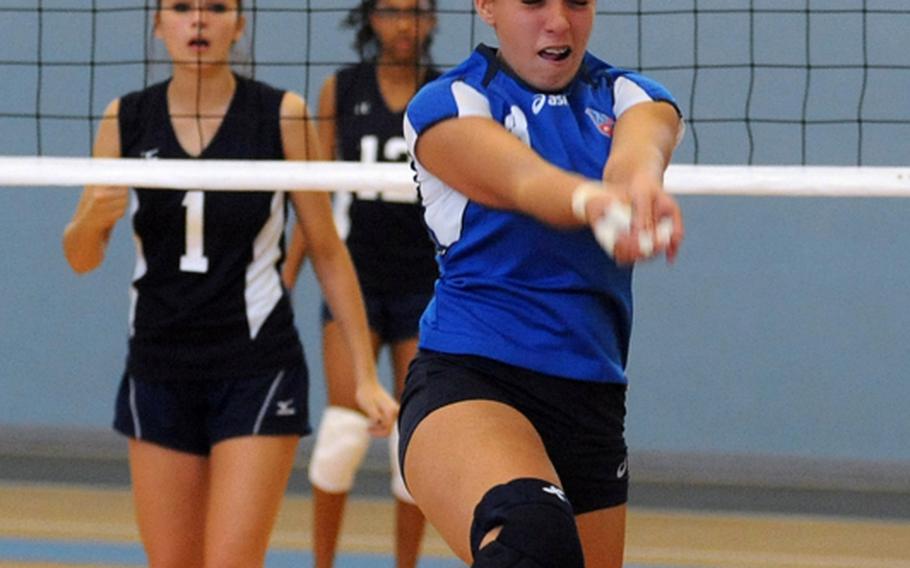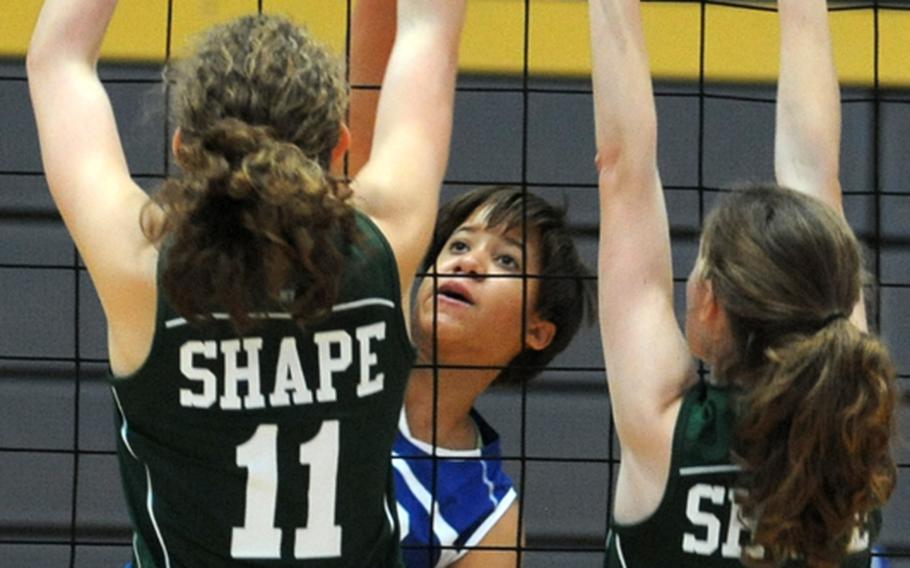 KAISERSLAUTERN, Germany — Pre-tourney predictions rang true Thursday as the DODDS-Europe Divisions I, II and III European girls volleyball championships opened at three sites in the Kaiserslautern military community.
That was particularly true in Division I, which was expected to be the most wide-open event in years when both the No 1 and No. 2 seeds went 1-1 in early play.
Top-seeded Heidelberg, after opening the D-I round robin with a 25-11, 25-23 conquest of No. 8 Lakenheath, dropped two straight games to No. 5 Wiesbaden, 22-25, 24-26. Facing Wiesbaden for the first time in 2010, Heidelberg suffered its first loss of the season.
Defending champion Ramstein, the No. 2 seed this year, also broke even in early play, subduing Kaiserslautern 25-16, 25-13, but then falling to No. 3 Vilseck 16-25, 18-25.
Vilseck and No. 4 SHAPE each went 2-0 in the early going to take the lead in the round-robin standings, which eventually will determine which two teams play in Saturday's Division I championship game.
Vilseck was to close out Thursday's schedule with an evening game against Wiesbaden; SHAPE which downed Wiesbaden 27-25, 25-14 Thursday morning, was to face Heidelberg in its late game.
Things went more according to plan in the pool-play event being used to determine the D-II champion.
Vicenza, top-seeded in its pool, made short work of familiar foe Marymount International School of Rome, 25-9, 25-23, before taking on a Mannheim squad it hadn't seen during the regular season.
Vicenza won 25-11, 11-25, 25-20, but not without having to work for the victory.
"It's kind of hard playing a team you haven't played before," said junior middle blocker Danielle Ellis, "because you don't know where the spots are. You have to adjust as you go along."
By "spots," Ellis said she meant holes or weaknesses in the opposition defense. And Vicenza wasn't the only one looking for holes. Mannheim's Lady Bison exploited the ones they detected in Vicenza's scheme to pile up 12 unanswered points en route to their second-game victory.
Eventually, however, Vicenza found the most spots.
"They're a good team," Mannheim assistant coach John Crockett said. "They move really well."
Aviano, the top seed in Pool B, came through when it mattered in its second game, fending off Bamberg 25-8, 29-27.
Bamberg had three chances to force Game 3, but placed consecutive serves into the net when they were tied at 24-24 and and up 26-25.
With the score in Aviano's favor at 28-27, sophomore AnnMarie McClelland put her service in play, and scored the winning point when her dig attempt cleared the net and dropped onto the floor at the feet of three Bamberg defenders.
"It's much more nerve-wracking," McClelland said of serving with the match on the line. "I told myself it's just like any other serve."
Aviano followed that triumph with a late 25-18, 25-12 conquest of Italy rival Naples.
Two-time defending champion Black Forest Academy, a No. 3 seed this year, kept pace with victories over Milan and Baumholder.
In Division III, also a pool-play event, the top-seeded Rota team, which veteran coach Judy Scarbrough earlier characterized as the best she's had in Spain, rolled through its first two foes. The Lady Admirals downed the International School of Florence 25-7, 25-14 and Incirlik 25-11, 25-14.
Two-time defending D-III champ Brussels opened 3-0 with defeats of Ankara, Alconbury and Lajes.
Friday's action begins at 8:30 a.m. at Ramstein Southside, Vogelweh and Kaiserslautern High School and concludes with the D-II and III semifinals.
Championship games are scheduled for Ramsteion Southside, beginning at 11:30 a.m., on Saturday.
---
---
---
---