Large schools clash before spring break
---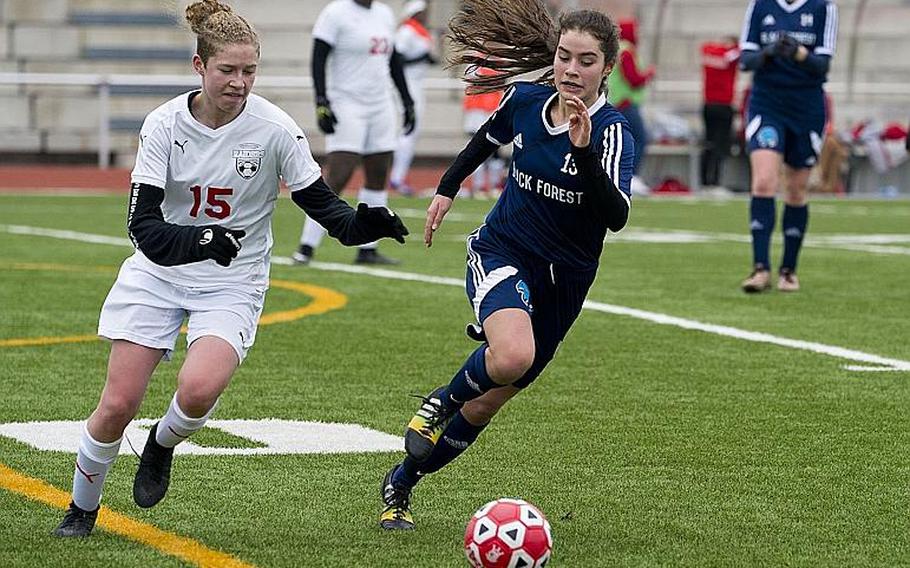 Western Germany's big four DODEA-Europe high schools will struggle for large-school supremacy on the soccer pitch this weekend as the Ramstein Royals face the Wiesbaden Warriors and the Kaiserslautern Raiders take on the Stuttgart Panthers.
The early-season Division I clashes headline the last full weekend of DODEA-Europe sports action prior to spring break; though a handful of matches are set for March 30, the soccer schedule resumes in earnest the weekend of April 13-14.
That means now is the time for large-school contenders to align themselves on the proper side of the standings.
On the boys side, defending champion Kaiserslautern got off to a winning start last weekend with a 2-1 comeback defeat of solid Division II program Black Forest Academy. Now the rebuilt Raiders get their first look at divisional competition in a Panthers team coming off a frustrating 1-0 loss to Wiesbaden.
The Warriors, meanwhile, will put that nascent win streak on the line against 2017 runner-up Ramstein. The match is the season opener for the Royals and comes six days ahead of an anticipated rematch of last year's European final loss to the archrival Raiders.
Stuttgart, meanwhile, landed the first punch of the Division I girls season last weekend. The Panthers routed Wiesbaden 5-1 to earn some redemption after suffering a shootout loss to the Warriors in last year's European title match. Now the supplanted champions will look for a second straight statement win at the expense of the Raiders, which played Black Forest to a 1-1 tie last weekend.
Ramstein, which once stood alongside Stuttgart as Division I's overarching girls soccer powerhouses, has seen its stature slip in recent seasons. Wins over Wiesbaden this weekend and Kaiserslautern next weekend will further the Royals' goal of restoring the program's former glory.
Twitter: @broomestripes
---
---
---
---