Lancer girls soar to the top
by
Rusty Bryan
January 26, 2003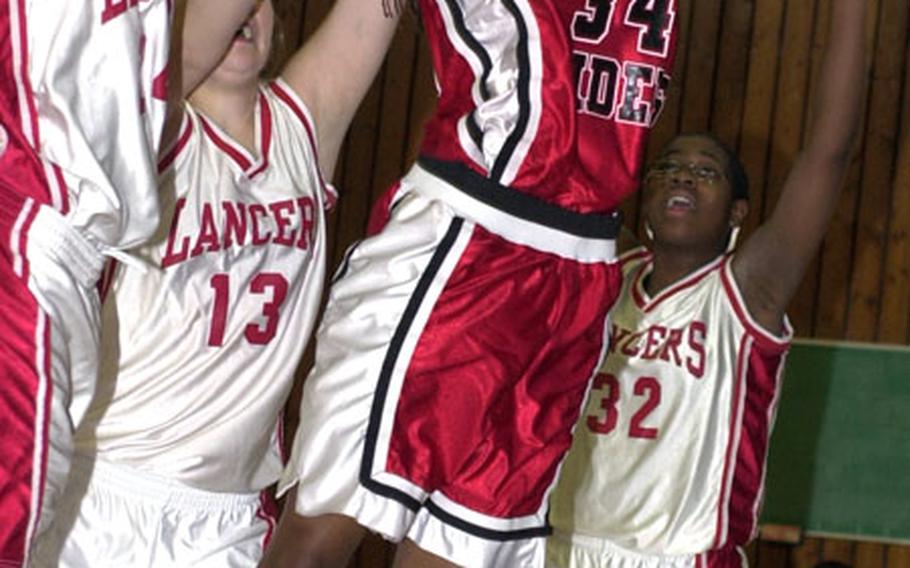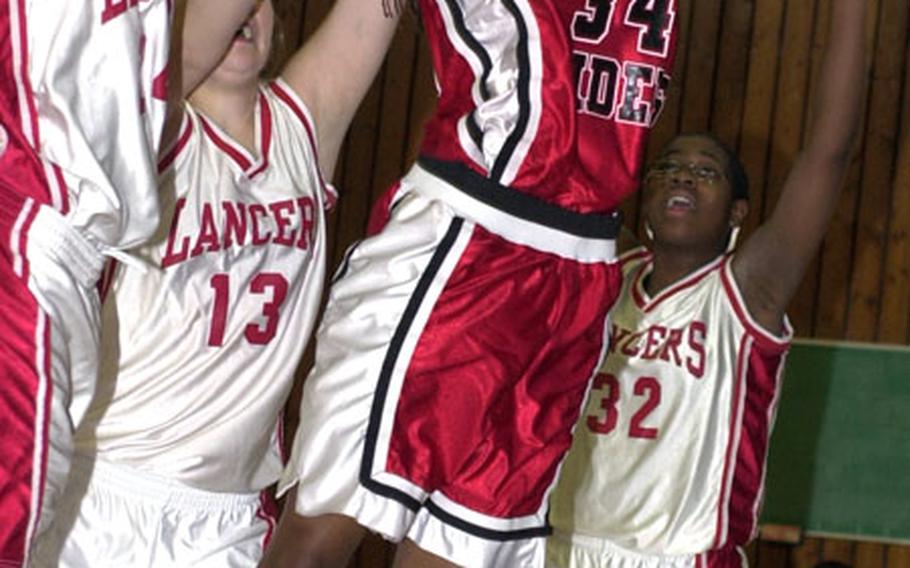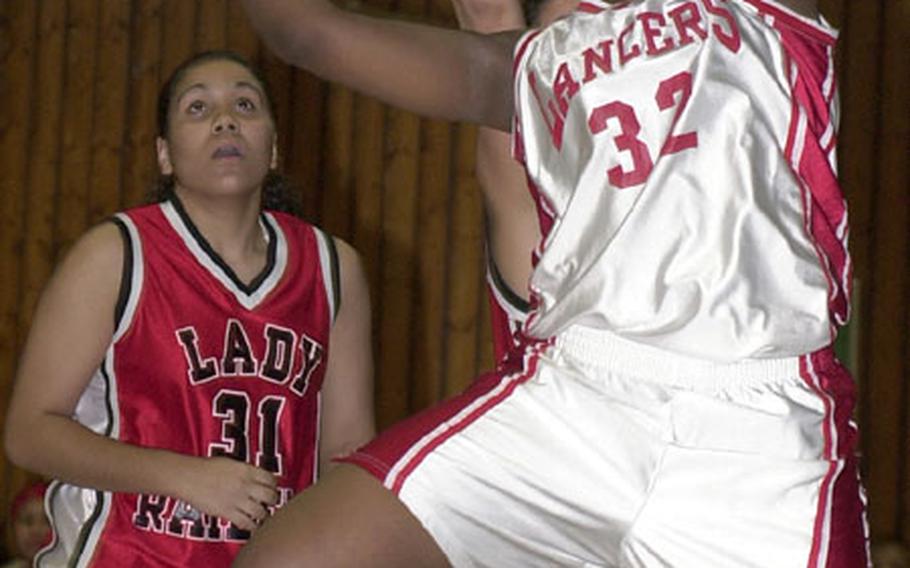 KAISERSLAUTERN, Germany — To the visitors go the spoils.
Lakenheath, led by the hard-working front line of freshman Trinity Bursey, junior Amanda Hood and senior Sheila Destigter, swept previously unbeaten Kaiserslautern over the weekend to take the lead in the Division I girls' basketball standings.
Lakenheath prevailed 37-34 on Friday by dominating the boards, and letting point guard Andrea McCoy take charge.
"Coach [Janis Price] said she didn't care if I scored," McCoy said after Friday night's battle, "so long as I led the team."
She did both, hitting two late field goals and helping double-team K-town's top scorer, Layla Hicks, with the game on the line.
"We had to look for her," McCoy said of Hicks, who was hobbled by a high ankle sprain suffered two Saturdays ago.
Hicks didn't start, but scored seven of her nine points in the fourth quarter as K-town tried to overcome a 29-23 deficit.
The Lancers outrebounded Kaiserslautern 8-4 in the final quarter.
"We became more of a team tonight," said Bursey, who scored 10 of her 11 points in the first half. "We finally came together."
On Saturday, the Lancers improved to 7-1 on the season when Hood scored the game winner off a feed from Ebony Morris in a 37-35 triumph.
Ansbach, Baumholder split
ANSBACH, Germany — Brittney Britton tied the game with a free throw in the final minute, then stole the ball and converted a game-winning layup as Ansbach handed Baumholder its first defeat of the season, 39-35, on Friday night.
Baumholder returned the favor on Saturday, posting a 42-32 victory that left both teams at 7-1, 5-1 in the Division III-South race.
Britton's heroics helped the Lady Cougars overcome a 13-point, 11-rebound effort from Baumholder's Tiffany McNeil.
Britton also pulled down 10 rebounds in the contest.
Britton and teammate Monique Cowley each had 12 points on Saturday, but the Lady Bucs had a quartet of eight-point scorers — Katie Feterl, Sarah Karayannis, McNeil and Tiffany Brown. Feterl also had 17 rebounds.
Naples, Aviano split
AVIANO AB, Italy — In a match-up of unbeaten conference leaders, Naples at Aviano split a pair of weekend games.
Aviano prevailed on Friday, 43-41, while Naples took Saturday's tilt 45-40.
The teams are tied at 9-1 going into the final weekend of American Schools in Italy League play. Aviano closes with a pair of games at 7-3 Sigonella; Naples hosts Vicenza.
On Friday, Kristen Barnill scored nine of her team-high 19 points in the final quarter, and Mavis Sanders, who scored 11 points, hit a pair of late free throws to ice the game for Aviano.
Alex Petrucci had 22 points and 15 rebounds for Naples.
On Saturday, Naples outscored Aviano 14-5 in the third quarter to take a 35-25 lead that was too much for Aviano to overcome.
Michelle Aguilar led Naples with 19 points, and Kara Irons, who didn't play on Friday, added 10.
Petrucci left the game after a first quarter collision. She needed a stitch in her lip and did not return.
Bobcats roll on
HIGH WYCOMBE, England — Nicole Lassetter scored 51 points over two games as London Central swept visiting Giessen 62-25 and 55-20 to run its mark to 6-0 overall and 4-0 in Division III-North heading into this weekend's games in Brussels.
Desiree Blaney added 21 points, 15 assists and 16 steals for London Central.
Patch stays unbeaten
BRUNSSUM, Netherlands — Division II co-leader Patch topped AFNORTH twice, 39-34 and 47-35 Friday and Saturday to improve to 5-0 and keep pace with Hanau (5-0).
Patch will host London Central on Feb. 7-8.