Baseball roundup
Lakenheath takes two from Bitburg
---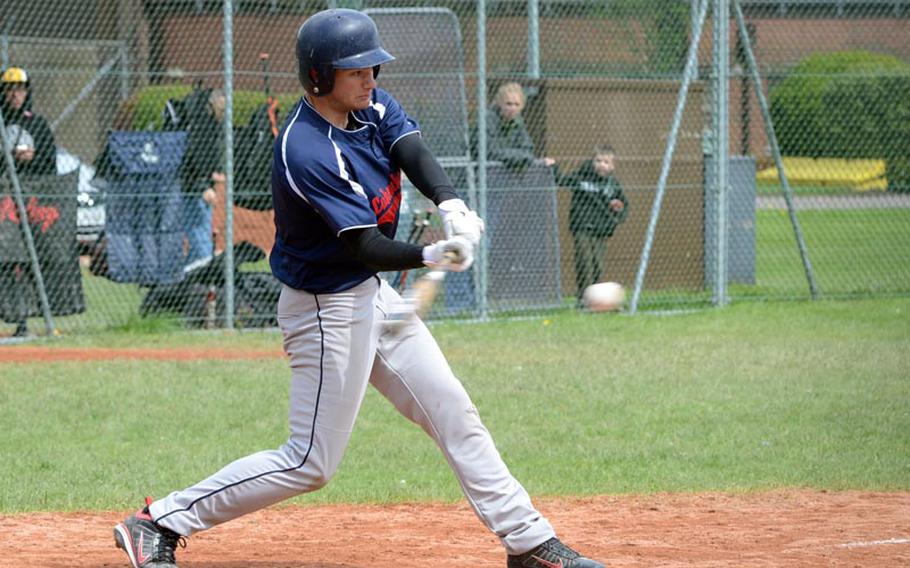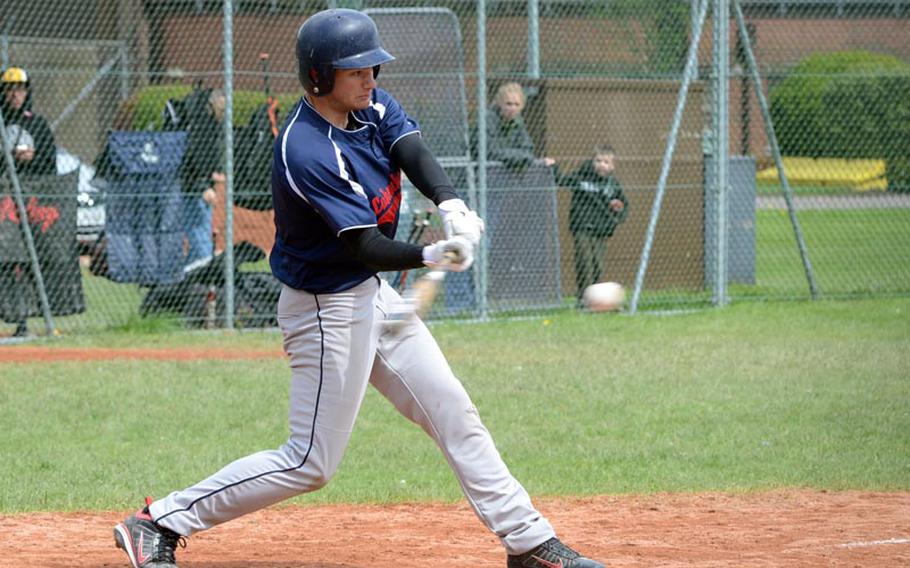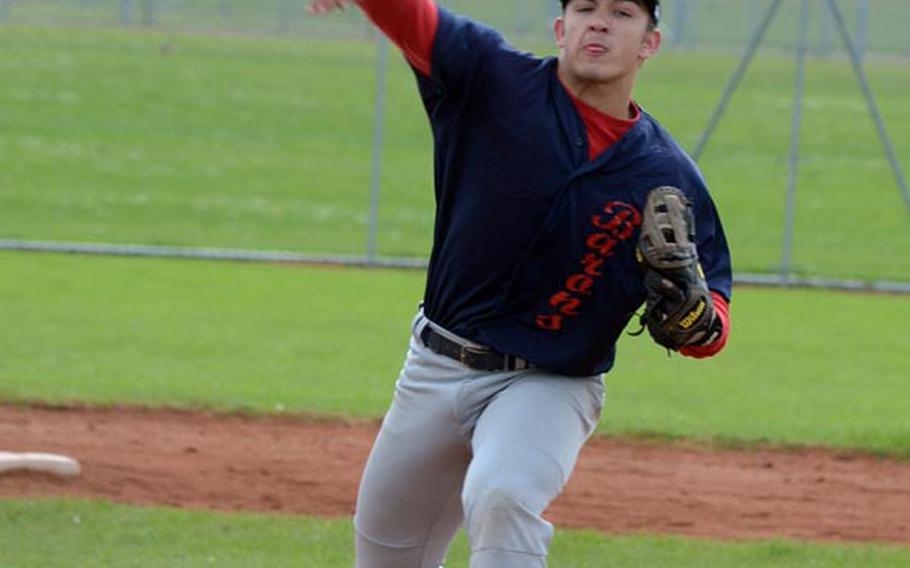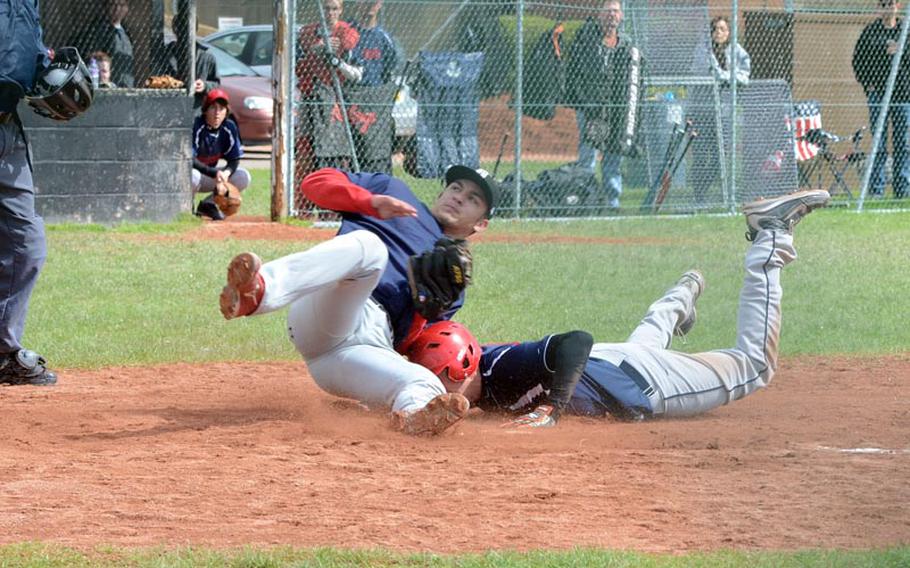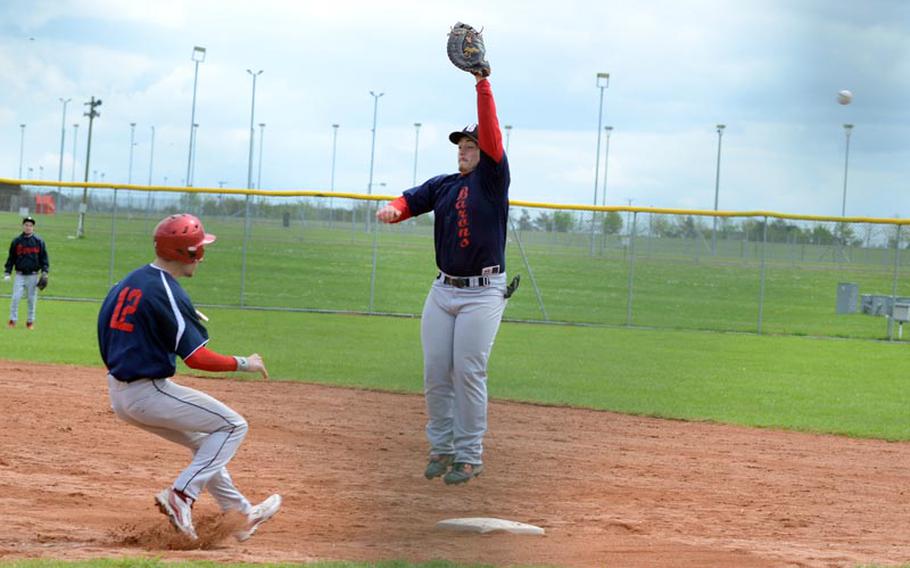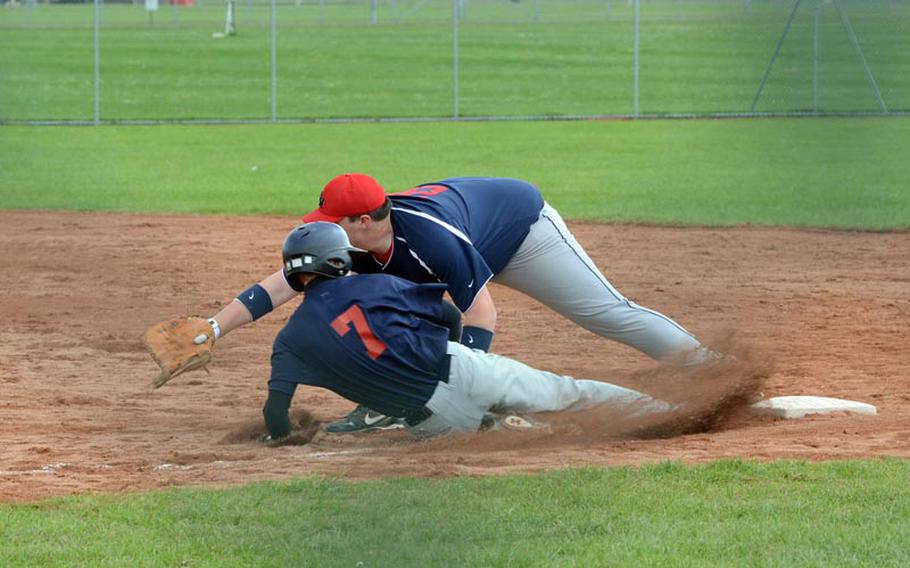 RAF FELTWELL, England — A DODDS-Europe Western Region baseball doubleheader between the Lakenheath Lancers and the undefeated Bitburg Barons brought a couple of nail biters, with coaches, parents and spectators braving a cold and windswept diamond.
Lakenheath prevailed in both hard-fought games by a single run, 3-2 and 14-13. While Bitburg (6-2) still leads the Lancers (7-3) in the standings, the gap has closed considerably. Both trail Ramstein, which entered Saturday's play at 8-0.
Game 1 played out as a pitcher's duel between both team's aces: Taylor Portman of Lakenheath and Bitburg's Austin Schmidt. It ended in extra innings as Tim Ambruster drove in Sean Palmer in the eighth for the deciding run.
Portman finished with 12 strikeouts and one walk, while allowing only four hits. Portman also racked up two hits and three stolen bases. Schmidt had eight strikeouts and issued two walks.
Schmidt pitched his way out of a jam in the bottom of the second inning by striking out Palmer and stranding three runners. It rallied his teammates enough to come out in the third inning and put up their only runs with both Eli Olson and Matt Flood touching home plate.
The Lancers answered immediately as Austin Morrow and Ambruster scored in the bottom of the inning, and the game stayed tied until the eighth. Morrow finished the game with three hits and three steals.
Lancer coach John Gilmore wasn't ecstatic with his team's play, but said a win is a win.
"I never try to make it close," Gilmore noted between games. "We are going out to play our game and if we do, we'll win."
While the first game belonged to the pitchers, the second game belonged to the batters. The Lancers finished with nine hits and eight stolen bases, and the Barons had 15 hits, with Flood, Schmidt and Josiah Laser each driving in three runs.
The Lancers scored five runs to start the first inning. But the bottom of the second inning saw the Barons put seven runs on the scoreboard.
In the top of the fourth, with the score 9-7 in favor of the Barons some throwing errors allowed Lakenheath to tie the game. In the fifth, Ambruster and Devon Parrish each drove in two runs with doubles and the Lancers scored five times. The Barons answered with four runs of their own, but came up a run short.
The schedule doesn't get any easier for the Barons, who host Ramstein Saturday while Lakenheath entertains fourth-place SHAPE.
In the only other baseball doubleheader reported to Stars and Stripes on Saturday:
Heidelberg 12-20, Schweinfurt 0-0: At Heidelberg, All-Europe hurler Alex Weaver struck out 11 in blanking the Razorbacks in Game 1, and sophomore Austin Benton and junior Mannheim transfer Sam Nevinger combined for the Game 2 whitewash, a two-hitter, according to Lions' coach Justin Bates.
Bates reported that Heidelberg, which finished the day 6-2 overall and in the Eastern Region, broke the opener open with a seven-run fifth. Freshman Noah Kiakona had the big blow, a three-run homer.
Joining Kiakona with three Heidelberg RBIs were Nevinger and sophomore Henry Dixon.
Starter Storm Speakman was two-for-three for Schweinfurt.
In Game 2, Benton fanned four in his three innings or work, and Nevinger five in his two-inning closeout stint.
Caelan Allmon, who was three-for-three, and Weaver, who was five-for-five, each drove in two runs for Heidelberg.
Conner Kreager and Dominic Adams each had a hit for Schweinfurt, which fell to 2-10, 0-10.
Vilseck 6-15, Wiesbaden 3-1: At Vilseck, Tanner Fox pitched a four-hitter to win Game 1, a five-inning contest, and John Bohnemann went the three-inning distance in the run-rule –shortened second game, allowing just two hits and striking out six, according to Vilseck coach Dave Nelson.Bohnemann tripled in Game 1, but a two-run, two-out single by Robert Ryan was the game-decider for Vilseck.Andrew Zdeb, who had two hits in the opener, duplicated that total in the nightcap. Claudio Deaza and Kevin Huestis also had two hits each for Vilseck, which rode Bohnemann's bases-loaded triple to the big-margin win.Vilseck improved to 6-2 overall and in the Eastern Region; Wiesbaden fell to 4-6, 4-4.
---
---
---
---