Lakenheath student is third U.S. finisher in elite-level triathlon
by
Rusty Bryan
September 3, 2006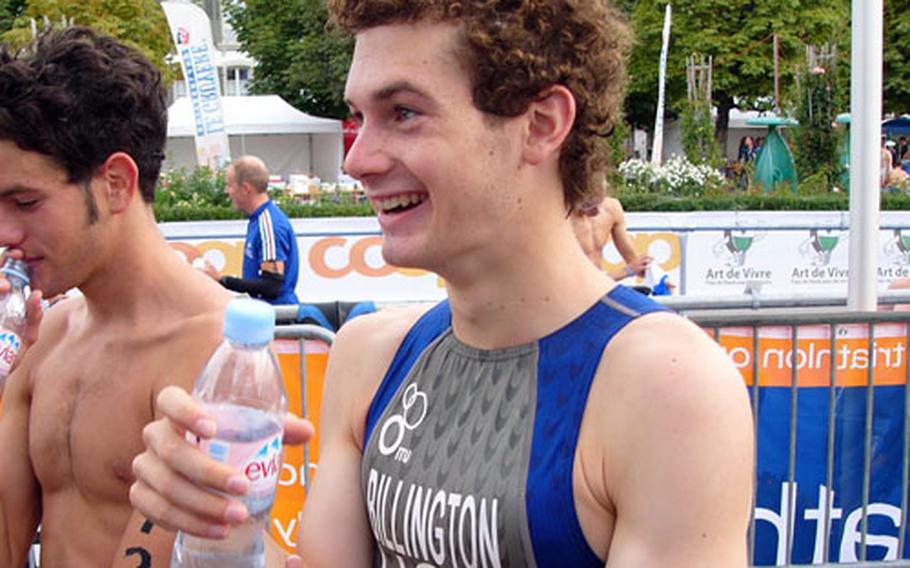 LAUSANNE, Switzerland — Lakenheath senior Greg Billington was the third American across the finish line Saturday in the men's juniors championship race in the World Triathlon Championships.
"This was something special," Billington said after completing a 750-meter swim in the waters of Lake Geneva, a 20-kilometer bike race up and down the streets of this hillside city and a 2½-kilometer run along the lake shore in a combined 61 minutes, 57 seconds. He finished 42nd in the world in this demanding discipline and in the top half of the 93-man field which finished Saturday's race. "It was a lot of fun."
Billington, who at 17 was the youngest among the 16-to-19-year-olds competing in the juniors race, leaves his first world championships knowing he has a chance to be in the hunt in future worlds, along with a world championship he won here Wednesday in the Aquathon. Billington won that event, which combines a 1K swim with a 5K run, in 28:13, a clocking that was just 14 seconds slower than the time posted by the winner of the men's elite race over the same distance, Richard Stannard of Britain. Billington beat juniors runner-up Eder Meija of Mexico by 1:13 in the Aquathon.
Billington's effort in the triathlon, just 2:55 slower than the time posted by winner Alistair Brownlee of Britain, benefited from a kick-start in the swim. It began at 7 a.m., even before the sun appeared above the mountains that surround picturesque Lake Geneva.
"I did better in the swim than usual," said Billington, who covered the distance in nine minutes flat, despite some unhelpful water traffic.
"I could barely breathe," he said. "There was this boat beside us all the way. It made a big wake."
Billington covered the 20-kilometer road race on a bicycle borrowed from Alconbury cross country coach Ken Bell in 33:03. Billington averaged nearly 36 kph on a course which, he said, featured downhill runs into 180-degree turns.
Billington capped his morning by running 2½ kilometers in 8:13.
"I loved the run," the defending DODDS-Europe cross country champion said. "There were some great runners out there."
Steve Duplinsky, 23rd overall in 60:39, and top-ranked American junior Willy Pickhardt, 27th overall in 60:48, were the fastest American junior finishers Saturday.
Billington, who qualified for the U.S. team by placing second to Pickhardt last month in the U.S. Junior Elite Nationals in Bridgeport, Conn., credited U.S. juniors coach Andy Schmidtz and U.S. coach Scott Schnitzspan for much of his improvement this season.
"I also get a lot of help from my British coaches," said Billington, who swims and runs year-round with British clubs.
With his triathlon season concluded for this year, world junior Aquathon champion Billington was in position to take stock a bit.
"I'm very satisfied with my performance," he said. "I did the best I could."