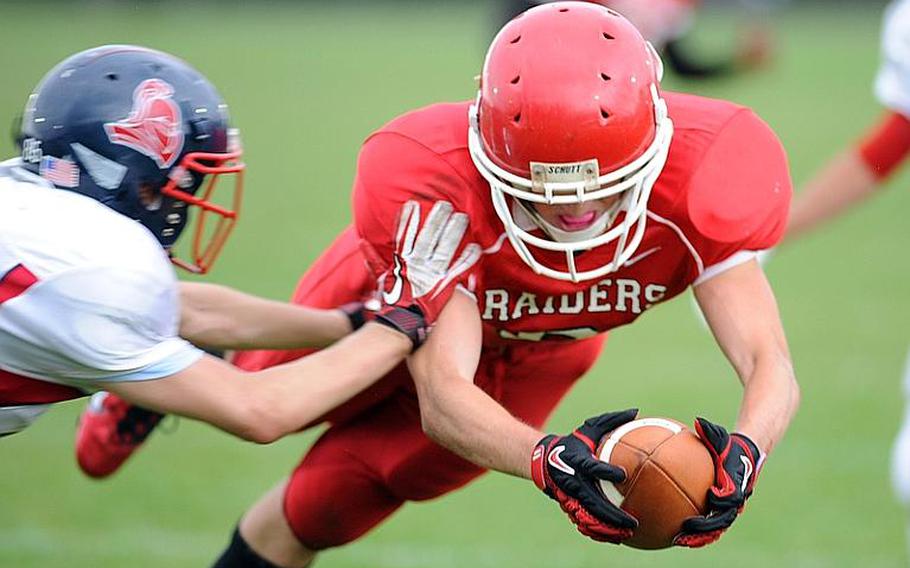 VILSECK, Germany — For the Vilseck Falcons, the major lesson of opening day was that in 2011 they can count on their defense.
The Falcons allowed All-European Daniel Harris a 16-yard touchdown run with 8:05 left in the first quarter Saturday, surrendered the two-point conversion to Harris, then shut out him and the rest of the Wiesbaden Warriors the rest of the way en route to a 25-8 victory in the season-opening Division I game for both teams.
"To hold a team like that for most of the game is an accomplishment," Vilseck coach Jim Hall said by telephone on Saturday after his Falcons limited Harris, a 1,000-plus-yard rusher in 2010, to just 58 yards on the ground. Harris completed six of 14 passes for 112 yards, but the Vilseck defense intercepted one of those 12 throws on its own 2-yard line to end a third-quarter threat that could have cut the Wiesbaden deficit to one touchdown.
"They had the ball for eight of the 12 minutes in the third quarter," Hall said of his team's biggest gut-check of the game, "but we held them out."
According to Hall, Riley Fees led Vilseck's defensive charge with 11 tackles, four of them for losses. Shawn Peebles added nine stops, and Carlton Campbell came up with four stops and the drive-killing interception on the 2.
Campbell also led the Falcons in rushing, carrying eight times for 97 yards. Peebles rushed for 95 yards on seven carries, one of them a 75-yard TD scamper in the second quarter that put Vilseck ahead to stay.
Vilseck quarterback Daniel Arroyo got his team's run of 25 unanswered points going with 1:50 left in the first quarter when he crashed over from the 1-yard line. Peebles ran for the conversion to tie the game 8-8.
After Peebles broke his 75-yarder with 7:55 to go before halftime, Tyler Lewis, who finished with 55 yards on three rushes, uncorked a 45-yard TD jaunt just eight seconds before the halftime whistle. Jesse Partee booted his second PAT kick of the period to make it 22-8 at intermission.
Partee kicked a 25-yard field goal with 3:59 to play for the game's final points.
Arroyo completed one of his two pass attempts, a 45-yard gain to Derrick Woulard. Hakeem Camur caught three passes for 58 yards for Wiesbaden, which was coming off a 26-6 exhibition victory over the Wiesbaden Phantoms of the German league.
Dan Alakson made eight tackles and Deqush Reed six stops for Wiesbaden, which is scheduled to host defending European D-I champion Heidelberg next Saturday in a rematch of last November's title game. Heidelberg turned Wiesbaden back 23-20 in double-overtime in that one.
Vilseck is scheduled to play at Patch next Saturday in a battle of unbeaten teams. The Panthers downed Ramstein 26-12 on Saturday.
Heidelberg 27, Filton 0: At Heidelberg, Germany, slot back Chance Bullard ran for touchdowns of 28 and 55 yards as the defending European D-I champion Lions blanked the Pride.
Bullard was hyper-efficient in making a winner of coach Larry Daffin in his debut game in Europe. Bullard carried three times for 96 yards and the two scores.
Wayne Dawkins, a returning All-European, broke an off-tackle run for a 35-yard TD and was the game's leading rusher with 129 yards on 13 carries.
Returning All-Europe quarterback Kevin Gray, who completed five of 12 passes for 64 yards, connected for a 30-yard scoring pass to Calvin Baisden, a transfer from defunct Mannheim High School.
Heidelberg didn't confine the big plays to offense. Michael Pons set up Dawkins' TD run by returning an interception 40 yards, and middle linebacker Mezzan El Sayed returned a pick 15 yards for the Lions. El Sayed also made eight tackles, one of them behind the line of scrimmage, but the team leader in that department was defensive lineman Carlos Dillon, who registered two tackles for loss and half-sack among his nine stops.
Dawkins and Bullard also excelled on defense. Dawkins made seven tackles and defended a pass; Bullard came up with six tackles, one of them for a loss.
Filton managed just 166 yards, but did recover two Heidelberg fumbles and blocked a punt.
Next up for the Lions is a Saturday trip to Wiesbaden; Filton is scheduled to host Lakenheath next Saturday.
Lakenheath 33, Kaiserslautern 18: At RAF Lakenheath, England, Xavier Thompson rushed 22 times for 237 yards and two touchdowns and added a TD on an 80-yard kickoff return to lead the Lancers over the Red Raiders.
Lancers quarterback Alex Asbury, completed three of six passes for 73 yards. Two of those throws went to Josh Eversman, who converted the catches into 43 yards.
Lakenheath's defense also got onto the scoreboard when Kyle Compagna, who posted four solo tackles and an assist, recovered a K-town fumble for a touchdown. Compagna also intercepted a K-town pass.
The home-team defense got six tackles each by Sean Pontius and Andre Bowser and five solo stops and an assist from Trey Abrego. One of Bowser's stops was a sack.
Ray Mahonri scored all three Kaiserslautern TDs. Two of them came off interception returns.
The Red Raiders are to host Ramstein next Saturday; Lakenheath plays at Filton Academy.