Home Team
Lady Lions, with new pieces, a contender again
---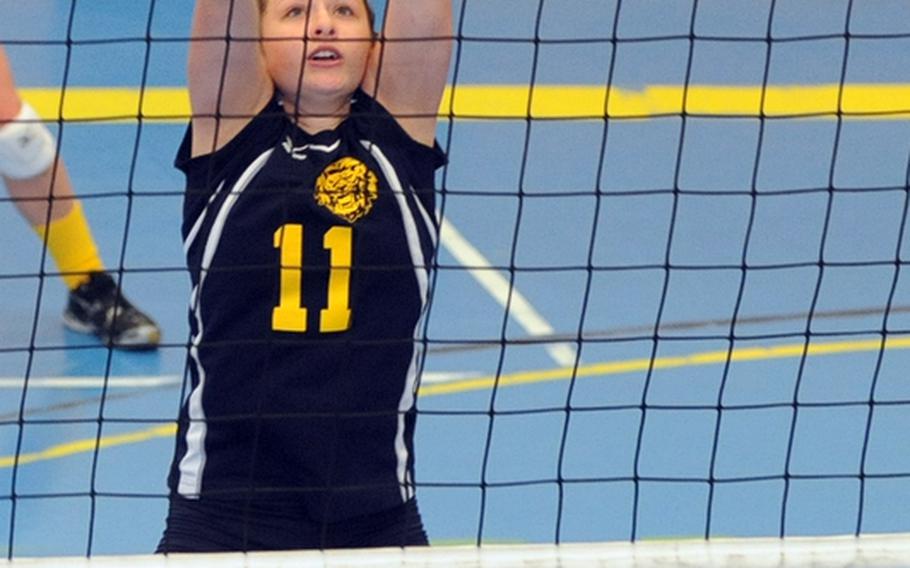 This artilce has been corrected
HEIDELBERG, Germany – If there's a single hallmark that distinguishes high school sports in Europe from Stateside, it's turnover.
Back there, athletes on the whole grow up together, often playing with the same teammates in grade school, junior high and high school.
Overseas, it's a whole different animal. With the vast majority of the student population rotating every three years or sooner, with an even shorter time-span for intra-theater transfers that move students from one school to another, and with a continuing drawdown of the military population, change is the one constant in the DODDS-Europe sports world.
It stands to reason, then, programs that cope with change the best are the ones that will succeed.
Take Heidelberg Lady Lions volleyball team, unbeaten so far this season and already holding four-set-or-fewer victories over six of the seven Division I teams they could face in the European Division I tournament Nov. 3-5 in the Kaiserslautern Military Community. The Lady Lions are not scheduled to play 2010 D-I runner-up Wiesbaden during the regular season, so they've run the D-I table as much as they could.
Heidelberg was unbeaten during the regular-season last year, too, before stumbling in the tournament. This year, however, Heidelberg handed the reins to a new coach, Linda Steil, and incorporated new starters from two other schools in its quest for the title Vilseck now holds.
And those changes hold the very real hope of getting that job done.
"This is a great group," Steil said before a recent practice. "I have seven seniors. They're all strong in the classroom and get along beautifully. I walked into an ideal situation."
By ideal, Steil means that she inherited a solid nucleus – All-Europe seniors Allison Gunsch, an outside hitter, and Rebecca Luna, a setter, along with veterans Carrie Smith, who leads the team in aces with 40, Aneli Whitford, with a team-best 34.9 percent hitting percentage and Taylor Morgan, who has 36 aces and 20 kills – into which she incorporated transfer Emma Roberts, a junior from defunct Mannheim's 2010 D-II runners-up.
The result has been something to behold.
All six are serving at 85.2 percent or better, Luna has handed out 125 assists, and Gunsch, Whitford and Roberts have amassed 59, 39 and 30 kills, respectively.
All agree the 2011 changes are more than agreeable.
"I love it here," said Roberts, the team's leading server at 94.7 percent. "The level of competition is so much higher than Division II."
Smith, a four-year performer whom Steil calls the team's unsung hero, said the partial transformation of the Lady Lions under Steil so far has gone without a hitch.
"It's been a big change," she said of the addition of Roberts and Morgan, "but the new people have really meshed well."
They've also expanded the team's horizons, according to Luna, who's been a teammate of Smith and Gunsch for four years. The three, along with Whitford, add continuity to the 2011 Lady Lions.
'We have a little more talent and a different coach," Luna said. "There's a little more diversity."
And more focus, added Whitford.
"It's a lot more intense," she said. "We really concentrate in practice."
The intensity shows on the floor, where the newcomers are playing as though they, too, had been there for four years.
"We play together as a team," Whitford said. "Even during the lulls, we don't get annoyed with each other or point fingers. We just play."
Heidelberg, scheduled to close its doors in 2013, hopes to be playing in this season's final game.
"We've got to keep doing it," Morgan said.
And even if they don't add another championship plaque to the soon-to-be-mothballed Heidelberg trophy case, change already has enriched the 2011 Lady Lions, according to Gunsch, a home-schooled student who's the volleyball equivalent of an inside presence in basketball.
"We've gained a lot," she said simply.
CorrectionTaylor Morgan's high school career was listed incorrectly in an earlier version of this article. She transferred to Heidelberg from Patch after her sophomore year.
---
---
---
---