Kubasaki wrestler to test skills in U.S. junior tourney
---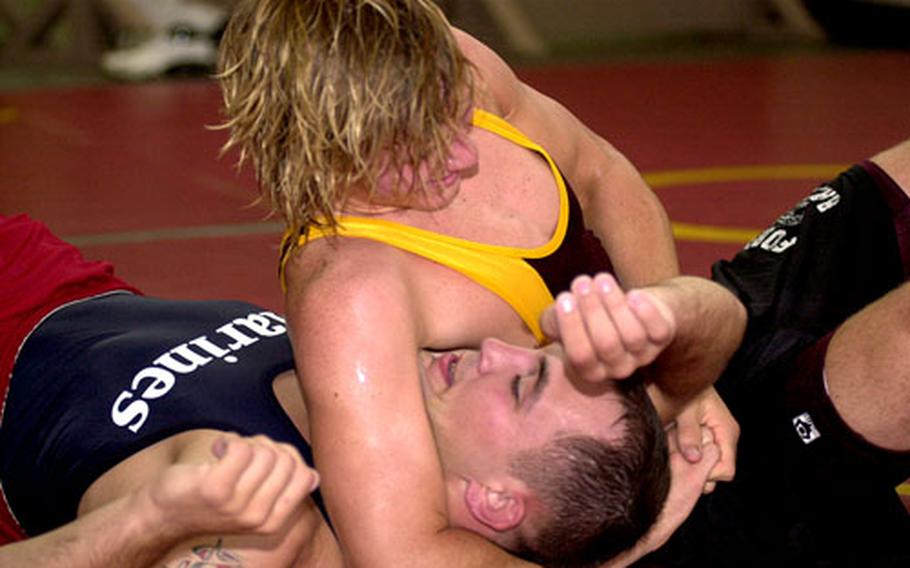 CAMP FOSTER, Okinawa — Steve Courtney won the 148-pound title this season in the DODDS-Pacific Far East High School Wrestling Tournament. Next month, the Kubasaki junior will see how he stacks up against the best in the United States.
On July 10, Courtney will fly to Fargo, N.D., where he is entered in USA Wrestling's Junior National Tournament, scheduled for July 23-30. The tournament — the sport's largest in the United States for high-school students — attracted 2,320 16- to 18-year-old wrestlers last year.
"This gives me the chance to wrestle against the best, all the top kids in the country, and see where I stand," Courtney said.
"Everybody who's anybody" has passed through Fargo, said Courtney's coach and workout partner, Jacob Clark, a Marine corporal who wrestled at Fargo four times and won two gold medals before joining the Marines. Clark, the 2004 Marine Athlete of the Year and a two-time All-Armed Forces champion, was an alternate for the U.S. Olympic team in Athens.
The Fargo tournament, which features freestyle and Greco-Roman divisions in a double-elimination format, has attracted past U.S. college and national champions such as Cael Sanderson, Oscar Wood and Dennis Hall.
In his first year at Kubasaki after transferring from Virginia, Courtney went 13-1 against high school competitors, losing only in the 148-pound semifinal of the Nile C. Kinnick Invitational "Beast of the Far East" in February at Yokosuka Naval Base, Japan.
He pinned Josh Dowers of Seoul American in 2 minutes, 42 seconds to capture the 148-pound gold medal in the Far East tournament on Feb. 18 at Yokota Air Base, Japan.
Clark hopes Courtney's entry in the tournament, especially if he does well, will spur other DODDS wrestlers to go to Fargo in the future, perhaps as a unified DODDS worldwide team.
"It's something I've been thinking about a lot," Clark said. "I'm imagining down the road, we could build a program of kids stationed not just on Okinawa, but in Germany, Japan, everywhere. Get them together for two weeks prior, then go as a team."
As well as hard work, the trip to Fargo will also entail great expense: Courtney and Clark estimated the cost of the trip, including airfare, entry fee, hotel and incidentals, to be about $3,000. They're seeking sponsorship to defray the cost.
"It's definitely worth it. I want a scholarship," said Courtney of his goal to wrestle for a major college program. The Fargo tournament "could be a stepping-stone toward that," he said.
---
---
---
---